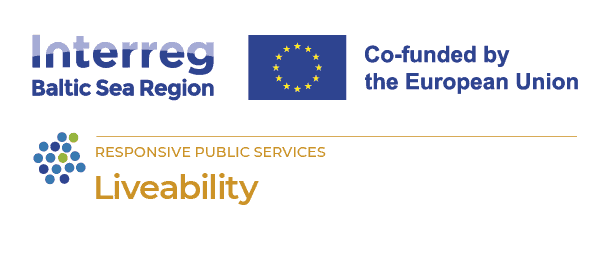 Liveability - Designing public services for resilient neighbourhoods
Liveability
Liveability
PROGRAMME 2021-2027
priority
1 Innovative societies
objective
1.2 Responsive public services
Project type
Core Project
Implementation
January 2023 - December 2025
Liveability
The project Liveability trains public administrations in innovative ways to engage people to create liveable and attractive city environments that adapt to people's needs.
Project summary
Even before the COVID 19 crisis, many cities were facing complex social, environmental, and economic challenges, including social inequalities, impacts of climate change and demographic changes. However, changing work and life patterns are also a chance: medium-sized and smaller cities can attract residents and businesses by being liveable – i.e. by following an integrated and balanced approach for the built environment, innovation culture, public services and socio-cultural life and by evoking a strong sense of active citizenship. To be more liveable, cities must become "closer", "more public" and "more agile". For this, city administrations should encourage innovative mindsets, out-of-the-box thinking and use of participatory approaches among its civil servants. Public services and planning processes must become more responsive, and authorities should involve residents and civil society to develop ideas of what future urban life should look like. Public interest design (PID), i.e. the application of user-centred design in matters of general interest, is a suitable methodological framework for this objective. It can be applied in practically all domains of public services. The Liveability partnership prepares, pilots and transfers a capacity building programme for public interest design, addressing both the city-wide (leadership level) and civil servants. The project will invite candidate cities to transfer the programme to also be awarded the label of a liveable city.
Copy direct link to this summary
Budgets
Liveability
in numbers.
3.28

Million

Total

2.62

Million

Erdf

0.00

Million

Norway
Success indicators
Liveability
in numbers.
54.358288310.1362019

54.3223521510.132972723211434

55.686724312.5700724

55.4894939.483981

54.78345511.865164

61.4927867521.719571809410695

56.949397724.1051846

54.508820418.5423992

54.370685818.61298210330077

52.5014913.4163431

59.4424661524.74113906683491
Contacts
Project manager, Communication manager

Andrea Cederquist

Heinrich-Böll-Foundation Schleswig-Holstein

Financial manager

David Schenk

Heinrich-Böll-Foundation Schleswig-Holstein e.V.
Follow us
Social media

Newsletter

Additional links
Events
Liveability working meeting & train the trainer kick-off
Project: Liveability
Physical Meeting
18. - 19. September 2023
18 - 19 Sep 2023
Liveability working meeting & train the trainer kick-off
1
2023-09-18
2023-09-19
00:00:00
23:59:59
||
|project|
Quotes
Copy direct link
To me a liveable city (with its people, buildings, restaurants and more) is green, blue and diverse. It is a child-friendly place that inhabitants feel connected to. A place where people feel responsible for their surroundings and have the possibility to participate in decisions and contribute to shaping their city. It is a city where services are easily accessible and citizen feel supported in reaching their potential.
Publications
The Journey Towards Liveability - First Impressions

This brochure presents the essence of the project Liveability, providing an insightful overview of the project's goals as well as the progress achieved thus far. Discover these first impressions and join us on this transformative journey towards making cities more liveable.

||