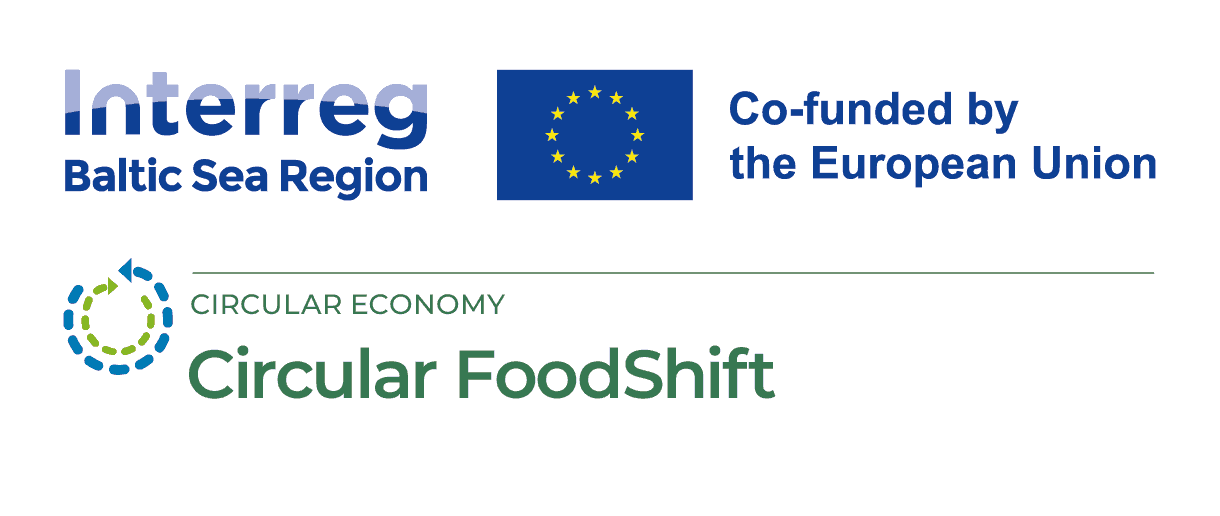 Circular FoodShift in the Baltic countries
Circular FoodShift
stock.adobe.com
Circular FoodShift
PROGRAMME 2021-2027
priority
3 Climate-neutral societies
objective
3.1 Circular economy
Project type
Small Project
Implementation
August 2023 - July 2025
Circular FoodShift
The project Circular FoodShift helps authorities in rural and peri-urban municipalities transform food models with less food waste at schools and gastronomy and new businesses upcycling food and food waste.
The current conventional food system has supported a fast-growing population and fuelled economic development and urbanisation. However, these productivity gains have come at environmental cost, and today's model is not fit to meet tomorrow's longer term needs neither locally nor globally. Changing our food system to one based on the principles of the circular economy is one of the most powerful initiatives we can do to tackle climate change and preserve biodiversity. Various regional municipalities across the Baltics have put food and sustainability as a priority in their long term regional strategic plans. However, the lack of awareness, experience and competencies and how to work with circular economy at the regional and local municipality level, and the bottom-up collaboration scarcity, have become impediments on the development of resilient and sustainable food regions. Municipalities need collaboration, partnership, knowledge and understanding about "circular economy for food" program models, implementation methods, tools, evaluation, and policy development. This project suggests an efficient way to do this in the Baltic countries, by reinforcing cross-sector cooperation and accelerate the development of sustainable food systems in rural and peri-urban areas; this to be able to meet the needs of the growing urban population, the nutritional health problems and the increase of gastronomy tourism in the region.
Copy direct link to this summary
Budgets
Circular FoodShift
in numbers.
0.50

Million

Total

0.40

Million

Erdf

0.00

Million

Norway
Success indicators
Circular FoodShift
in numbers.
58.37688534999999526.716865143718564

54.723355925.3380012

56.690293823.7853409

56.939306124.0693444
Lead partnerAssociation of Municipalities of Tartu County
Town

Tartu

Region

Country

Estonia

Region

Lõuna-Eesti
Representative

Association of Municipalities of Tartu County

Phone

E-Mail

Web
Total partner budget
139,664.00
Town

Vilnius

Region

Country

Lithuania

Region

Vilniaus apskritis
Representative

Sustainable Gastro

Phone

E-Mail

Web
Total partner budget
115,952.00
Town

Aalborg (Denmark)

Region

Country

Denmark

Region

Nordjylland
Representative

Aalborg University

Phone

E-Mail

Web
Total partner budget
127,033.20
Latvian Rural Advisory and Training Centre
Town

Ozolnieki

Region

Country

Latvia

Region

Zemgale
Representative

Latvian Rural Advisory and Training Centre

Phone

E-Mail

Web
Total partner budget
58,675.40
Town

Riga

Region

Country

Latvia

Region

Rīga
Representative

Green Liberty

Phone

E-Mail

Web
Total partner budget
58,675.40
Contacts
Project manager, Communication manager

Jennifer Avci

Sustainable Gastro

Financial manager

Sven Tobreluts

Association of Municipalities of Tartu County
Follow us
Social media

Newsletter

Additional links