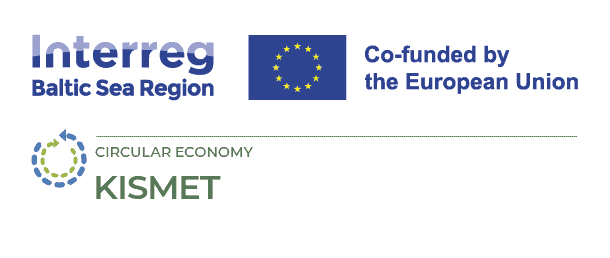 KISMET – sustainable food environments
KISMET
KISMET
PROGRAMME 2021-2027
priority
3 Climate-neutral societies
objective
3.1 Circular economy
Project type
Core Project
Implementation
January 2023 - December 2025
Click the flags for other language versions
KISMET
The project KISMET helps public authorities create favourable conditions for food producers and consumers to choose sustainable food options.
Project summary
With KISMET, we change our 'destiny' and transform the current unfavourable food systems in cities and regions around the Baltic Sea to sustainability. The project tackles the challenge that local and regional authorities often lack capacity, require new impulses or need innovative solutions for realising more circular and sustainable food environments. Since this target group is key for different fields such as business promotion, health, procurement, food policy or environment, KISMET provides them with concrete instruments and tools for working better with 1. governance, 2. the demand-side and the 3. production side. These three components are part of the overall solution "Enabling Programme for sustainable food environments" which is developed by the 13 project partners. It entails a mix of concrete different digital formats (tools, documents, scripts, videos, infographics, etc.). KISMET further establishes 8 Local Innovation Partnerships – in which the target groups are represented as partners and associated organisations – and pilots the solution in these 8 cases. The project then transfers the "Enabling Programme" to further target groups via replicator/friendship cities for jointly implementing and rolling out the solution. Target groups will be better equipped to eventually change consumer behaviour for good, create circular business opportunities and make food chains and production more regional so that societies can make a big step towards climate-neutrality.
Copy direct link to this summary
KISMET
Das Projekt KISMET hilft öffentlichen Behörden und Wirtschaftsförderungen bei Schaffung günstiger Bedingungen für Lebensmittelhersteller und Verbraucher, damit sie nachhaltigere Lebensmittel in ihren Konsumentscheidungen und Produktionsprozessen wählen.
Projektzusammenfassung
Mit KISMET ändern wir unser "Schicksal" und transformieren die derzeitigen ungünstigen Ernährungssysteme in den Städten und Regionen rund um die Ostsee zu mehr Nachhaltigkeit, Zirkuarität und Regeneration. Das Projekt stellt sich der Herausforderung, dass es und regionalen Behörden oft an Kapazitäten mangeln, diese neue Impulse benötigen oder innovative Lösungen für die Verwirklichung einer an den Prinzipien der Kreislaufwirtschaft orientierten, nachhaltigen Lebensmittelsektor-Umgebung. Da diese Zielgruppe für verschiedene Bereiche wie Wirtschaftsförderung, Gesundheit, Beschaffung, Lebensmittelpolitik oder Umwelt verantwortlich ist, gibt KISMET ihnen konkrete Instrumente und Werkzeuge an die Hand, um erstens im Bereich der Governance und der Teilhabe, zweitens der Nachfrageseite (also den "Konsument*innen") und drittens der Angebotsseite (also der "Produzent*innen") besser unterstützen zu können. Diese drei Komponenten sind Teil der KISMET-Lösung, dem "Enabling Programme for sustainable food environments", das von den  13 Projektpartnern entwickelt wird. Es beinhaltet eine Mischung aus konkreten verschiedenen digitalen  Formaten (Tools, Dokumente, Skripte, Videos, Infografiken, etc.). KISMET gründet außerdem 8 Lokale Innovationspartnerschaften (sogennante Local Innovation Partnerships, LIPs) - in denen die  Zielgruppen als Projektpartner und assoziierte Organisationen vertreten sind - und pilotiert die Lösung in diesen 8 Fallbeispielen. Das Projekt überträgt dann das "Enabling programme" über Replikatoren bzw. Freundschaftsstädte an weitere Zielgruppen, zur gemeinsamen Umsetzung und Verbreitung der Lösung. Die Zielgruppen werden besser gerüstet sein, um letztendlich das Verbraucherverhalten zu ändern, Möglichkeiten für Kreislaufwirtschaft zu schaffen und Lebensmittelketten und -produktion regionaler zu gestalten, damit die Gesellschaften einen großen Schritt hin in Richtung Klimaneutralität schaffen können.
Budgets
KISMET
in numbers.
3.63

Million

Total

2.90

Million

Erdf

0.00

Million

Norway
Success indicators
KISMET
in numbers.
53.55036859.9830731

59.08386115000000417.49085301467332

53.5666431500000049.964302509462424

57.313171225.2748551

55.7106819.529056

59.091340417.5651066

58.3743850526.710306091741614

58.3743850526.710306091741614

54.687045825.2829111

55.7335289.582829

61.486808221.7944786

61.680318727.2579409

54.0878445512.145505591383607
Contacts
Project manager

Torsten Gasser

City of Hamburg

Communication manager

Anna Krol

City of Hamburg

Financial manager

Olaf Beber

City of Hamburg
Publications
Hamburg/DE Local Innovation Partnership KISMET case

Short profile of the KISMET Local Innovation Partnership in Hamburg.

|1|

Satakunta/FI Local Innovation Partnership KISMET case

Short profile of the KISMET Local Innovation Partnership in Satakunta.

|1|

Södertälje/SE Local Innovation Partnership KISMET case

Short profile of the KISMET Local Innovation Partnership in Södertälje.

|1|

Tartu/EE Local Innovation Partnership KISMET case

Short profile of the KISMET Local Innovation Partnership in Tartu.

|1|

South Savo/FI Local Innovation Partnership KISMET case

Short profile of the KISMET Local Innovation Partnership in South-Savo.

|1|

Vilkaviškis/LT Local Innovation Partnership KISMET case

Short profile of the KISMET Local Innovation Partnership in Vilkaviškis.

|1|

Vidzeme/LV Local Innovation Partnership KISMET case

Short profile of the KISMET Local Innovation Partnership in Vidzeme.

|1|

Vejle/DK Local Innovation Partnership KISMET case

Short profile of the KISMET Local Innovation Partnership in Vejle.

|1|