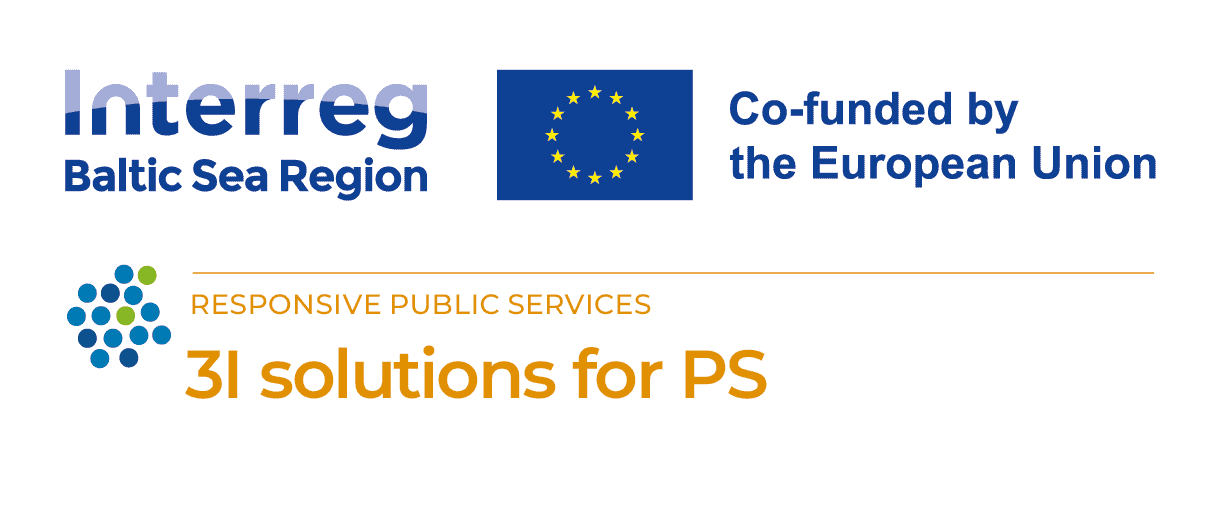 Enabling better public services in BSR with immersive, intelligent and innovative solutions
3I solutions for PS
stock.adobe.com
3I solutions for PS
PROGRAMME 2021-2027
priority
1 Innovative societies
objective
1.2 Responsive public services
Project type
Small Project
Implementation
August 2023 - July 2025
3I solutions for PS
The project 3I solutions for PS helps public authorities make good use of digital technologies, e.g. augmented or extended reality, to deliver public services more efficiently.
Today's public sector institutions face a number of challenges that are not different to the most organizations: resources' shortage, digitalization, cost pressure, data management, communications, hybrid type of work, supply change disruptions etc. Nevertheless, weak modernization skills, lack of readiness and flexibility for technology shift, slow and low-quality innovation management and inability to adapt modern technical solutions are obstacles for the improvement of public services. They are typically conservative, cannot afford any risks and therefore tend to keep using conventional way of doing things rather than to look for a new one. The project develops solutions, processes and practices to help public organizations to foster innovations. The project forms positive innovation management practices in BSR by the piloting of scalable extended reality (XR) technology implementation and hackathon organization that both bring positive and measurable outputs for investment attraction, communications and other public services. At the methodological level the project activities also include the generalization of the experience, knowledge transfer and lessons learnt dissemination. The result is given the form of the roadmap for successful innovation management in public sector in the form of manual, handbook and hybrid training course. The project builds new partnerships and capacities, creates good practices for dissemination in the BSR.
Copy direct link to this summary
Budgets
3I solutions for PS
in numbers.
0.50

Million

Total

0.40

Million

Erdf

0.00

Million

Norway
Success indicators
3I solutions for PS
in numbers.
61.0650134528.093000950864237

61.1872175528.77448070990213

52.231958121.0067249

54.906016823.931375457492837

57.424319725.9045413
Lead partnerLappeenranta-Lahti University of Technology
Town

Lappeenranta

Region

Country

Finland

Region

Etelä-Karjala
Representative

Lappeenranta-Lahti University of Technology

Phone

E-Mail

Web
Total partner budget
147,000.00
Town

Imatra

Region

Country

Finland

Region

Etelä-Karjala
Representative

AR-GO lab Oy

Phone

E-Mail

Web
Total partner budget
120,400.00
Mazovia Development Agency Plc (ARMSA)
Town

Warsaw

Region

Country

Poland

Region

Miasto Warszawa
Representative

Mazovia Development Agency Plc (ARMSA)

Phone

E-Mail

Web
Total partner budget
75,600.00
Kaunas Science and Technology Park
Town

Kaunas

Region

Country

Lithuania

Region

Kauno apskritis
Representative

Kaunas Science and Technology Park

Phone

E-Mail

Web
Total partner budget
74,200.00
Town

Smiltene

Region

Country

Latvia

Region

Vidzeme
Representative

Smiltene Municipality

Phone

E-Mail

Web
Total partner budget
81,200.00
Contacts
Project manager

Anna Kruzenshtern

Lappeenranta-Lahti University of Technology

Financial manager

Anni Liikanen

Lappeenranta-Lahti University of Technology

Communication manager

Sergey Torshkov

AR-GO lab Oy
Follow us
Social media

Newsletter

Additional links