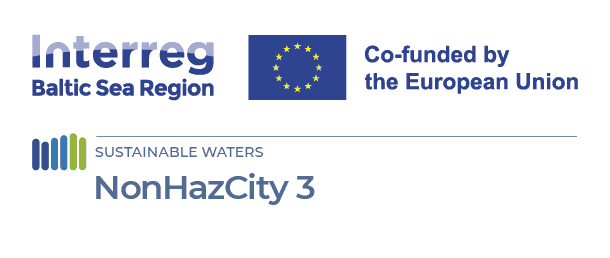 Reducing hazardous substances in construction to safeguard the aquatic environment, protect human health and achieve more sustainable buildings
NonHazCity 3
NonHazCity 3
PROGRAMME 2021-2027
priority
2 Water-smart societies
objective
2.1 Sustainable waters
Project type
Core Project
Implementation
January 2023 - December 2025
NonHazCity 3
The project NonHazCity 3 helps municipalities, entrepreneurs and individuals construct and renovate buildings with tox-free materials in order to protect health and the environment.
Project summary

NonHazCity3 (NHC3) tackles the challenge of hazardous substances in buildings, building sites and building materials. We will develop 4 solutions and pilot them, elaborate usable protocols to get these chemicals out of our homes and workplaces, and out of the (aquatic) environment, including the Baltic Sea. Our project is for municipalities, private entrepreneurs and residents. All these groups need to make better decisions when we build, buy or renovate if we are to have a Toxfree/Chemical Smart future. In a larger context, we all need to make more informed decisions about the chemicals in buildings and building materials from design, construction, occupancy, renovation and eventual demolition. Today, many aspects of sustainable buildings are considered in isolation. NHC3 will contribute to a more holistic perspective which we hope will be better for our health and the health of the environment, as well as being economically attractive. Municipalities, entrepreneurs and residents are not making the right decisions because they lack awareness about both the problem and potential solutions. By developing and communicating successful pilots throughout the BSR, we will offer both knowledge and inspiration needed for a Toxfree/Chemical Smart future. The 8 pilots we initiate in our project will not only benefit local organizations and individuals but will, if we can communicate them according to our plans, be beacons pointing towards a more sustainable future throughout the BSR.
Copy direct link to this summary
Budgets
NonHazCity 3
in numbers.
4.89

Million

Total

3.91

Million

Erdf

0.00

Million

Norway
Success indicators
NonHazCity 3
in numbers.
56.956822624.121796

59.325117218.0710935

59.61666716.583333

60.167822424.9528647

59.434427324.744165

53.602869310.044144

54.898623623.925300841787475

55.71982911.713605

60.448910322.2960629

54.51034118.5444336

59.35919817.9737343

53.5753276500000069.95682044196797

59.420569624.694821119195048

56.958568224.1119083

54.724342825.403944

56.968928524.0991854

53.54404249.9419257

59.854220717.643433

56.958702924.1055027

51.8425008512.239350592988522

54.89880524999999523.912663150766285
Contacts
Project manager, Financial manager, Communication manager

Normunds Vagalis

Riga City Council
Follow us
Social media

Newsletter

Additional links
Events
Hazardous Substances in building materials –a key issue in sustainable construction
Project: NonHazCity 3
Physical Meeting
26. April 2023
26 Apr 2023
Hazardous Substances in building materials –a key issue in sustainable construction
Sustainable construction creates a base for sustainable, healthy, and safe city
1
2023-04-26
2023-04-26
00:00:00
23:59:59
||
|project|
57