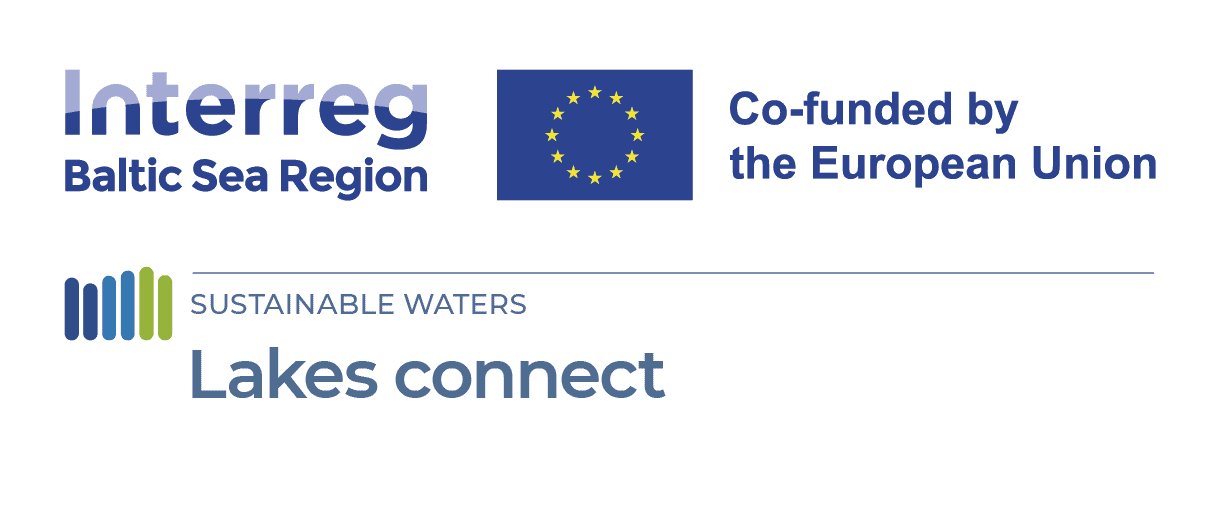 Building networking hub for units interested in lakes protection in Baltic Sea tourist regions
Lakes connect
Lakes connect
PROGRAMME 2021-2027
priority
2 Water-smart societies
objective
2.1 Sustainable waters
Project type
Small Project
Implementation
October 2022 - May 2024
Lakes connect
The project Lakes connect establishes cooperation among authorities, NGOs and researchers in order to reduce the impact of tourism on water quality in lakes.
Project summary
The project concerns establishing cooperation in the field of improving the quality of lake waters in tourist regions. It brings together representatives of science, NGOs and authorities at various level of governance, representing three Baltic countries: Poland, Lithuania and Latvia. The aim of the project is to build networking hub for units interested in knowledge-based solutions limiting the impact of tourism on the quality of inland waters. Building trust to raise awareness of lake pollution is a key project objective. The cooperation of the scientific world with local authorities and other organizations is still insufficient. Establishing a trust-based relationship will allow for better recognition of real problems faced e.g. by local authorities and searching for knowledge-based solutions. This will be done by organizing meetings and training which will enable the synergy of scientific knowledge with knowledge about the real problems of local communities. International cooperation will enable the exchange of experiences and the development of good practices in the cooperation of authorities at various level of governance with the scientific community and other organizations. As part of the project, research units will conduct pilot study on the water quality of selected water reservoirs.The preliminary inventory of lake pollution will allow better identification of the problem and increase the knowledge of local authorities about the impact of tourism on water quality.
Copy direct link to this summary
Budgets
Lakes connect
in numbers.
0.47

Million

Total

0.38

Million

Erdf

0.00

Million

Norway
Success indicators
Lakes connect
in numbers.
Overview
What we produced so far.
We invite you to read the article published in the VIP Magazyn.
In the article, project partner - Magdalena Fuk - President of the Management Board of the Foundation for the Protection of the Great Masurian Lakes talks about research on microplastic pollution, which is carried out as part of the Lakes Connect project.
Article is in Polish language.
Actively for clean waters
52.21339765000000520.98692043009848

56.98891924.0827495

55.926527423.3235991

54.037462121.75622203554252

57.175972126.7514713
Lead partnerUniversity of Warsaw
Town

Warsaw

Region

Country

Poland

Region

Miasto Warszawa
Representative

University of Warsaw

Phone

E-Mail

Web
Total partner budget
149,768.00
Latvian Institute of Aquatic Ecology
Town

Riga

Region

Country

Latvia

Region

Rīga
Representative

Latvian Institute of Aquatic Ecology

Phone

E-Mail

Web
Total partner budget
73,302.00
Siauliai Chamber of Commerce, Industry and Crafts
Town

Siauliai

Region

Country

Lithuania

Region

Telšių apskritis
Representative

Siauliai Chamber of Commerce, Industry and Crafts

Phone

E-Mail

Web
Total partner budget
100,400.00
Foundation for the Protection of the Great Masurian Lakes
Town

Giżycko

Region

Country

Poland

Region

Ełcki
Representative

Foundation for the Protection of the Great Masurian Lakes

Phone

E-Mail

Web
Total partner budget
111,200.00
Town

Gulbene

Region

Country

Latvia

Region

Vidzeme
Representative

Gulbene Municipality

Phone

E-Mail

Web
Total partner budget
36,000.00
Contacts
Financial manager

Marlena Tokarska

University of Warsaw Biological and Chemical Research Centre

Project manager

Magdalena Michalska-Kacymirow

University of Warsaw Biological and Chemical Research Centre

Communication manager

Edyta Woźniak-Dudzińska

University of Warsaw Biological and Chemical Research Centre
Follow us
Social media

Newsletter

Additional links
Outputs
Green Concept Review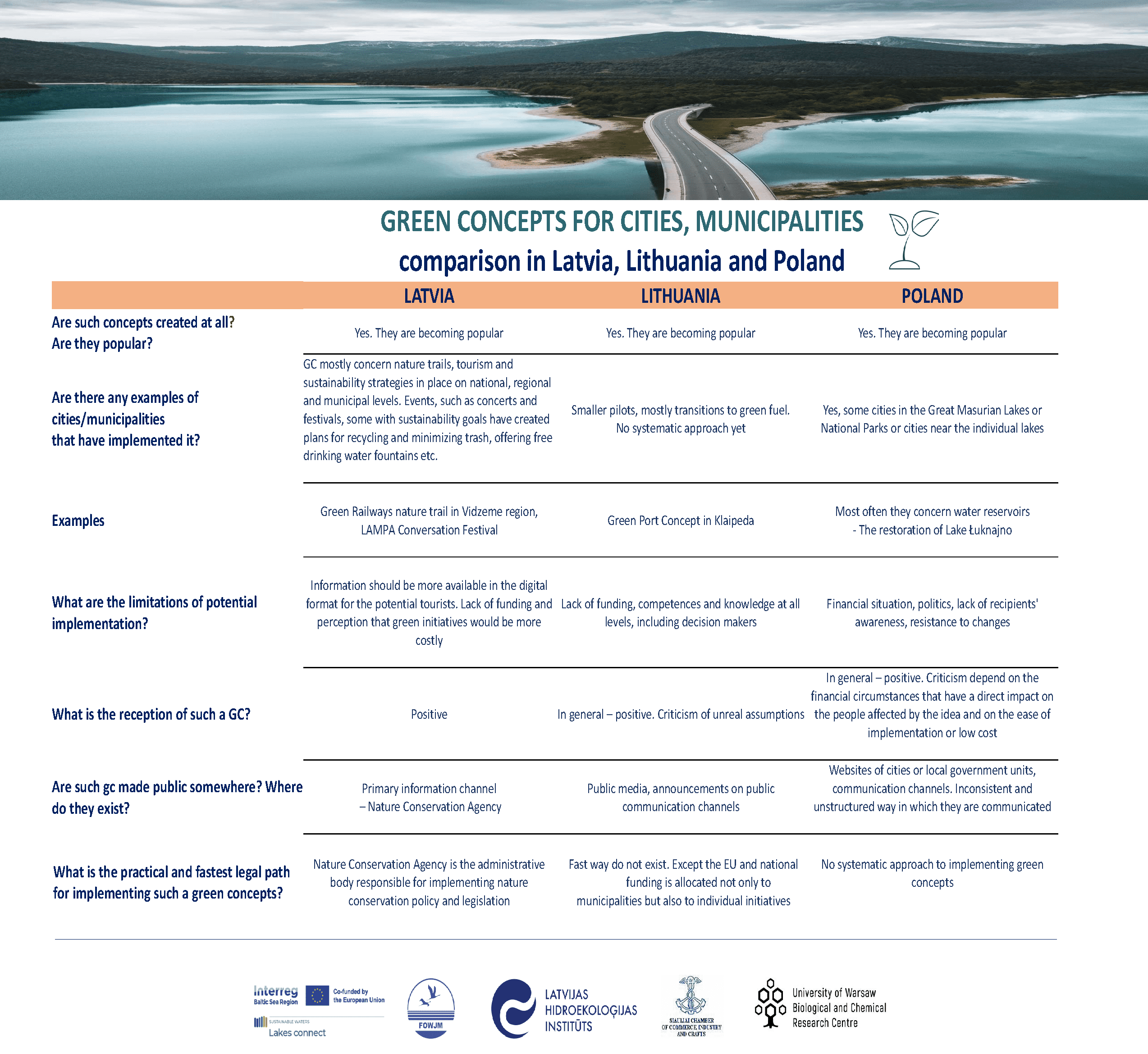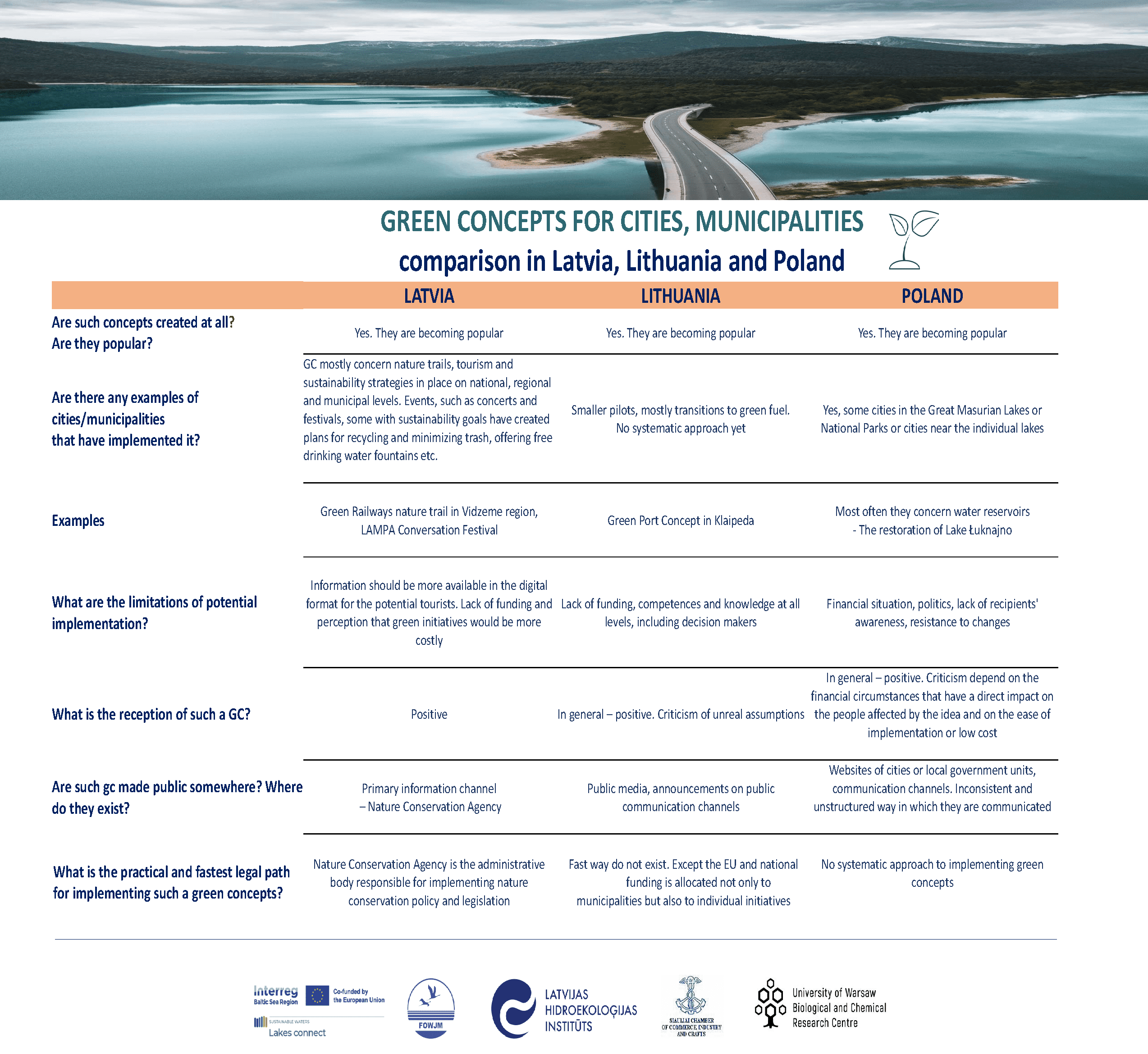 Summary of pollution aspects concerning tourism in lakes of Poland, Latvia and Lithuania
Downloads
Promotion materials - poster

Promotion materials - roll up