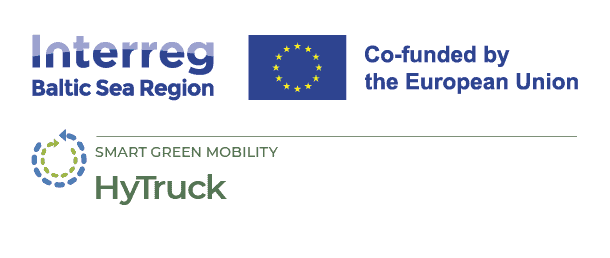 Developing a transnational network of hydrogen refuelling stations for trucks
HyTruck
HyTruck
PROGRAMME 2021-2027
priority
3 Climate-neutral societies
objective
3.3 Smart green mobility
Project type
Core Project
Implementation
January 2023 - December 2025
HyTruck
The project HyTruck helps public authorities design a network of hydrogen refuelling stations for large trucks, bringing the region closer to zero–emissions in road freight transport.
Project summary
The objective of HyTruck is to support public authorities in steering the development of a transnational network of GREEN hydrogen refuelling stations (HRS) suited for large trucks. This shall help to overcome the "chicken & egg problem" that SMEs and infrastructure providers are facing: Haulage and logistics companies that maintain large fleets of heavy vehicles are willing to invest in fuel cell trucks to decarbonize their fleets. The prerequisite for a fuel cell truck to be able to travel from Poznan to Tartu (and back) is that it can refuel with H2 on the way – but today virtually no HRS for large trucks exist. The developers of HRS are prepared to invest in the development of a network of filling stations. The prerequisite is that there are enough fuel cell vehicles that demand green H2 as alternative fuel – but today there are hardly any fuel cell trucks on the road. The EU Regulation AFIR requires member states to take action and plan HRS in parallel to the ramp-up of H2 technology in the transportation sector. The build-up of a transnational HRS network is a complex process with a spatial, economic, environmental and technological dimension. HyTruck is developing solutions that equip public authorities with the capacity and tools to elaborate spatial development concepts, provide the regulatory framework, ensure common standards and design public co-funding programmes. Ultimately HyTruck works towards zero – emission in international road freight transport in the BSR.
Copy direct link to this summary
Budgets
HyTruck
in numbers.
2.56

Million

Total

2.05

Million

Erdf

0.00

Million

Norway
Success indicators
HyTruck
in numbers.
53.6147622511.417145959557212

54.68781780000000525.278127502691177

52.2244334521.040968544139194

57.313171225.2748551

58.3808896526.719647526956543

57.706196911.937873

52.435472313.5413459

52.435472313.5413459

60.165594724.9523295
Contacts
Project manager, Financial manager, Communication manager

Hannah Kusche

Ministry of Economics, Infrastructure, Tourism and Labour Mecklenburg-Vorpommern
Follow us
Social media

Newsletter

Additional links
Events
HyTruck Expert Workshops @ New Mobility Congress 2023 in Łódź
Project: HyTruck
Physical Meeting
28. September 2023
10:00 - 13:00 (CET)
28 Sep 2023
HyTruck Expert Workshops @ New Mobility Congress 2023 in Łódź
Expert discussions on the future of HRS network
2023-09-28
2023-09-28
10:00:00
13:00:59
||
|project|
60
Downloads
HyTruck Monthly Breakfast Briefings Info

HyTruck BreakfastBriefing 13.09.2023 Agenda

HyTruck BreakfastBriefing 13.09.2023 HyTruck

HyTruck BreakfastBriefing 13.09.2023 E-HRS-AS