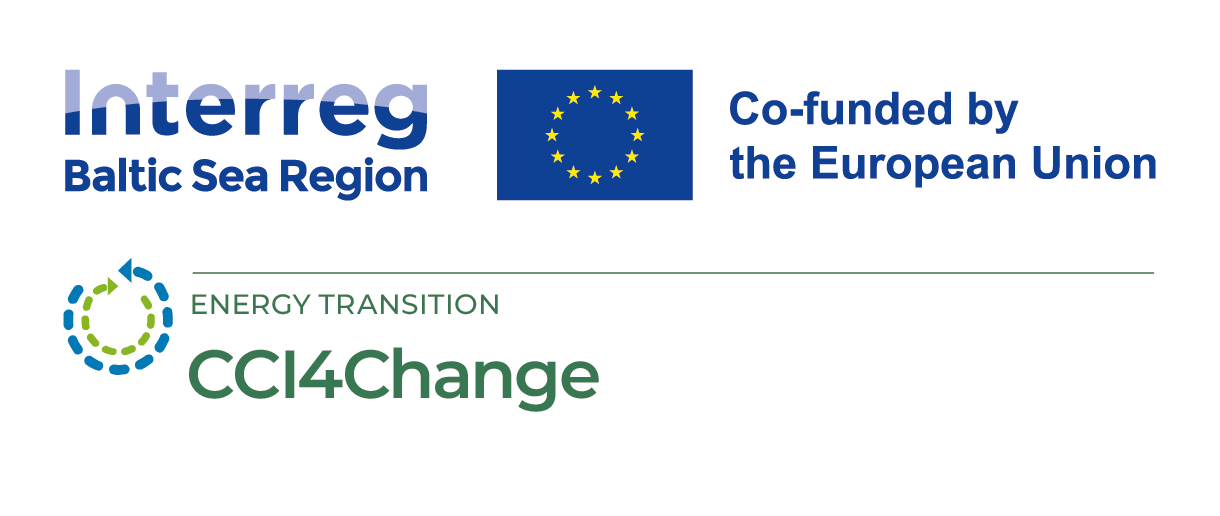 Facilitation of citizens energy consumption behavioral change in BS cities and municipalities
CCI4Change
akka_photo – stock.adobe.com
CCI4Change
PROGRAMME 2021-2027
priority
3 Climate-neutral societies
objective
3.2 Energy transition
Project type
Small Project
Implementation
August 2023 - July 2025
CCI4Change
In the CCI4Change, public authorities cooperate with entrepreneurs from the culture and creative industry (CCI) to better engage with citizens and encourage them to reduce energy consumption.
Project summary
This project enhances the capacity of local authorities to facilitate forward the reduction of citizens energy consumption in their local surroundings. BS cities and municipalities have a limited amount of tools to enhance carbon neutrality and reduce energy consumption. Cities/municipalities use all accessible means e.g. energy efficiency renovations and green technologies, yet there is an acknowledged lack in tools and means to impact the change in citizens mindset, attitude and behavior for sustainable energy consumption. At the moment it is unclear what kind of role the local authority can take, who are the key stakeholders, and by what kind of means this can be tackled. Since the aim of the project is to add the capacity for the local authorities to impact citizens mindsets and behaviors, the process needs to be well thought out, ethical and inclusive. The goal can be reached by developing appropriate methodologies, with a solid approach and citizen engagement. Through its activities the project demonstrates how the local authorities capacity is developed to facilitate the citizens mindset, attitude and behavior for reducing energy consumption in three different BS countries. The project develops a new collaboration format with the culture and creative industry (CCI) to reach the goal in best manner. As the project outcome is a tested toolset to transfer the learnings and process to support a wider round of stakeholders.
Copy direct link to this summary
Budgets
CCI4Change
in numbers.
0.47

Million

Total

0.38

Million

Erdf

0.00

Million

Norway
Success indicators
CCI4Change
in numbers.
56.947288924.1097237

56.972716423.7886979

60.165808524.942725285684773

55.605293113.0001566

60.516212426.9284186

55.612048512.9853042

61.680063327.257231
Cursor Oy, Kotka-Hamina Regional Development Company
Town

Kotka

Region

Country

Finland

Region

Kymenlaakso
Representative

Cursor Oy, Kotka-Hamina Regional Development Company

Phone

E-Mail

Web
Total partner budget
34,675.20
Town

Malmö

Region

Country

Sweden

Region

Skåne län
Representative

STPLN

Phone

E-Mail

Web
Total partner budget
58,828.00
South-Eastern Finland University of Applied Sciences Ltd (Xamk)
Town

Mikkeli

Region

Country

Finland

Region

Etelä-Savo
Representative

South-Eastern Finland University of Applied Sciences Ltd (Xamk)

Phone

E-Mail

Web
Total partner budget
86,688.00
Contacts
Project manager

Krista Petäjäjärvi

Northern Dimension Partnership on Culture

Financial manager

Dace Resele

Northern Dimension Partnership on Culture

Communication manager

Elina Meiere

Northern Dimension Partnership on Culture
Follow us
Social media

Newsletter

Additional links