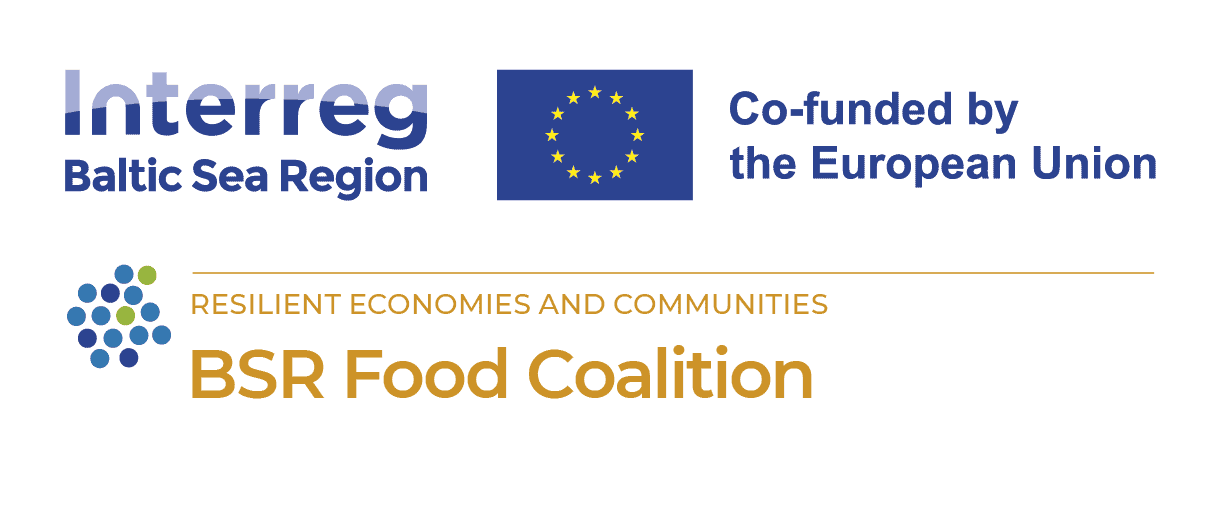 Baltic Municipality's Food Coalition
BSR Food Coalition
BSR Food Coalition
PROGRAMME 2021-2027
priority
1 Innovative societies
objective
1.1 Resilient economies and communities
Project type
Small Project
Implementation
October 2022 - September 2024
BSR Food Coalition
The project BSR Food Coalition connects local farmers and public authorities to ensure regular access to organic food meals at schools, and thus a continuous demand for healthy food supply.
Project summary

Problem statement Various district municipalities across the Baltics have put food and sustainability as a theme in their long term regional strategic plans. Essential involvement, collaboration and having a common goal from district, metropolitan and local municipalities are key to advancing food systems sustainability and to tackle the challenges that come with it. However, the lack of knowledge, experience and competencies in sustainable food, food security and how to work with the SDGs at the municipality level, and the bottom-up collaboration scarcity, have become impediments on the development of resilient and sustainable food regions. Three important entry points that need to be addressed urgently and could be solved: - Smallholder farmers are very important to food security, and increasing agricultural productivity is closely linked to reducing rural poverty and hunger. Yet, food continues to be lost and wasted, instead of reaching school meals. - Organic food is always part of the sustainable school food and the demand for it is increasing in the Baltic States but the supply is weak and unorganised. - Getting smallholder farmers closer to schools. What we specifically are going to tackle - We will tackle the lack of… • methodological support • working methods • awareness of existing tools - The municipalities will be able to see and map out new challenges that are not clear now, gain knowledge and the know-how to be pro-active and resilient.
Copy direct link to this summary
Budgets
BSR Food Coalition
in numbers.
0.50

Million

Total

0.40

Million

Erdf

0.00

Million

Norway
Success indicators
BSR Food Coalition
in numbers.
55.712752921.1350469

54.723467925.3377307

55.712752921.1350469

56.50628127.3306623

56.665392622.489179

58.37688534999999526.716865143718564

57.8479954526.994490282308846
Town

Saldus

Region

Country

Latvia

Region

Kurzeme
Representative

Kurzeme planning region

Phone

E-Mail

Web
Total partner budget
53,928.00
The association of municipalities of Tartu county
Town

Tartu

Region

Country

Estonia

Region

Lõuna-Eesti
Representative

The association of municipalities of Tartu county

Phone

E-Mail

Web
Total partner budget
65,163.00
Development Centre of Võru County
Town

Võru

Region

Country

Estonia

Region

Lõuna-Eesti
Representative

Development Centre of Võru County

Phone

E-Mail

Web
Total partner budget
65,163.00
Contacts
Communication manager

Simona Grigaliūnienė

Klaipeda University

Project manager, Communication manager

Jennifer Avci

Sustainable Gastro

Financial manager

Jūratė Varpukauskienė

Klaipeda University
Follow us
Social media

Newsletter

Additional links