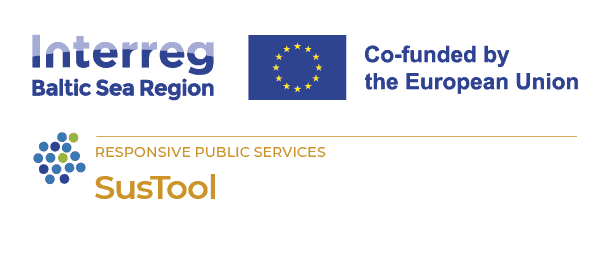 Sustainability Reporting Tool
SusTool
SusTool
PROGRAMME 2021-2027
priority
1 Innovative societies
objective
1.2 Responsive public services
Project type
Core Project
Implementation
January 2023 - December 2025
SusTool
The project SusTool develops a sustainability reporting tool for service and companies in the IT sector that helps better align business performance with sustainability standards.
Project summary

EU law requires certain companies to disclose information on the way they operate and manage social and environmental challenges. In April 2021, the EC adopted a proposal for a Corporate Sustainability Reporting Directive (CSRD), which would amend the existing reporting requirements. The proposal extends the scope to all large companies and all companies listed on regulated markets, including listed SMEs. For several reasons, sustainability reporting is expected to increase also among the companies that are not obliged by the law. A reporting company is expected to report certain data also on its suppliers´ sustainability parameters (eg scope 3 GHG emissions) and will in the near future request that data from a large number of SMEs that are part of its value chain. Currently, the sustainability information reported by companies differs from one company to another. The lack of precision in the current requirements and the complexity of the directives and regulations has resulted in many private reporting standards and frameworks. The project develops and pilots the solution for the target groups - Sustainability Reporting Tool consisting of: - a digital reporting environment with the guidance of what data to submit that allows the service and ICT sector companies to see and evaluate their performance in the required sustainability areas; - recommendations for companies on how to efficiently align their operations with the required sustainability parameters.
Copy direct link to this summary
Budgets
SusTool
in numbers.
3.46

Million

Total

2.77

Million

Erdf

0.00

Million

Norway
Success indicators
SusTool
in numbers.
59.426943824.7401378

59.42274039999999524.801110759479652

59.440561824.7319121

56.949397724.1051846

56.956235724.1285812

61.4963200523.77675971617942

54.687045825.2829111

59.426943824.7401378
Contacts
Project manager, Financial manager, Communication manager

Kristi Aruküla

Estonian Ministry of Economic Affairs and Communications
Follow us
Social media

Newsletter

Additional links