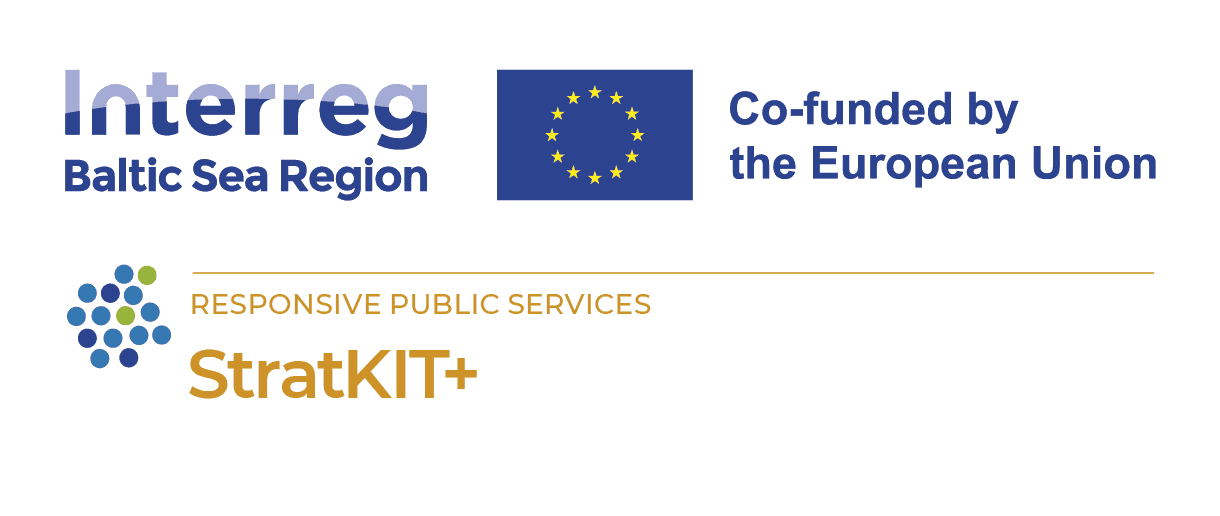 Innovative Strategies for Public Catering: the Expansion of the Sustainable Public Meal Toolkit
StratKIT+
StratKIT+
PROGRAMME 2021-2027
priority
1 Innovative societies
objective
1.2 Responsive public services
Project type
Small Project
Implementation
October 2022 - March 2024
StratKIT+
The project StratKIT+ guides public authorities, catering providers and others on sustainable procurement for schools, daycare, hospitals and other public institutions.
Project summary
There are many institutional, economic, social, and psychological barriers when it comes to implementing high-quality criteria into the public procurement and catering services. StratKIT+ project addresses these challenges by providing new additions to the previously developed Public Meal Toolkit, which helps implementing healthy and sustainable food into the public sector within the Baltic Sea Region while providing a community platform for the stakeholders.
Public meal organisations need support, guidance, and networks in incorporating environmental targets and strategies to their main task of serving nutritionally adequate meals. Authorities need more knowledge on food and public meals to prioritize better and send right messages to the food service providers. Addition to this, stakeholders need more support and tools to tackle different crisis situations that affect the public kitchens. There is a variety of actors that offer support but the information provided would benefit from practical examples with good accessibility. This is what will be developed in the new Sustainable Public Meal Toolkit+.
Public meal stakeholders lack multiple resources (e.g. time, knowledge, funding, support) in the sustainable development of public meals. With the toolkit BSR public meal actors can cooperate by sharing knowledge and ideas related to different public meal solutions through practical testing organised by the StratKIT+ project partners. These pilots have been successful way to share knowledge with stakeholders for example through organic farm visits, cooking trainings and workshops.
Practical testing and implementation of the toolkit helps to add motivation and commitment to the sustainability goals that are challenging to reach with the limited resources. Municipalities and food service providers should also be able to respond quickly to challenges affected by legal regulations, social changes and different crises, while at the same time not being afraid or reluctant to become local pioneers in GPP or vegan public meals. Addressing it all, StratKIT+ will contribute with a variety of ways to increased sustainability of public meals in BSR.
Copy direct link to this summary
Budgets
StratKIT+
in numbers.
0.50

Million

Total

0.40

Million

Erdf

0.00

Million

Norway
Success indicators
StratKIT+
in numbers.
Overview
What we produced so far.
Sustainable Public Meal Toolkit now available in 10 languages!
The Toolkit (www.sustainable-public-meal.eu) was translated into three new languages and is now available in all official languages spoken in the countries surrounding the Baltic Sea: Swedish, Finnish, Estonian, Lithuanian, Latvian, Russian, Polish, German, Danish and in English. The Toolkit was created during InterregBSR project StratKIT (2019 – 2021, #088) and is being now further developed under StratKIT+ project of the same programme. Having new partners from Latvia, Lithuania and Sweden allowed the geographical expansion of the Toolkit. Hence, the public procurers, catering professionals and citizens of these countries now have an easy access to all the tools, and they can start transforming their public procurement and catering services towards sustainability.
Contact: Henrike Perner henrike.perner@agrathaer.de
Sustainable Public Meal Toolkit
62.789373922.8206754

59.451931924.7176649

57.707232611.9670171

52.5158828514.112973822994086

55.88404212.469355

50.259898719.0215852

50.095579318.5419933

59.08386115000000417.49085301467332

56.947784924.1064512

52.233717221.071432235636493

54.232911823.520564

57.8479954526.994490282308846

50.84655734.351697

59.435147824.77303058847621
Contacts
Project manager, Financial manager

Leena Viitaharju

University of Helsinki Ruralia Institute

Communication manager

Iida Alasentie

University of Helsinki Ruralia Institute
Follow us
Social media

Newsletter

Additional links
Publications
Cooperation towards more sustainable public meals in the Baltic Sea Region

A short article introducing the project for academic and general public published in Finnish language (page 9).

|0|

Stakeholders workshop on Sustainable Public Meals Resilient to Crises - Group Discussion Summary

Summary of the group discussion related to the Stakeholders workshop on Sustainable Public Meals Resilient to Crises that was organised in Riga, Latvia in 19th of April 2023. In the workshop over 30 participants shared their thoughts about the most relevant challenges that public meal provision is facing at the moment. The groups discussed about disturbances in the supply chain, staff-related issues, resource efficiency and different changes in the production structure.

|0|