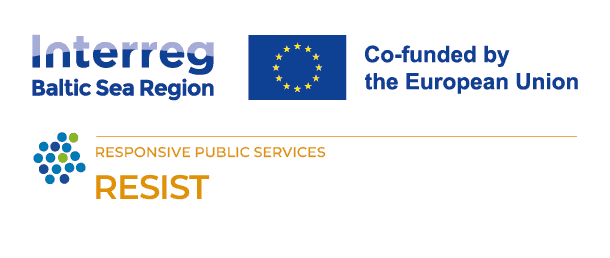 Regional Ecosystems for Social Innovation and Social Transformation
RESIST
Blue Planet Studio– stock.adobe.com
RESIST
PROGRAMME 2021-2027
priority
1 Innovative societies
objective
1.2 Responsive public services
Project type
Core Project
Implementation
November 2023 - October 2026
RESIST
In the project RESIST, regional authorities, business support organisations and sectoral agencies develop a model of how to open up existing regional innovation ecosystems for social innovators and social entrepreneurs tacking societal and environmental challenges.
Project summary
Social innovators and social entrepreneurs can play an important role in finding creative and unconventional solutions to current transformative challenges such as migration, the transition to a carbon neutral society, or digitisation. But to turn good ideas into practice they need help – in terms of qualification, funding and access to markets and cooperation partners. Regional public authorities, business support organisations and sectoral agencies in the Baltic Sea Region are already very effectively providing such support to mainstream innovators and entrepreneurs, but they have yet to realise the benefits of adapting their offers to the needs of social enterprises. The RESIST project supports these institutions in creating better and more supportive regional ecosystems for social innovation (SI) and social entrepreneurship (SE) and in making existing innovation support more accessible for social entrepreneurs. The project partners explore the concept of "clusters of social and ecological innovation" (CSEI) as a model for fostering cross-sectoral collaboration, and they develop and test a programme to improve the capacity of innovation support actors to foster social innovation. In the long run, the objective is to raise the number of CSEIs in the BSR and to facilitate cooperation between them. Throughout the process, the involved regions will also collect ideas and recommendations for improving the integration of social innovation in their regional innovation strategies.
Copy direct link to this summary
Budgets
RESIST
in numbers.
3.62

Million

Total

2.58

Million

Erdf

0.20

Million

Norway
Blue Planet Studio– stock.adobe.com
RESIST
in numbers.
53.55060689.9840313

52.494898613.539767176699716

54.348290718.6540233

54.334228118.1973639

54.687045825.2829111

56.665928122.4936222

56.949397724.1051846

56.831746924.4285713

63.825656820.2630745

55.608820612.9923618

58.426730058.94694911492874

57.8479954526.994490282308846

59.437215524.7453688
Contacts
Project manager, Financial manager, Communication manager

Ruben Quaas

Hamburg Ministry of Economics and Innovation
Follow us
Social media

Newsletter

Additional links