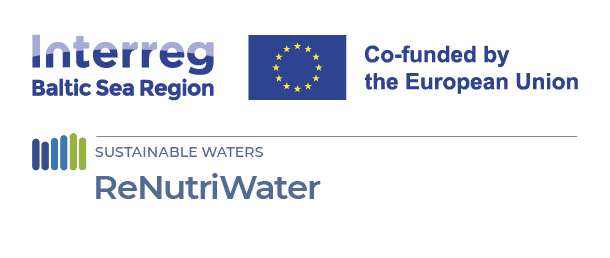 Closing local water circuits by recirculating nutrients and water and using them in nature
ReNutriWater
ReNutriWater
PROGRAMME 2021-2027
priority
2 Water-smart societies
objective
2.1 Sustainable waters
Project type
Core Project
Implementation
January 2023 - December 2025
ReNutriWater
The ReNutriWater helps public authorities develop action plans to recover wastewater, and reuse it for cleaning, watering recreational areas and plants as well as domestic purposes.
Project summary
Climate change and environmental pollution make saving water resources crucial also in the Baltic Sea Region. Due to climate change and increasing pollution of the environment, freshwater has become more valuable in the Region. Despite the extensive initial treatment, freshwater is still discharged after single use in many countries. This practice wastes money, energy, and human labour, which could be reduced with water recovery from wastewater. However, such practices pose some challenges due to specific requirements for reclaimed water quality. The goal is to reduce the risk of the potentially harmful impact of untreated WWTP effluent on the environment and human health. Reclaimed water can be used by local authorities and private entities for various purposes, such as street cleaning, car washes, fountains and pond recharge, irrigation of recreational area, plant breeding, and, after proper treatment, also for domestic use or drinking water. The key is to develop solutions for the recovery of safe water, free of pathogens and micropollutants, with the right amount of nutrients. Overcoming the "yuck factor" in society is also crucial. The risk assessment is a necessary tool for creating effective protective barriers. This project is intended to address these challenges to accelerate policymaking, which would facilitate implementation of water reuse in the cities of Europe. This good practice addresses circular economy and SDG #6 "Clean water and sanitation for all".
Copy direct link to this summary
Budgets
ReNutriWater
in numbers.
3.85

Million

Total

3.08

Million

Erdf

0.00

Million

Norway
Contacts
Project manager

Klara Ramm

Chamber of Economy Polish Waterworks

Communication manager

Paula Biveson

Centrum Balticum

Financial manager

Iwona Włodarek

Chamber of Economy Polish Waterworks
Follow us
Social media

Newsletter

Additional links
News
News
The birth and purpose of ReNutriWater
The story of ReNutriWater and its aims described in own words by the project leader, Klara Ramm, ...