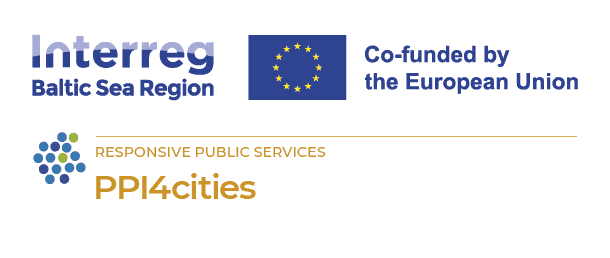 Supporting BSR cities to implement public procurement of innovation while providing practical tools created using AI technologies and gamification methods
PPI4cities
PPI4cities
PROGRAMME 2021-2027
priority
1 Innovative societies
objective
1.2 Responsive public services
Project type
Core Project
Implementation
January 2023 - December 2025
PPI4cities
In the project PPI4cities, public authorities learn how to build a smart city by designing innovations already at the procurement level.
Project summary

PPI4cities intends to support the cities in BSR region to improve their public services and achieve their ambitious innovation goals through developing pragmatic tools, which would facilitate the uptake of public procurement of innovation. There are so many innovations that can be implemented to make urban life easier. Therefore, project intends to support cities throughout the process to deal with different economic, environmental and social challenges and look for the smart solutions to them. It will do so by bringing together a portfolio of capacity building material and tools that enable the various actors of the cities to exploit structured content and move forward faster and with greater confidence and certainty in adopting smart cities' solutions through PPI. It will also act as a network of BSR cities, for cities, dedicated to public procurement of innovation. Through peer exchange, networking and training, project fosters political commitment and boosts collective expertise, equipping cities to put PPI at the centre of smart city development. During the project lifetime developed solution will be piloted in a real-city settings in order to assess their feasibility and the effectiveness for the target groups. Project partners will engage in support activities to boost the BSR-wide impact of developed solutions on PPI and assist the BSR city network through transfering the solutions to the broader audience of the target group.
Copy direct link to this summary
Budgets
PPI4cities
in numbers.
1.73

Million

Total

1.38

Million

Erdf

0.00

Million

Norway
Success indicators
PPI4cities
in numbers.
54.75157799999999525.26494314090204

61.498021423.7603118

59.436890124.73824388386304

56.947932624.1079726

55.734498524.3578055

53.890983211.4647932

57.0127389.988313
Panevėžys Development Agency
Town

Panevezys

Region

Country

Lithuania

Region

Panevėžio apskritis
Representative

Panevėžys Development Agency

Phone

E-Mail

Web
Total partner budget
120,182.00
BME Region Mecklenburg Western Pomerania
Town

Wismar

Region

Country

Germany

Region

Nordwestmecklenburg
Representative

BME Region Mecklenburg Western Pomerania

Phone

E-Mail

Web
Total partner budget
265,988.00
Town

Aalborg

Region

Country

Denmark

Region

Nordjylland
Representative

NorthDenmark EU-Office

Phone

E-Mail

Web
Total partner budget
186,602.20
Contacts
Project manager

Juste Rakstyte-Hoimian

Lithuanian innovation centre

Financial manager

Rita Dragunaite

Lithuanian innovation centre

Communication manager

Inga Vysniauskiene

Lithuanian innovation centre
Follow us
Social media

Newsletter

Additional links