Innovative management solutions for minimizing emissions of hazardous substances from urban areas in the Baltic Sea Region
NonHazCity
PROGRAMME 2014-2020
priority
2 Natural resources
objective
2.1 Clear waters
NonHazCity
The Interreg project NonHazCity enabled nine municipalities around the Baltic Sea to develop their chemical action plans for hazardous substances entering the Baltic Sea, and trained dozens of small businesses and households to reduce their emissions.
Project summary

Small scale emitters with big impact
Industrial wastewaters, municipal sewage and stormwater are the source of hazardous substances and pollutants entering the Baltic Sea waters. Although emissions from industrial sources are formally regulated, emissions coming from small-scale businesses or households usually are not. However, in cases of substances like phthalates, bisphenol A, alkylphenols and PFAS smaller sources account for 50% of emissions in the region.
So far, the exact emitters have been not identified because of low concentrations of the substances of concern. They have not been addressed either due to the high number of emitters. Consequently, people running small-scale businesses or households have little knowledge of which chemical products to select and which to avoid in order to protect both their own health and the environment.
Lacking tools to tackle emissions from small-scale emitters
Another challenge is related to the municipal wastewater treatment facilities, which are unable to effectively treat the pollution coming from small-scale businesses and households. People responsible for wastewater management in municipalities need to learn about new techniques to reduce emissions of hazardous substances and other pollutants that cannot be reached by traditional water treatment and enforcement techniques.
Budgets
NonHazCity
in numbers
3.54

Million

Total

2.80

Million

Erdf

0.00

Million

Eni + Russia

0.00

Million

Norway
Achievements
Chemical plans in action
Based on scientific studies showing frequent occurrence of phthalates, bisphenol A, alkylphenols and PFAS in wastewater, sewage sludge and stormwater, the project encouraged nine municipalities in Estonia, Finland, Germany, Latvia, Lithuania and Poland to develop their own chemical plans. This way representatives of municipalities and wastewater treatment plants, owners of local businesses and inhabitants received a practical set of tools to reduce emissions.
In Gdansk (Poland) and Riga (Latvia), the chemical action plans became standalone strategies, whereas the Riga City Council has introduced a new full-time staff position of chemical coordinator to monitor the implementation of its plan.
Kaunas district and Šilalė (Lithuania) incorporated their new chemical action plans into existing municipal development plans. Kaunas district municipality is now prepared to train its employees on procuring products that do not contain hazardous substances.
Pärnu (Estonia) adds its chemical action plan to its city waste plan and is running a campaign among residents and small businesses to educate them on hazardous substances in plastic food containers and household appliances.
The chemical action plan of Turku (Finland) was added to the existing Baltic Sea Challenge Action Plan, which covers Helsinki as well as Turku. Finally, Stockholm and Västerås (Sweden) updated their existing chemical action plans as a result of the project.
The project partners reached 200 additional municipalities to teach them about reducing the amounts of hazardous substances entering the wastewater, sewage sludge and stormwater.
Small businesses can make a big difference
The project has improved knowledge on the potential for hazardous substance reduction in businesses. Owners of 40 companies received tailor-made advice on how to improve their handling of hazardous substances. This included, for example, an end-of-life vehicle management company in Turku, private kindergartens in Riga, and an IT company in Gdansk. In addition, 340 companies and business associations and chambers of commerce attended training courses and more than 3,500 received information from the project. Among these were hotels, hairdressers, cleaning services, car repair workshops, laundry services, the construction and woodworking industry, healthcare services, and, in general, offices.
The home project
50 private households in ten municipalities in Poland, Germany, Estonia, Latvia, Sweden, Lithuania and Belarus were checked on hazardous substances, for example in cleaning agents, toiletries, kitchenware and toys. The households received information about the products in their home and advice on how to reduce the amount of hazardous substances used. During a second home visit, the households showed what changes they had made as a result, for example they had exchanged kitchenware such as non-stick pans and plastic food containers as well as reduced the number of detergents. Volunteer households in Gdansk provided urine samples before and after these behavioural changes: after avoiding certain plastic products, there was a decrease in concentrations of bisphenol A, phthalates and nonylphenol. The participants claim to reported an increase in awareness and confidence about hazardous substances after taking part in the household check.
Less hazardous substances in the future
With EUR 2.8 million support from the European Union, the Interreg project NonHazCity has increased knowledge and pushed for real actions towards reducing hazardous substances in local municipal administrations, businesses and households. In its follow-up project, NonHazCity 2, the project partners, among other things, will monitor the municipalities' implementation of their chemical action plans and further train public authorities in chemicals-smart procurement.
The project's success in tackling the challenge that goes beyond borders was already replicated by two municipalities in Belarus, Ivyje and Vilejka, thanks to Swedish funding. Now, two Russian organisations are also getting involved in NonHazCity 2 in order to transfer good practice to the municipality of St. Petersburg.
Outputs
Report on SMEs' potential to reduce hazardous substances
Drawing on the behaviour of over 30 businesses like hair salons, car repair shops, cleaning services, hotels and offices in Estonia, Finland, Germany, Latvia, Lithuania, Sweden, the publication 'Hazardous substance reduction potential at local businesses' analysed how companies manage chemical risk. It highlighted opportunities for them to replace or reduce the hazardous substances used in their workspaces that are harmful to employees' health. The report recommends actions for municipalities, businesses and societies: for example, municipalities can apply chemicals-smart procurement rules as a powerful tool to influence suppliers into paying more attention to non-hazardous alternatives.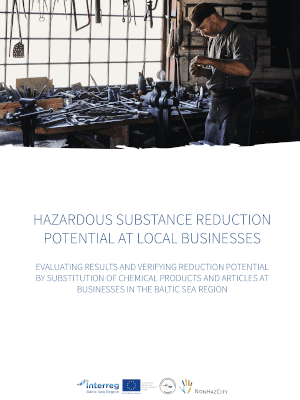 Municipal chemical action plans
Nine municipalities in Estonia, Finland, Poland, Latvia and Lithuania developed chemical action plans that included some 100 concrete actions to reduce hazardous substances. These built on Stockholm's existing plan as a template. They developed these plans with the help of organisations working on the national level in their respective countries. These actions are to be used by the municipal organisation, such as training the staff responsible for purchasing in educational, medical and social care institutions and the staff responsible for procurement in renovation, construction and cleaning. In addition to internal changes in the administrative body, actions also involve targeting enterprises in the local area in certain sectors and information campaigns to local residents. They serve as a basis for other municipalities in the Baltic Sea region to develop their own chemical action plans.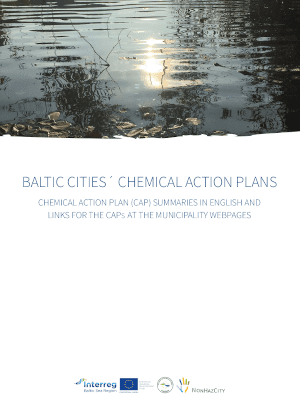 Partners
Municipality of Stockholm
City of Västerås
Swedish University of Agricultural Sciences
Turku University of Applied Sciences
Pärnu City Government
Baltic Environmental Forum Estonia
Riga city
Baltic Environmental Forum Latvia
University of Gdansk
Municipality of Gdansk
Gdansk Water Utilities Ltd.
Baltic Environmental Forum Lithuania
Environmental Protection Department under the Ministry of Environment
Institute of Applied Ecology
Baltic Environmental Forum Germany
Kaunas District Municipality
Municipality of Šilalė district
Contacts

Project manager

Arne Jamtrot

City of Stockholm, Environment and Health Administration

Legal representative

Anna Hadenius

Municipality of Stockholm

Financial manager

Matthias Grätz

Baltic Environmental Forum Deutschland

Communication manager

Matthias Grätz

Baltic Environmental Forum Deutschland