Capitalizing key elements of NonHazCity: empowering private and professional users for better risk management and use reduction of chemical products in their cities
NonHazCity 2
PROGRAMME 2014-2020
priority
2 Natural resources
objective
2.1 Clear waters
NonHazCity 2
The Interreg project NonHazCity 2 built municipalities' capacity in chemicals management and campaigned on the dangers of plastics in our everyday life.
The challenge
Small scale emitters with big impact
Industrial wastewaters, municipal sewage and stormwater are the source of hazardous substances and pollutants entering the Baltic Sea waters. Although emissions from industrial sources are formally regulated, emissions coming from small-scale businesses or households usually are not. However, in cases of substances like phthalates, bisphenol A, alkylphenols and PFAS smaller sources account for 50% of emissions in the region.
So far, the exact emitters have been not identified because of low concentrations of the substances of concern. They have not been addressed either due to the high number of emitters. Consequently, people running small-scale businesses or households have little knowledge of which chemical products to select and which to avoid in order to protect both their own health and the environment.
Lacking tools to tackle emissions from small-scale emitters
Another challenge is related to the municipal wastewater treatment facilities, which are unable to effectively treat the pollution coming from small-scale businesses and households. People responsible for wastewater management in municipalities need to learn about new techniques to reduce emissions of hazardous substances and other pollutants that cannot be reached by traditional water treatment and enforcement techniques.
NonHazCity 2 is the extension stage project of NonHazCity and helps to implement the earlier developed tools for the reduction of hazardous substances in various environments. The exchange on smart procurement praxis facilitated by the project allows decision-makers, suppliers and end-users to improve their chemical assortment.
Budgets
NonHazCity 2
in numbers
1.11

Million

Total

0.75

Million

Erdf

0.15

Million

Eni + Russia

0.00

Million

Norway
Achievements
The partners of NonHazCity 2 focused on the implementation of the chemical action plans (CAPs) at municipalities. The participating municipalities who earlier approved such plans assessed the plans´ effectiveness and adaptability during the implementation. The CAPs contain strategic actions covering all measures taken in municipalities to reduce hazardous substances. As such, the plans were benchmarked, analysed and scored in regard to their contribution to reaching the targets. The feedback from the piloting cities such as Riga (Latvia), Pärnu (Estonia), Västeras (Sweden), Turku (Finland) and Gdansk (Poland) was integrated into the overall assessment and served as a basis for designing the training modules.
Training in chemical-smart public procurement
Municipal representatives received training on how to organise chemical-smart procurement, or green public procurement (GPP). The purpose of the training was to learn the basics about hazardous chemical substances, their origin (how they come from products and articles), how they impact the environment and finally, how to avoid them while running a procurement.
Integration of chemical risk management
Based on the key learning that chemicals risk management must become more explicit and be integrated in the environmental management system (EMS) of organisations and businesses, a guide on "Management of chemicals as a part of the environmental management system" was developed and tested.  Through feedback from representatives of businesses and certification bodies, two versions of this guide were prepared: the first focuses on adapting chemicals management to existing international and worldwide standards (ISO) for EMS, the second refers in more depth to EU legislation in the area of chemicals management.
For better outreach, the partners organised #NonHazPlasticDiet campaign aimed to raise awareness of the possibilities to reduce hazardous substances. The campaign reached over half a million Europeans across 14 countries. In addition to this, the partners developed Do-It-Yourself (DIY) guides for private consumers and offices as well as a web-based app to measure the personal exposure risk with endocrine disrupting substances at home.
Outputs
Assessment of the chemicals action plans of the Baltic Sea region
The report contains the findings from the assessment of the implementation of chemical action plans (CAPs) in municipalities. It covers the involvement of stakeholders, benchmarking for the CAP assessments and anchoring of CAPs and green public procurement (GPP) at participating municipalities. Besides, it includes an assessment of CAPs through indicators and recommendations to foster the implementation of CAPs and the application of GPP. The publication is useful for procurement and environmental units in municipalities.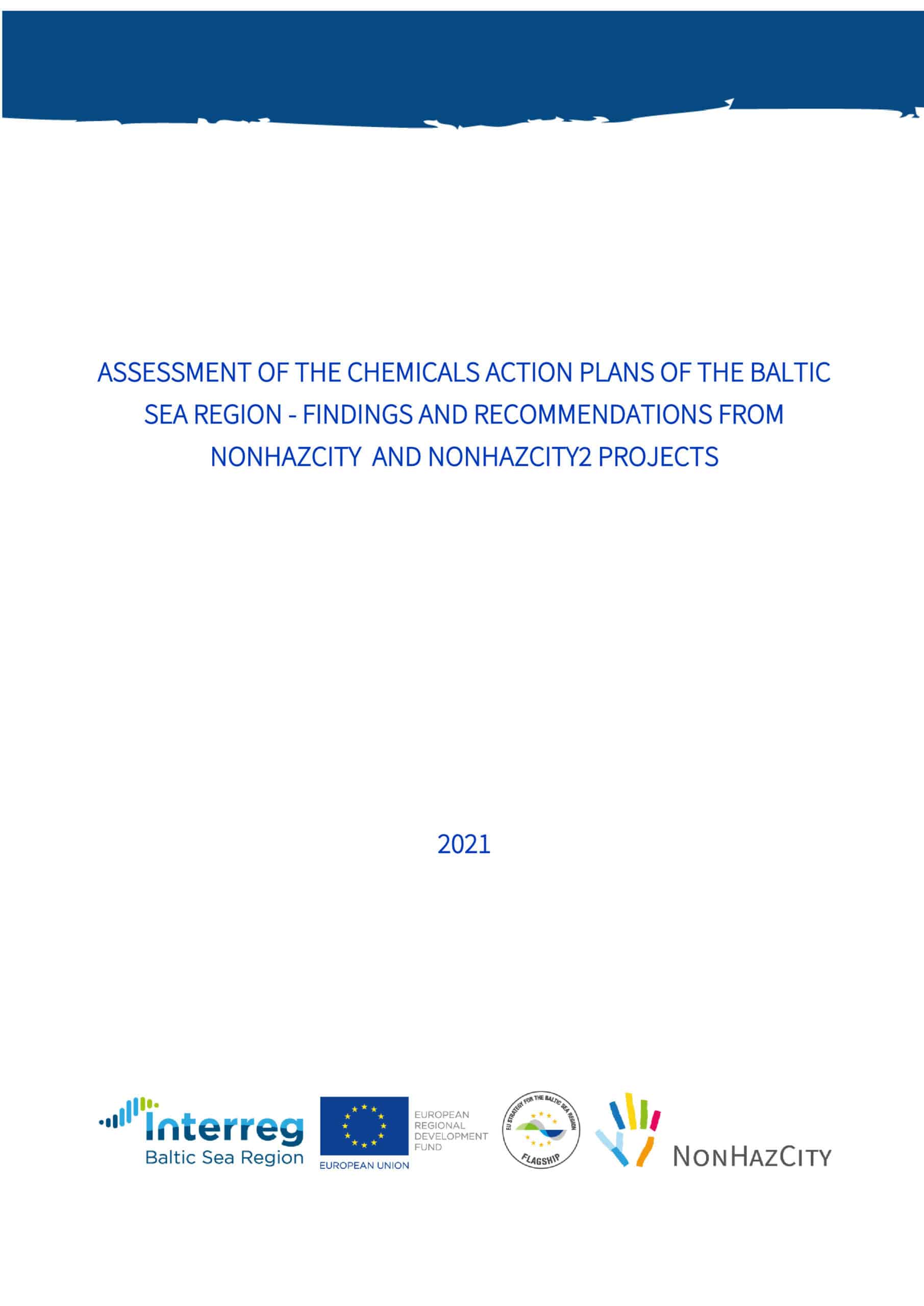 Training programme on chemicals-smart public procurement
The online programme offers training for municipal representatives on various aspects to ensure a chemicals-smart procurement. The material is structured in 5 practical modules that cover: what are hazardous substances, how they originate from products, their footprint on the environment, the legal basics of chemical management, and how to avoid the chemicals. For convenience, the training modules are available as an online kit. The training programme is used to raise the awareness of municipal representatives about hazardous substances and green public procurement. Besides, for so-called "chemical ambassadors" (volunteers trained by the project in this capacity) there is an additional training kit integrating brochures, video tutorials, handouts and a manual.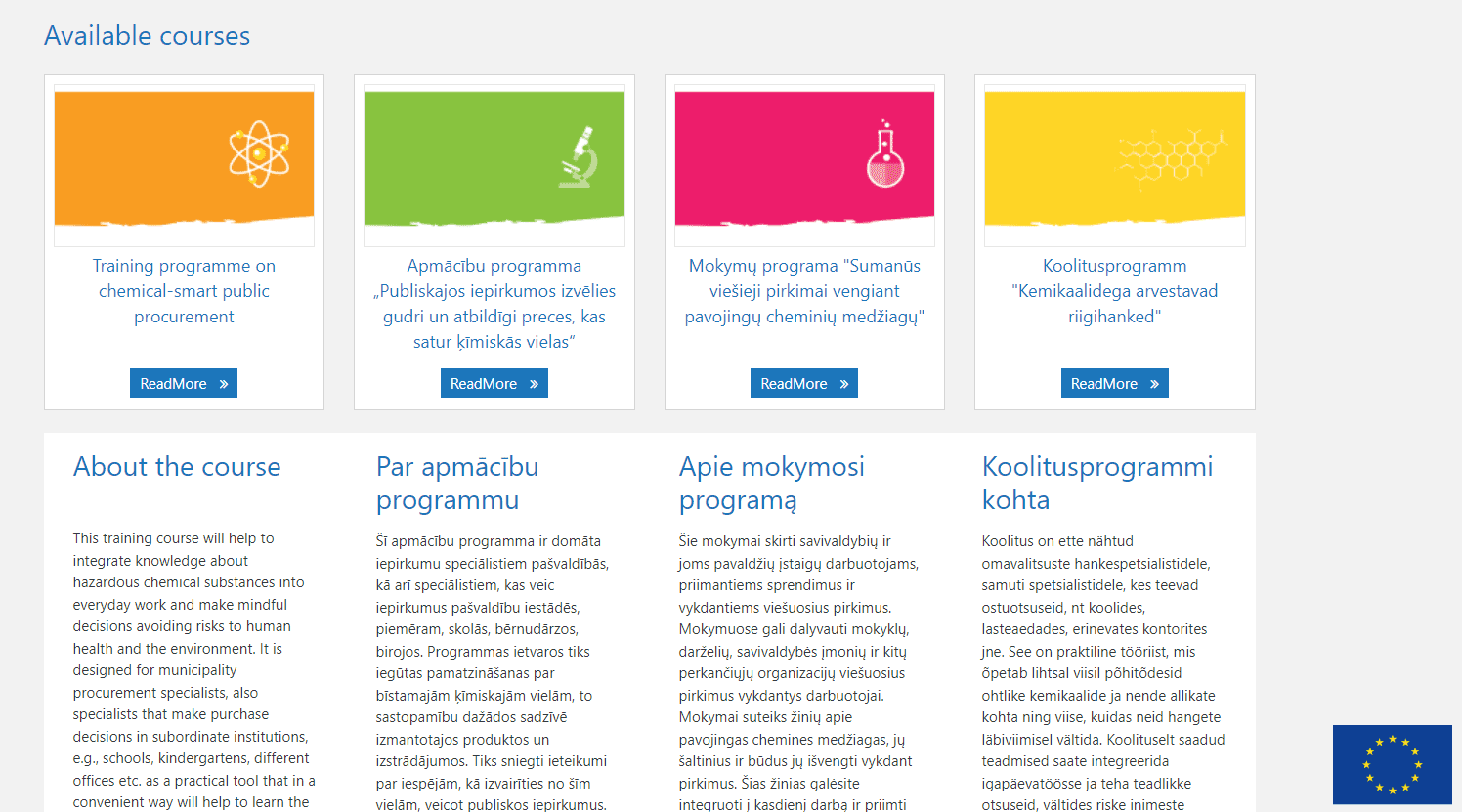 Guide: management of chemicals as a part of the environmental management system
The aim of this document is to provide guidance on the integration of chemical risk management into environmental management systems. It follows the format of ISO 14002 standard series. It guides on how to control risk and implement hazardous chemicals policy. In addition, the document is translated to Polish and nationally distributed to certification bodies and public authorities. The guide serves as underlying material for international discussions aimed to raise awareness about combining chemicals management with environmental management systems.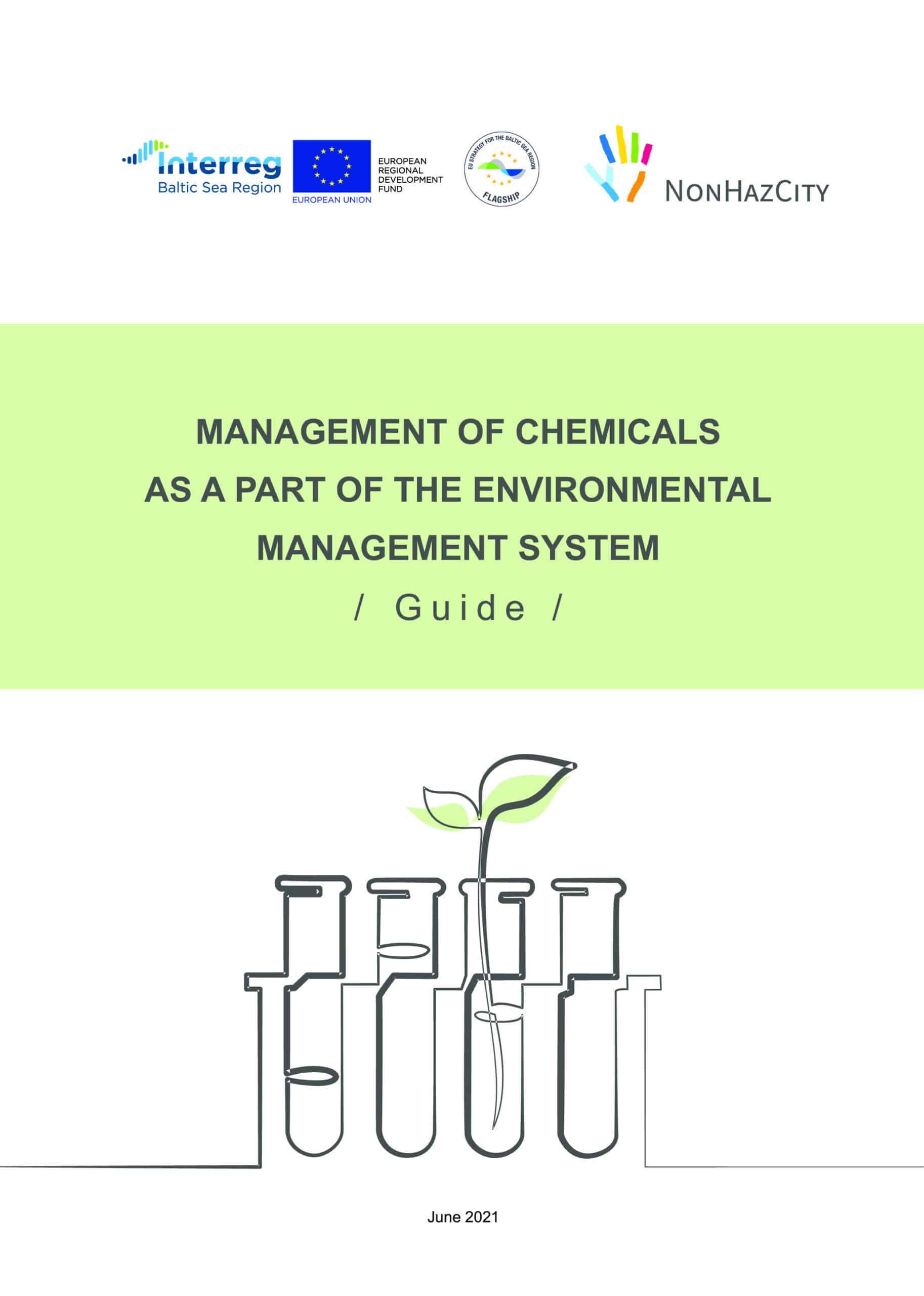 Project Stories
31.05.2021

From toothpaste to toys, hazardous chemicals are everywhere around us. Read about the Interreg project NonHazCity and its #MadeWithInterreg solutions for a greener and healthier life. Together with another project from the North Sea region, Sullied Sediments, they show how dedicated people working across borders are putting the EU Green Deal into practice.

Read full story

23.09.2020

Two Interreg Baltic Sea Region projects - EcoDesign Circle and NonHazCity - have reached the finals of two EU wide campaigns: RegioStars Awards 2020 and the Interact Project Slam. Both projects showcase how cooperation in an Interreg project actively contributes to a greener Europe.

Read full story

03.09.2020

The NonHazCity projects are a great example of how Europeans with smart ideas successfully cooperate to turn good solutions into common practice. Environmentalists, public officials and researchers from eight countries demonstrate how we can reduce the amounts of hazardous substances that enter the environment from sources that cannot be controlled by traditional water treatment, e.g. offices, schools, recreational facilities and businesses. Read here about the household check – a unique tool to reach out to private households and to initiate better consumption decisions. The concerted approach of NonHazCity is innovative and far-reachig which is why the projects are flagships of the EU Strategy for the Baltic Sea Region.

Read full story
Partners
Riga city
Baltic Environmental Forum Latvia
Baltic Environmental Forum Lithuania
Gdansk Water Utilities Ltd.
City of Västerås
Pärnu City Government
Baltic Environmental Forum Estonia
Baltic Environmental Forum Germany
Turku University of Applied Sciences
Association Polish Forum ISO 14000
Saint-Petersburg State University of Aerospace Instrumentation
Ecological union
Contacts

Project manager

Normunds Vagalis

Riga City Council Housing and Environment Department

Legal representative

Anatolij Aleksejenko

Riga city

Financial manager

Normunds Vagalis

Riga City Council Housing and Environment Department

Communication manager

Poļina Ļeškoviča

Riga City Council Housing and Environment Department