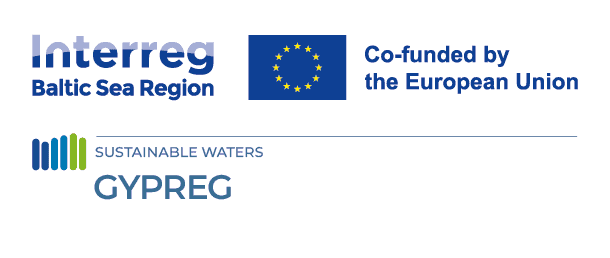 Tackling agricultural phosphorus load by soil amendments
GYPREG
kampwit– stock.adobe.com
GYPREG
PROGRAMME 2021-2027
priority
2 Water-smart societies
objective
2.1 Sustainable waters
Project type
Core Project
Implementation
November 2023 - October 2026
GYPREG
The project GYPREG brings together national and public authorities, NGOs, farmers and farmers´ associations to increase the uptake of gypsum treatment of agricultural fields that allows to reduce phosphorus losses from agriculture.
Project summary
Eutrophication impacts the ecological state and ecosystem services provided by the Baltic Sea. So far there has been a limited set of measures to reduce phosphorus load from agriculture, which maintains the poor state of the coastal waters. We aim to tackle this challenge by engaging authorities and farmers to apply a good practice, gypsum amendment of agricultural fields. Gypsum has the potential to remarkably cut phosphorus losses from agriculture and to help EU member states to fulfil their obligations towards the EU WFD and MSD, and HELCOM BSAP, and to clean up their coastal waters. However, gypsum amendment is poorly known and lacks local applications, forming a barrier in its large-scale use. To facilitate uptake of the method, the project will, in close cooperation with the target groups, enhance interaction across the environmental and agricultural sectors, cocreate and adapt the method to the agricultural and environmental conditions in the partnering countries, and implement it in pilot activities. Finally, the learnings will be elaborated into policy briefs, summary reports, and training materials, and shared with policymakers, authorities, farmers and providers of agricultural extension services to maximise their adaptation by the target groups. The project will deliver nationally adapted operating models for applying the gypsum method in the partnering countries also in the future. In addition, it will result in concrete reductions in phosphorus losses.
Copy direct link to this summary
Budgets
GYPREG
in numbers.
2.74

Million

Total

2.19

Million

Erdf

0.00

Million

Norway
kampwit– stock.adobe.com
GYPREG
in numbers.
60.167488124.9427473

57.002817924.0871001

53.346881-6.25886

52.13967624999999420.91978802931338

60.195603924.928423

59.341476818.064424

57.68582075000000511.978188284954435

56.953898324.0993642
Contacts
Project manager

Ekholm Petri

Finnish Environment Institute (Syke)

Financial manager

Maria Koski

Finnish Environment Institute (Syke)

Communication manager

Sari Väisänen

Finnish Environment Institute (Syke)
Follow us
Social media

Newsletter

Additional links