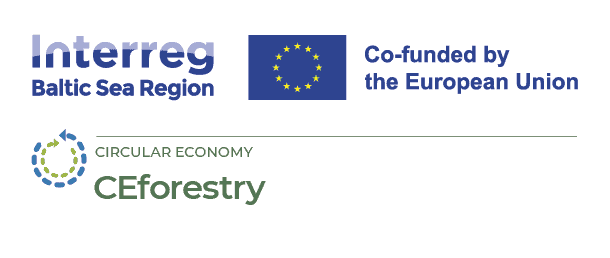 Innovation in forestry biomass residue processing: towards circular forestry with added value products
CEforestry
CEforestry
PROGRAMME 2021-2027
priority
3 Climate-neutral societies
objective
3.1 Circular economy
Project type
Core Project
Implementation
January 2023 - December 2025
CEforestry
The project CEforestry establishes cooperation among researchers, SMEs and large companies to support industrial symbiosis using forestry biomass residues in a more efficient way.
Project summary
CEforestry-Innovation in forestry biomass residue processing: towards circular forestry with added value products. Volumes of underutilized forestry biomass residues (bark, needles, cones etc.) in the Baltic Sea region are huge and countries are in different development phases in relation to the utilization of forestry side streams. In many cases these side streams are used as lower value products e.g. bioenergy, however biomass is an ultimate resource for isolation of high value compounds with various applications. The objective of CEforestry is to develop new and innovative practices (circular economy concepts) in forestry and novel solutions to utilize forestry side stream in BSR. This will be achieved through innovative means of collaboration across sectors (researchers, target SMEs, large companies and other relevant actors) and demonstrated in pilot facilities. A Circular Economy business model will be developed based on the project results and the aim is to propose recommendations to utilize forestry side streams in BSR countries in order to meet EU Green Deal, EU Circular Economy and Baltic Sea region bioeconomy strategy goals. The results from the project will benefit circular forest economy and enterprises interested in refining sustainable novel products. The activities will involve target groups, 12 partners and 17 associated partners from Poland, Latvia, Lithuania, Finland and Sweden.
Copy direct link to this summary
Budgets
CEforestry
in numbers.
2.36

Million

Total

1.89

Million

Erdf

0.00

Million

Norway
Success indicators
CEforestry
in numbers.
63.825656820.2630745

56.947932624.1079726

54.898213923.9044817

63.833752923.159949927535937

50.0834100519.926389490428306

60.228981925.0184561

56.861338124.3500612

54.708026425.2995833

63.825656820.2630745

62.783093322.8235437

60.18351035000000624.823976373066444

50.2247964518.989441181830728
Contacts
Project manager

Mehrdad Arshadi

Department of Forest Biomaterials and Technology

Financial manager

Kristina Åberg

Department of Forest Biomaterials and Technology

Communication manager

Olof Bergvall

Internal communication and management support
Follow us
Social media

Newsletter

Additional links