Access to clean, efficient and multimodal transport corridors in the Baltic Sea Region
BSR Access
PROGRAMME 2014-2020
objective
3.1 Interoperability
BSR Access
The platform BSR Access connected traditional infrastructure nodes and smart transport solutions to further develop the TEN-T Core Network Corridors, and contribute to sustainable growth in the region.
Project summary

Fostering the access to clean, efficient and multimodal transport corridors in the Baltic Sea Region
BSR Access combined competences and geographies of the involved projects and organisations into one cooperation platform tackling transport interoperability and regional development. The partnership focused on specific topics identified as missing or inadequately addressed in the EU coordinators' Issues Papers. Among them were: Passenger transport in multimodality, inland navigation in logistics chains, coherent alternative fuel models across national borders, integration of urban nodes in the Core Network Corridors, aligning of long-haul transport with first and last mile delivery, and interdependencies between spatial and transport planning.
Competence in corridor impacts | corridor governance | clean fuels & first- and last mile access to corridor hubs and urban nodes
A large part of the BSR Access partnership came from regions that can be considered peripheral in the European Union. Mobilising stakeholders to a more coherent, cross-sectoral and adaptive planning approach that would ensure a better access infrastructure to the TEN-T network, and thereby a sustainable regional growth was of vital importance. The focus was always on joint problem-solving and all the many opportunities that cooperation provides.
On the one hand, BSR Access communicated and highlighted more environmentally friendly transport modes as competitive alternatives to conventional lorry transport and showcase smart transport solutions (e.g. River Information Services in inland waterway transport). On the other hand, a special focus was placed on clean fuel deployment along transport corridors and their catchment areas. The latter referring to first mile and urban nodes, including their different challenges and incentives in the Baltic Sea Region. A multi-fuel approach worked as a starting point for a realistic recommendation on future policy. BSR Access also supported fast development of interoperability in freight and passenger transport to minimise waiting times towards swift and efficient supply chains.
Towards a more coherent and cross-sectoral planning approach in the Baltic Sea Region
By joining forces, the BSR Access partnership supported the European Coordinators with synergetic knowledge on how to facilitate the high quality, innovative and sustainable services for transport and mobility along the corridors and how to make these the drivers for accessibility and economic, social and territorial cohesion. Best practices and recommendations were translated for and made available to authorities, policy makers and advisors on the European, national and regional level.
Projects represented in the platform:
Budgets
BSR Access
in numbers
1.00

Million

Total

0.75

Million

Erdf

0.00

Million

Eni + Russia

0.00

Million

Norway
Achievements
A hub for developing transport corridors
Bringing together and synthesising the knowledge and networks developed in projects from the Baltic Sea region and across Europe, the project platform BSR Access connected political and strategic actors from the regional, national, and EU levels to enhance transport corridor development. The project platform also increased the first- and last-mile access to the TEN-T Core Network Corridors, and developed concrete policy and action proposals on multimodality and the BSR-wide rollout of clean fuels.
Bringing project solutions into policy frameworks
BSR Access provided a meeting place for partners of transport interoperability projects in the BSR in its TEN-T Guidelines Expert meeting and Open Forum in Helsinki, Finland, as well as its online Agoras on multimodality and clean fuels. The project platform enabled partners to exchange knowledge and synergise on project outcomes and jointly discuss the transferability of their project solutions. The vast knowledge of these stakeholders and the networks in which they were involved coalesced into an Action Plan of Transnational Transport and Regional Development: a set of policy proposals for the better integration and development of the TEN-T corridors among national and international actors and efforts.
Pushing sustainable regional growth forward
BSR Access built its platform of stakeholder cooperation on the strong basis that previous projects had created earlier, using the existing structures and building on the contacts and collaborations with EU TEN-T Corridor Fora and EUSBSR coordinators of policy areas Transport and Spatial Planning. The project platform also connected to the Conference of Peripheral Maritime Regions, Baltic Sea States Subregional Co-operation, STRING, a green megaregion in Northern Europe, and other transport networks. The partners of the platforms increased the intensity of the former dialogues by explicit and dedicated support from the TEN-T and EUSBSR policy-makers on multi-level governance levels. Through its many activities and policy work, the project enabled transnational coordination on the betterment of infrastructural access routes to TEN-T Core Network Corridors and brought together actors and their institutional knowledge from across the Baltic Sea Region to ensure the Corridors' enhanced development, and thereby supporting a sustainable regional growth.
Outputs
Action Plan of Transnational Transport and Regional Development
This document, in the form of an action plan, presents recommendations for enhancing corridor development and increasing first- and last-mile access to TEN-T Core Network Corridors and is intended for transport planners and infrastructure providers. Topics covered include regional development processes of mega-projects; integrated planning along corridors; enhanced supply chains through multimodal integration, clean fuel deployment; first mile interoperability solutions; and interoperability of urban nodes.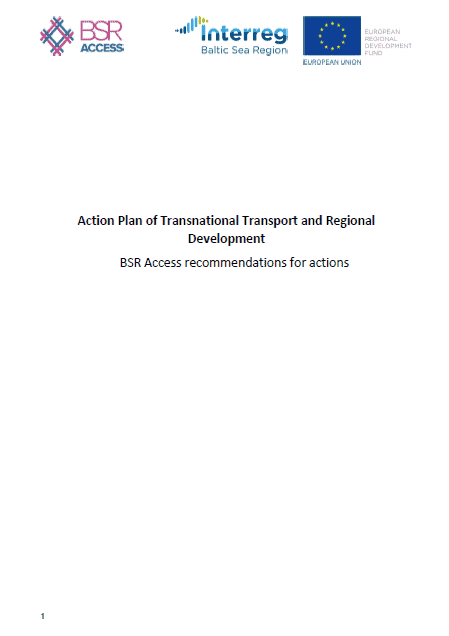 Partners
Helsinki-Uusimaa Regional Council
Region Blekinge
SUCCEEDED by PP7 (01.01.2021) Kvarken Council
Port of Hamburg Marketing registered Association
Joint Spatial Planning Department Berlin-Brandenburg
Town

Potsdam

Region

Potsdam, Kreisfreie Stadt

Country

Germany
Representative

Ulrike Schütz

Phone

E-Mail

Web
Approximate total partner budget in EUR
185,000.00
Capital Region of Denmark
Town

Hillerød

Region

Nordsjælland

Country

Denmark
Representative

Mette Hoé

Phone

E-Mail

Web
Approximate total partner budget in EUR
105,000.00
Kvarken Council EGTC
Town

Vaasa

Region

Pohjanmaa

Country

Finland
Representative

Mathias Lindström

Phone

E-Mail

Web
Approximate total partner budget in EUR
51,498.75
Contacts

Project manager

Sakari Saarinen

Helsinki-Uusimaa Regional Council

Legal representative

Paula Autioniemi

Helsinki-Uusimaa Regional Council

Financial manager

Joanna Kallio

Helsinki-Uusimaa Regional Council

Communication manager

Inga Gurries

Port of Hamburg Marketing e. V.