Enhancing freight Mobility and logistics in the BSR by strengthening inland waterway and river sea transport and proMoting new internAtional shipping services
EMMA
PROGRAMME 2014-2020
objective
3.1 Interoperability
EMMA
In the Interreg project EMMA, waterway administrations, business support organisations and ports together with shipping companies, logistics businesses, and research organisations jointly raised inland waterway transportation higher on the political agendas in five countries around the Baltic Sea.
The opportunity
Transport policies need to adjust to growing volumes in a sustainable manner
Transport volumes in Europe are expected to grow significantly in the next decades, also in the Baltic Sea region. In some countries, e.g. Germany, Sweden, Poland, Finland, Lithuania, these challenges could be reduced by transporting more goods on inland waterways, i.e. on rivers, canals and lakes. At European level, inland waterway transport plays a prominent role in transport policies. However, it is in political focus mainly in western and southern Europe around the large rivers Rhine and Danube. The transport conditions in these rivers differ from those in inland waterways around the Baltic Sea.
Rivers, lakes & canals can be efficient modes in international transport chains
Around the Baltic Sea, standardized inland vessels like the "Europe" class vessel cannot be used. Navigation restrictions in natural rivers as well as weather conditions are a burden, e.g. ice during winter shortens the season in which waterways are navigable. In addition, transport policies around the Baltic Sea too often focus on road and rail transport. For these reasons, inland waterway transport has only a small share in transport volumes within the Baltic Sea region compared to road and rail. However, in the light of rising increasing transport volumes, rising environmental standards and modern technical solutions, inland waterway transportation holds a potential to become a more profitable business also in the Baltic Sea region.
Business and politics need to be convinced of inland waterways
In order to make use of these opportunities, the mind sets of transport related politicians from the Baltic Sea region and on the European level need to be changed towards a higher appreciation of these opportunities. At the same time, the market needs to become more acquainted with inland waterway transportation, i.e. the logistics and shipping industries servicing the Baltic Sea region need to be convinced that integrating inland waterway and river-sea transport into their logistic concepts will be beneficial for them.
4.42

Million

Total

3.44

Million

Erdf

0.00

Million

Eni + Russia

0.00

Million

Norway
Achievements
Better information for operating inland waterway transport available
The EMMA project elaborated new information and made it available to authorities and business. For the Nordic countries, an ice study was carried out that provides information and knowledge how to operate under ice conditions – such information did not exist before. The project furthermore set up the prototype of a map-based web application of an inland waterway information system that allows logistics companies and skippers to better plan their inland water transport operations and tested it in Germany and Finland. The central part of the information system is planned to be integrated into the interactive map of the Port of Hamburg. In the project EMMA Extension, the IT prototype will be adapted to the regional requirements in North Karelia (Finland) and northern Poland.
New inland waterway transport services tested and ready for business
A step forward was done towards implementing new inland waterway transport services. For example, in Sweden, a test cruise with a barge container from Gothenburg to Vänersborg along the Göta Canal proved the feasibility of such transport in the Gothenburg hinterland. Shipping and logistic companies in Sweden now initiated new commercial container services for that region. The regional administration of Kujawsko-Pomorskie in Poland studied possibilities to shift transport from road to inland waterways and to develop a new concept for multimodal ports. In Lithuania (region Kaunas) new services for the transportation of heavy goods on river Nemunas were planned and the transportation of oversized cargo was already tested. In the follow-up project EMMA extension, there will be first tests of transporting cargo containers from a sea port to an inland customer with the purpose to establish a regular inland water shipping service between the port of Klaipeda and Kaunas.
Inland waterway transport gained political recognition in several countries
EMMA partners have raised awareness among politicians on the national and regional level through pilot demonstrations, a thorough analysis of the status in each country and through recommendations on how to enhance inland waterway shipping.
For example, in Poland, during a cruise of a container barge from Gdansk to central Poland on the Vistula river politicians and industry representatives got a vivid picture of how barge transport on the Vistula river can work. Following this, a new promotion center for inland waterway transport was established in Bydgoszcz to support the development of inland waterway transport in cooperation with the Polish Ministry of Maritime Economy and Inland Navigation.
On the national level, the Polish authorities included recommendations from a "Competitiveness Improvement Plan" developed by the project partners in their overall inland waterway transport strategy. The Swedish government included inland waterway transport in their national transport plan to further support its development, and national governments in Finland and Germany now also consider inland waterway transport in their transport strategies.
Promotion centres and associations in Finland, Germany, Lithuania, Poland and Sweden presented steps to strengthen inland waterway transport in the Baltic Sea region in a joint declaration that was handed over to United Nations Economic Commission for Europe (UNECE) and several interest groups on the European level. With EUR 3.44 million of support from the European Union, the Interreg project EMMA helped five countries around the Baltic Sea identify better inland waterway transport as a common interests, develop a habit of cooperation and thus delivered territorial cohesion.
Outputs
Competitiveness Improvement Plan: Enhancing inland waterway transport in the Baltic Sea region
This report analyses current status of inland waterway transport and existing bottlenecks in five countries around the Baltic Sea (Finland, Germany, Lithuania, Poland and Sweden). It furthermore proposes measures to improve inland waterway transport and includes recommendations for more efficient structures on the national levels. The plan was compiled by administrations responsible for inland waterway transport, port and shipping companies, lobby organisations and shipping promotion centers in five countries.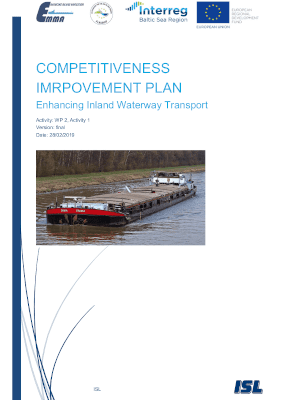 Policy Paper: Strengthening inland navigation and river sea shipping in Europe and the Baltic Sea region
This policy paper condenses recommendations on how to strengthen inland navigation and river shipping in the Baltic Sea region. It is based on a thorough analyses of the situations in Finland, Germany, Lithuania, Poland and Sweden. It is meant for national and international institutions and organisations who want to further promote and develop inland waterway transport in the Baltic Sea region.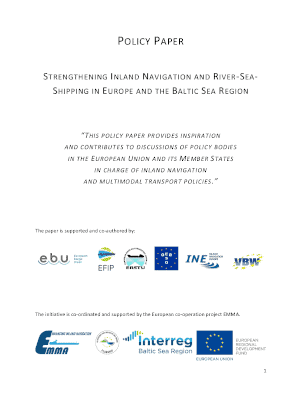 IT prototype: Inland Waterway Information system ELIAS
ELIAS is a map-based web application which provides information on inland waterways in the Baltic Sea region. It includes, for example, the positions of vessels, real time water levels, and traffic density and flow. It can be used, for instance, by logistics companies and skippers to plan their inland water transport operations. ELIAS was developed by the Institute of Shipping Economics and Logistics (ISL) in Bremen in cooperation with ports, inland waterway barge operators, port operators and associations in Germany, Sweden, Poland and Lithuania, and it was tested in Germany and Finland.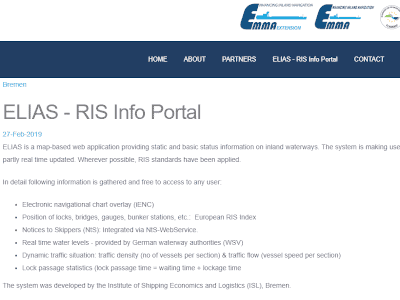 Project Stories
16.06.2021

In our new playlist on YouTube, we present to you people from the Baltic Sea region who are on a mission. With their work for and in Interreg projects they bring to life the vision of the European Union, because they are creating a culture of cooperation across and beyond borders. Listen to what they have achieved with this EU funding scheme for cooperation. Listen to "Interreg voices".

Read full story

20.12.2016

A single river barge can carry 40 times the load of a truck. CO2 emissions per ton cargo are up to four times lower for barges than for trucks. And transportation costs are up to six times lower. Despite the obvious benefits in terms of costs and environment, inland waterway transport in the EU accounts for only about 7 % of cargo transport. After some decades of very little development in the Baltic Sea region, inland shipping has gained momentum lately. Baltic Sea region countries are now catching up and making their joint voice heard in European transport politics – in the project EMMA.

Read full story
Partners
Port of Hamburg Marketing
Baltic Sea Forum
Federation of German Inland Ports
Chamber of Commerce and Industry Eastbrandenburg
Institute of Shipping Economics and Logistics
Avatar Logistics AB
RISE Research Institutes of Sweden AB
Swedish Transport Administration
Maritime Forum
Swedish Maritime Administration
Finnish Waterway Association
Regional Council of North Karelia
Lahti Region Development LADEC Ltd.
Kujawsko-Pomorskie Voivodeship
City of Bydgoszcz
Northern Chamber of Commerce in Szczecin
NPPE Klaipeda Shipping Research Center
Klaipeda Science and Technology park
Lithuanian Inland Waterways Authority
Klaipeda State Seaport Authority
Inland Navigation Office in Szczecin
Contacts

Project manager

Stefan Breitenbach

Hafen Hamburg Marketing e.V.

Legal representative

Ingo Egloff

Hafen Hamburg Marketing e.V.

Financial manager

Communication manager