Enhancing freight Mobility and logistics in the BSR by strengthening inland waterway and river sea transport and proMoting new internAtional shipping services – Extension
EMMA Extension
PROGRAMME 2014-2020
objective
3.1 Interoperability
EMMA Extension
The project EMMA Extension provided shippers and waterway administrations with the tools for better planning, loading, navigating, adjusting to tough weather conditions and thereby improving maritime safety in inland water transportation.
The opportunity
Transport policies need to adjust to growing volumes in a sustainable manner
Transport volumes in Europe are expected to grow significantly in the next decades, also in the Baltic Sea region. In some countries, e.g. Germany, Sweden, Poland, Finland, Lithuania, these challenges could be reduced by transporting more goods on inland waterways, i.e. on rivers, canals and lakes. At European level, inland waterway transport plays a prominent role in transport policies. However, it is in political focus mainly in western and southern Europe around the large rivers Rhine and Danube. The transport conditions in these rivers differ from those in inland waterways around the Baltic Sea.
Rivers, lakes & canals can be efficient modes in international transport chains
Around the Baltic Sea, standardized inland vessels like the "Europe" class vessel cannot be used. Navigation restrictions in natural rivers as well as weather conditions are a burden, e.g. ice during winter shortens the season in which waterways are navigable. In addition, transport policies around the Baltic Sea too often focus on road and rail transport. For these reasons, inland waterway transport has only a small share in transport volumes within the Baltic Sea region compared to road and rail. However, in the light of rising increasing transport volumes, rising environmental standards and modern technical solutions, inland waterway transportation holds a potential to become a more profitable business also in the Baltic Sea region.
Business and politics need to be convinced of inland waterways
In order to make use of these opportunities, the mind sets of transport related politicians from the Baltic Sea region and on the European level need to be changed towards a higher appreciation of these opportunities. At the same time, the market needs to become more acquainted with inland waterway transportation, i.e. the logistics and shipping industries servicing the Baltic Sea region need to be convinced that integrating inland waterway and river-sea transport into their logistic concepts will be beneficial for them.
EMMA Extension brings solutions to practice
EMMA Extension implemented solutions to strengthen inland shipping developed in the EMMA project. Commercial shipment services were piloted in Poland and Lithuania. As the preceding project EMMA revealed that digitalisation is crucial to make inland water transport (IWT) competitive, the partners continued to further develop River Information Services and Vessel Traffic Services.
Budgets
EMMA Extension
in numbers
1.00

Million

Total

0.78

Million

Erdf

0.00

Million

Eni + Russia

0.00

Million

Norway
Achievements
The EMMA Extension focused on testing the solutions in inland shipping developed by the preceding project EMMA. Seven partners from Germany, Finland, Lithuania, Poland and Sweden worked together to deploy inland water transport (IWT) solutions and improve inland navigation in the Baltic Sea region.
Regional solutions inspire
The regional conditions like for example local infrastructure, weather conditions and priorities led to different innovative approaches and results.
In Poland, the partners installed a bridge clearance application for better planning. The application helps to ensure navigation safety and enables the shippers to load vessels in a more flexible way. The application allows adjusting the vessels´ loading procedures to face the latest waterway conditions and improve vessels´ pass under bridges.
In Finland, where weather conditions can be tough, finding new solutions to improved navigation safety required another approach. The partners installed smart buoys to indicate the fairway and make navigation easier. The buoys provided adjustable light intensity in signal lights which is a crucial precondition for safe navigation in such coastal landscapes with poor visibility due to bad weather conditions.
In Lithuania, the partners implemented a barge pilot by introducing transportation of containers by inland water vessels. Within the area covering river Nemunas and Curonian lagoon from Kaunas to Klaipeda, several pilot sailings by inland waterway vessels took place. The vessels managed to transport 91 containers covering a distance of 1400 kilometres. The successful commercial sailing raised a lot of interest among politicians and media and triggered further investments in maintenance works and fairway modernisation to increase the depth of the inland waterway.
In Sweden, the project developed a simulation and risk assessment of maritime passages in fairways used by tanker vessels. The simulation aimed to access the infrastructure measurements needed for better navigation along the inland waterway routes.
Better decision making when reliable data on inland water transport is in place
With the aim to create a harmonised navigation system in the Baltic Sea region, the project intensely engaged the representatives of waterway administrations. Improved information on fairway conditions, statistics on traffic flows and vessels´ traffic services allowed the administrating bodies to make better decisions on regulating navigation. Besides, other IWT stakeholders such as barge operators, forwarding companies and port operators received better access to reliable data. This allowed them to better plan and carry out operations.
Outputs
Bridge clearance in Poland
The project introduced a system of automatic readings of safe clearances under bridges at Odra river in Szczecin. The system is based on a network of radar sensors and electronic information boards indicating the clearance estimates under a bridge in real-time. The information is helpful for shippers for better navigation and logistics (e.g. for better route planning and loading). The real-time data and automatic readings allow to more precisely access the height of the passage of a vessel, and estimate changes in water levels caused by e.g. intense waves or tides. As the system was tested on the river Odra, which is a border crossing river between the Polish and German inland water systems, the real-time data will be especially valuable for shippers navigating in the mentioned waterways. However, the developed system being installed at bridges is applicable to other regions that want to introduce similar improvements in navigation safety.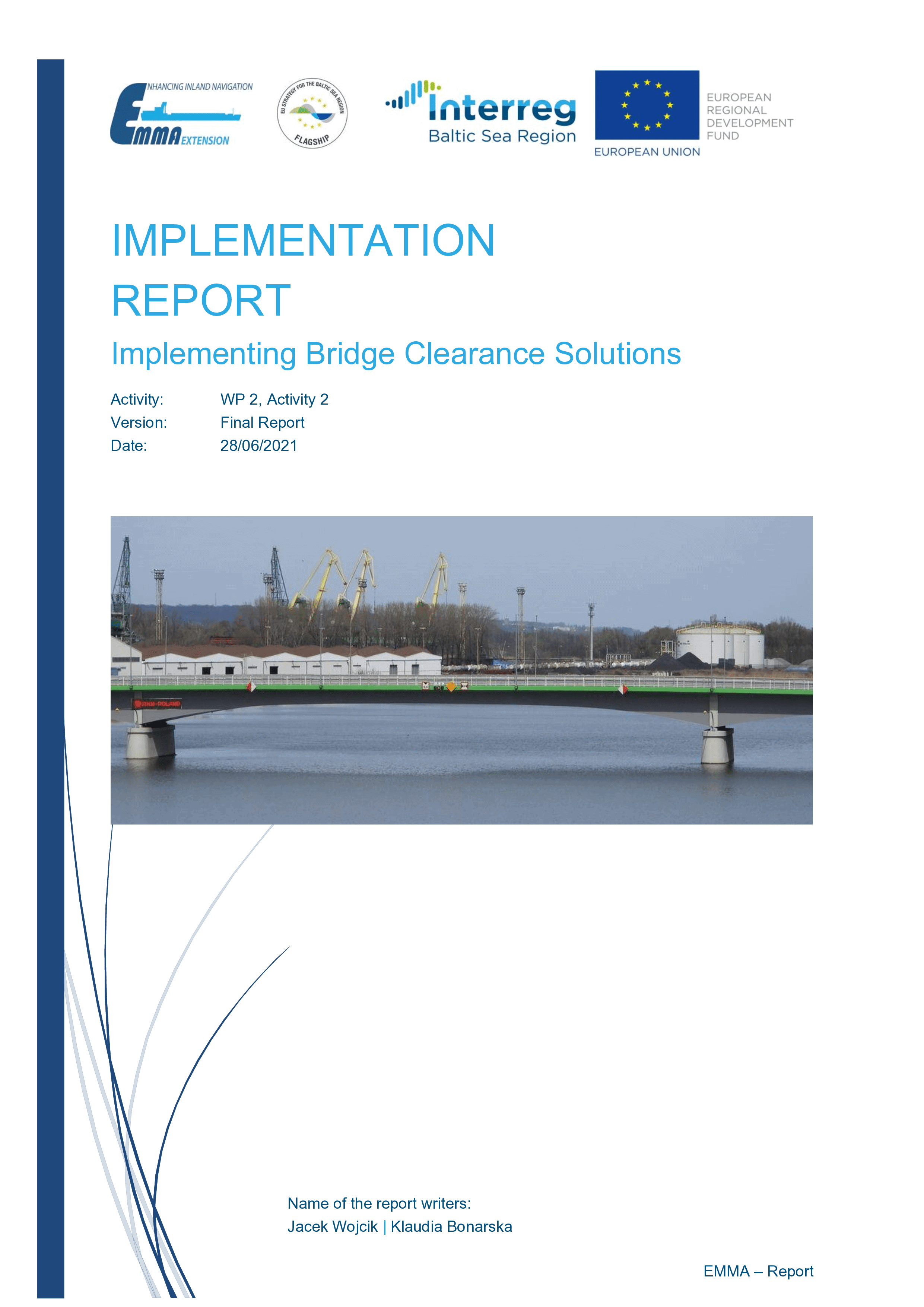 Smart fairway solution in Finland
The navigation safety in bad weather conditions is addressed by testing a new approach to installing a smart buoys system. 34 buoys with adjustable light intensity were installed in the Saimaa (Finland) deep fairway used for commercial shipping. The buoys with lights that vary on the current weather conditions (getting lighter when visibility is poor because of bad weather conditions and deemed in good lighting) make shipping safer. The installed buoys help the waterway administrations maintain the waterway and control traffic flows. Thus, smart fairway technology improves safety in coastal shipping and inland navigation and lowers risks for accidents. The implementation report can serve as guidance for any waterway management authority in the Baltic Sea region.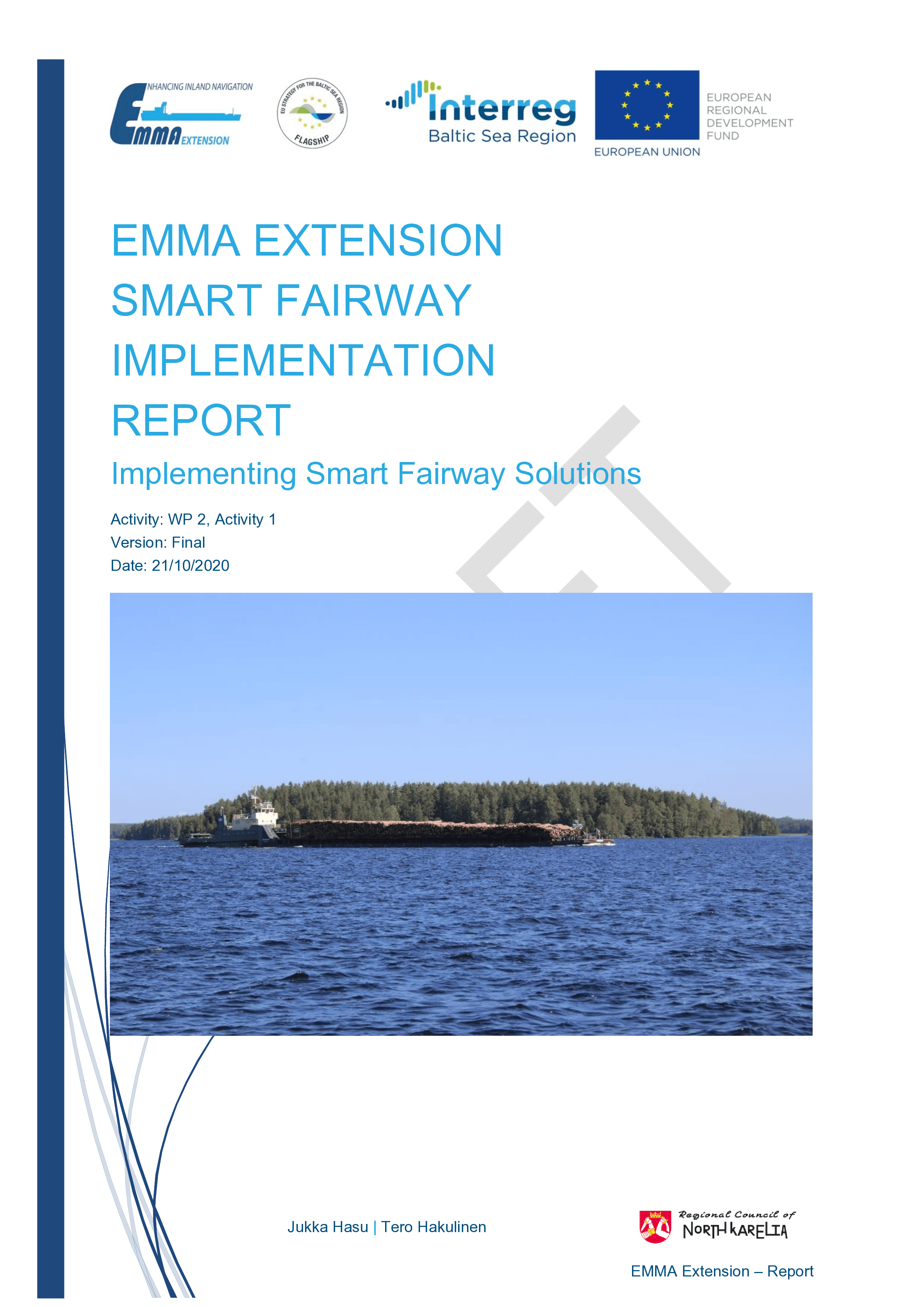 Partners
Port of Hamburg Marketing
Institute of Shipping Economics and Logistics
Avatar Logistics AB
Regional Council of North Karelia
Kujawsko-Pomorskie Voivodeship
Town

Toruń

Region

Bydgosko-Toruński

Country

Poland
Representative

Rafał Modrzewski

Phone

E-Mail

Web
Approximate total partner budget in EUR
113,900.00
Inland Navigation Office in Szczecin
Town

Szczecin

Region

Szczeciński

Country

Poland
Representative

Priotr Durajczyk

Phone

E-Mail

Web
Approximate total partner budget in EUR
81,125.00
Lithuanian Inland Waterways Authority
Town

Kaunas

Region

Kauno apskritis

Country

Lithuania
Representative

Dainius Balevičius

Phone

E-Mail

Web
Approximate total partner budget in EUR
78,650.00
Contacts

Project manager

Stefan Breitenbach

Hafen Hamburg Marketing e.V.

Legal representative

Ingo Egloff

Port of Hamburg Marketing

Financial manager

Communication manager