TENTacle – Capitalising on TEN-T core network corridors for prosperity, growth and cohesion
TENTacle
PROGRAMME 2014-2020
objective
3.1 Interoperability
TENTacle
The Interreg project TENTacle equipped public authorities and industry around the Baltic Sea with recommendations on how to benefit from the core transport network corridors in order to boost prosperity and growth around the Baltic Sea.
The opportunity
Unexploited potential for growth
The TEN-T core network corridors are an instrument of the EU transport policy that improves mobility on major transport axes across Europe by removing physical, technical and administrative bottlenecks. The Baltic Sea region is crossed by three core network corridors: Scan-Med, North Sea-Baltic and Baltic-Adriatic. Successful implementation of these corridors can trigger positive effects in the transport and mobility sectors and beyond them, as well as within and beyond the immediate territories the corridors cross.
More understanding needed
However, national, regional and local authorities, infrastructure managers, investors and transport and logistics companies have little knowledge of the instrument itself and how they can impact its implementation. Key players in the areas along the three corridors are too little dedicated to using corridor mobility to boost sustainable growth and prosperity actions. They fail to plan proper measures and mobilise financial support for investments. Last but not least, the potential arising from the corridors' implementation is not exploited in transport planning, management, and activities in the region.
Budgets
TENTacle
in numbers
3.75

Million

Total

2.75

Million

Erdf

0.00

Million

Eni + Russia

0.09

Million

Norway
Achievements
Piloting the core network corridors' benefits
The project TENTacle actively involved local, regional and national authorities, research organisations and industry from eight countries around the Baltic Sea into a dialogue on the benefits and challenges related to the core transport network corridors crossing the region.
Nine pilot activities examined areas located in, close to and far away from the Scandinavian-Mediterranean, North Sea-Baltic and Baltic-Adriatic core network corridors. Each case offered public authorities and industry a comprehensive analysis of key growth challenges, suitable policy and optimal solutions for their region. Now, for example, Swedish Region Blekinge and Latvian Vidzeme Planning Region make use of the project recommendations for the corridor catchment areas, whereas the Värmland-Östfold Border Committee applies recommendations resulting from the Central Scandinavia Borderland pilot. Moreover, results compiled in the pilot on the tunnel connecting Danish Lolland and German Fehmarn (Fehmarnbelt Fixed Link) feed into the discussions at STRING, a political platform for Hamburg and Schleswig- Holstein in Germany, the Capital Region of Denmark and Region Zealand in Denmark and region Skåne in Sweden.
More cooperation in transport to come
TENTacle triggered several new initiatives, such as a Polish-Swedish interregional task force on extending the Baltic-Adriatic Corridor northwards, and teamed up with other Interreg projects: NSB CoRe and Scandria®2Act. The three projects joined their forces in presenting their results to decision makers in transport at the European Commission, including the European Coordinators of core network corridors. Now, the project is part of the BSR Access project platform, which contributes to further development of the corridors.
Thanks to EUR 2.75 million support from the European Union spent on developing action plans, pre-feasibility studies for key investments, new business models and transport strategies, the Interreg project TENTacle showcased how core transport network corridors can help boost growth and mobility in the Baltic Sea region, and trigger the development of smarter and greener logistics chains.
Outputs
Realising benefits from TEN-T Core Network Corridors - how, where and by whom?
This report presents replicable know-how about development opportunities and profits related to the implementation of the core network corridors. It offers guidance to European Coordinators, public authorities, infrastructure managers and investors – irrespective of the geographical location – on how to adjust policy actions, governance response and business strategies to fully maximise the benefits and mitigate threats induced related to the investment along the corridors. Intergovernmental networks and the Coordination Group of the EU Strategy for the Baltic Sea Region Policy Area Transport shall also find this report useful in promoting the successes of the implementation of core network corridors.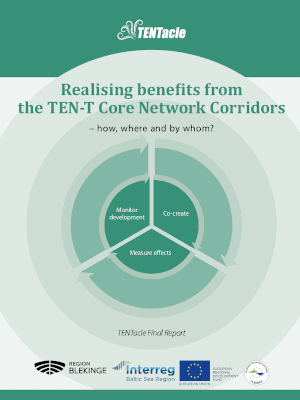 How to use the Fehmarnbelt Fixed Link as impulse for regional growth
This guidance paper is dedicated to exploring the Fehmarnbelt Fixed link, which is a planned tunnel connection for road and rail transport between Rødby on Lolland (Denmark) and Puttgarden on Fehmarn (Germany), and an important part of ScandinavianMediterranean (Scan-Med) TEN-T core network corridor. The paper includes a detailed impact analysis of the new connection and is a useful tool for planners from national and regional public authorities and businesses especially in Denmark, Germany and Sweden, for developing strategies that would help maximise the benefits from the new connection.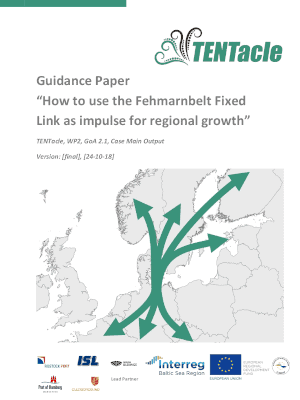 Project Stories
20.12.2016

35 projects were selected and approved for funding last November as part of the first call of the Interreg Programme 2014-2020. Recently the first of those projects, called TENTacle, kicked off its activities in Karlskrona on the Swedish south-east coast.

Read full story
Partners
Region Blekinge
Port of Hamburg Marketing
Lahti Region Development LADEC Ltd
Regional Council of North Karelia
Innovation Circle Network
Municipality of Karlskrona
BTH Blekinge Institute of Technology
Värmland-Østfold Border Council
Institute of Shipping Economics and Logistics
Vidzeme Planning Region
Region Örebro County
Transnorden Sweden
Westpomeranian Region
City of Gdynia
Rostock Port
Guldborgsund Municipality
Region Skåne
Vilnius Gediminas Technical University
Port of Gdynia Authority S.A
Technical University of Denmark
Valga Town Government
Swedish Transport Administration
Contacts

Project manager

Mattias Andersson

Region Blekinge

Legal representative

Christina Mattisson

Region Blekinge

Financial manager

Lise Hallén

Region Blekinge

Communication manager

Inga Gurries

Hafen Hamburg Marketing e.V.