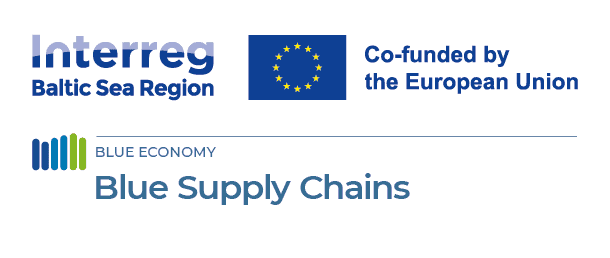 Blue Supply Chains for the Baltic Sea Region
Blue Supply Chains
Blue Supply Chains
PROGRAMME 2021-2027
priority
2 Water-smart societies
objective
2.2 Blue economy
Project type
Core Project
Implementation
January 2023 - December 2025
Blue Supply Chains
The Blue Supply Chains project supports port authorities and port operators to decarbonise port operations by advancing electrification, providing alternative fuels strategies and setting up green transport chains.
Project summary
Ports are essential for global trade and prosperity, but at the same time contribute to the emission of pollutants through freight traffic and port activities. Ports can be an important factor in achieving European and national climate goals and will also play an important role in the storage and onward transport of alternative fuels in the future. The "Blue Supply Chains" project supports port authorities and port operators in implementing long-term measures to decarbonize port locations.
The project follows different approaches supporting decarbonization in ports:
Evaluation and piloting of measures for the further electrification of handling equipment,

Strategies for providing, handling and storing alternative fuel,

Promotion of more environmentally friendly transport chains in the hinterland, with a focus on the development of combined transport.
At the end of January 2023, the three years project was officially launched with a partner meeting in Hamburg and the first working groups to implement the pilot applications and demonstrators were formed.
Copy direct link to this summary
Budgets
Blue Supply Chains
in numbers.
4.60

Million

Total

3.60

Million

Erdf

0.05

Million

Norway
Blue Supply Chains
in numbers.
53.54437979.994015221806627

54.092444512.1286127

57.390391821.5635991

55.3759213.1461522

57.7169310.594985

55.723790221.1260511

54.520663618.543886

54.908477123.861061805287207

54.370685818.61298210330077

63.825656820.2630745

53.54517719.9323876

59.337118617.9860453

57.707232611.9670171

63.8294048520.25427929433458

63.825656820.2630745

54.54005618.505311

59.437215524.7453688

53.54517099.9976279

59.913330110.7389701

52.5367296513.33422806716016
Contacts
Project manager

Inga Gurries

Port of Hamburg Marketing

Financial manager

Kerstin Pfietzmann

Port of Hamburg Marketing

Project manager

Stefan Breitenbach

Port of Hamburg Marketing

Communication manager

Joanna Kniter

Motus Foundation
Follow us
Social media

Newsletter

Additional links