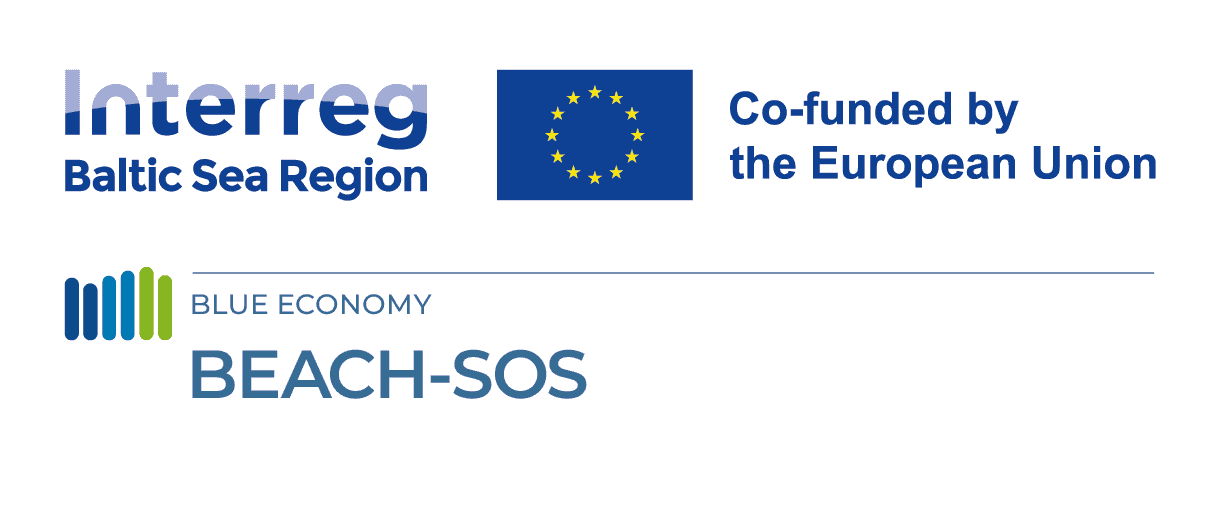 Climate Smart Baltic Beaches and Tourism
BEACH-SOS
stock.adobe.com
BEACH-SOS
PROGRAMME 2021-2027
priority
2 Water-smart societies
objective
2.2 Blue economy
Project type
Small Project
Implementation
August 2023 - July 2025
BEACH-SOS
The BEACH-SOS project helps authorities, businesses, and local communities adapt to the changing climate to ensure thriving and sustainable beach recreation and tourism in the future.
Baltic Sea coastal tourism is the largest contributor to the EU Blue Economy, with more than 330,000 jobs (Blue Economy Report, EU 2021). However, beach tourism is extremely climate-sensitive and impacts of climate change threaten the ability of the sector to maintain its economic benefits. Adaptation strategies supported by climate change data and information are key to a sustainable regional economy. However, climate change data and information is difficult to access, understand and incorporate into decision-making. For this reason there is a low awareness and uptake of climate change information amongst municipalities and stakeholders. BEACH-SOS, with activities in Latvia, Denmark and Germany, is an INTERREG-BSR small project that aims to enhance the capacity of local governments, Blue Flag beaches, coastal tourism business, business support units, NGOs and coastal communities to become "climate-smart". BEACH-SOS will develop capacity to uptake climate change into beach management strategies, and provide the best available data and information for adaptation of coastal tourism. BEACH-SOS seeks broader Baltic actor endorsement of four co-produced Deliverables and Outputs: 1) sustainable adaptation pathways for coastal/beach tourism; 2) climate-smart community action programme for beach adaptation; 3) assessment and development of indicators and criteria for climate-smart and resilient tourist beaches; and 4) a BSR information exchange network for resilient beach tourism.
Copy direct link to this summary
Budgets
BEACH-SOS
in numbers.
0.50

Million

Total

0.40

Million

Erdf

0.00

Million

Norway
Success indicators
BEACH-SOS
in numbers.
53.41043614999999510.422339497863192

55.65330212.542842

57.26339124.415245

56.939306124.0693444

54.172054612.0771826
Lead partnerHelmholtz-Zentrum hereon GmbH
Town

Geesthacht

Region

Country

Germany

Region

Herzogtum Lauenburg
Representative

Helmholtz-Zentrum hereon GmbH

Phone

E-Mail

Web
Total partner budget
186,934.40
Town

København

Region

Country

Denmark

Region

Byen København
Representative

Danish Outdoor Council

Phone

E-Mail

Web
Total partner budget
26,220.00
Town

Saulkrasti

Region

Country

Latvia

Region

Vidzeme
Representative

Saulkrasti Municipality

Phone

E-Mail

Web
Total partner budget
106,025.60
Foundation for Environmental Education Latvia
Town

Rīga

Region

Country

Latvia

Region

Rīga
Representative

Foundation for Environmental Education Latvia

Phone

E-Mail

Web
Total partner budget
96,393.60
EUCC - The Coastal Union Germany
Town

Rostock

Region

Country

Germany

Region

Rostock, Kreisfreie Stadt
Representative

EUCC - The Coastal Union Germany

Phone

E-Mail

Web
Total partner budget
82,908.80
Contacts
Project manager, Communication manager

David Cabana Permuy

Helmholtz-Zentrum hereon GmbH

Project manager

Hans-Jörg Isemer

Helmholtz-Zentrum hereon GmbH

Financial manager

Tom Gobien

Helmholtz-Zentrum hereon GmbH

Project manager, Communication manager

Louis Celliers

Helmholtz-Zentrum hereon GmbH

Project manager

Laura Schwabe

Helmholtz-Zentrum hereon GmbH
Follow us
Social media

Newsletter

Additional links