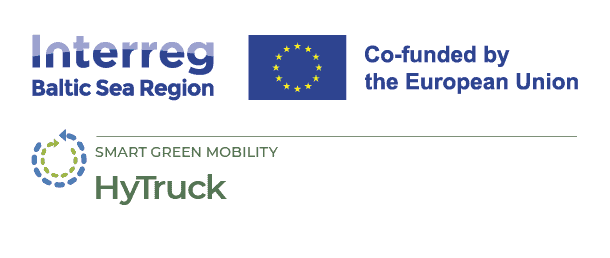 Developing a transnational network of hydrogen refuelling stations for trucks
HyTruck
How to plan HRS?
09 November 2023
The third HyTruck Breakfast briefing on 3rd November 2023 hosted by Polish Alternative Fuels Association PSPA gave insight into planning and implementing hydrogen re-fuelling stations as well as related applied research activities.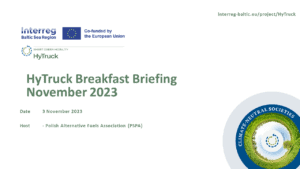 Mika Simola
from Finnish company
P2X Solutions
informed about Finland's first hydrogen refuelling station in Järvenpää city near Helsinki, Finland's capital. P2X is one of the first movers in Finnish hydrogen sector and associated partner in HyTruck. Järvenpää HRS is capable of delivering green hydrogen for trucks and passenger cars, has two dispensers and the station's module-based assembly allows modification flexibility in the future. In nearby Harjavalta, P2X is building green hydrogen production plant. H2 production and HRS will be in operation during summer 2024.
Ewelina Włoch
from the
City of Rybnik
, Poland presented on the process of  purchasing 20 hydrogen buses. Hydrogen was selected due to the operational reliability and high operation range, when compared to battery electric vehicles. Poland's most modern hydrogen refuelling station was commissioned in Rybnik in end October 2023 and is ready to supply hydrogen for the city's new hydrogen buses.
Marek Pinkas
from
TSG Polska
, shared his findings related to the challenges in the ramp up of HRS network construction. He addressed permitting processes, legislation and subsidy mechanisms. Also dimensioning of the stations and relevant technical parameters were seen needing careful consideration in order to enable long service life and sufficient performance for the stations built. Component availability and long lead times were identified as possible factors prolonging the construction process. However, hydrogen was seen as a promising solution for heavy road transport as the limited capacity of charging infrastructure may act as a bottle neck for battery electric vehicles.
Tomas Grönstedt
from
Chalmers University of Technology from Gothenburg
Sweden introduced Chalmer's hydrogen competence center TechForH2. The center has a wide research disciplines for hydrogen related technologies and its focuses are for example in development of hydrogen storage solutions, composite technologies for light weight storages, manufacturing technology and sensor technology. TechForH2 combines the expertise of Chalmers University and multiple Swedish companies operating in the field of hydrogen.
In the Q&A part of the session, concerns related to the permitting processes were risen and the limited availability of green hydrogen in some geographical locations was discussed.