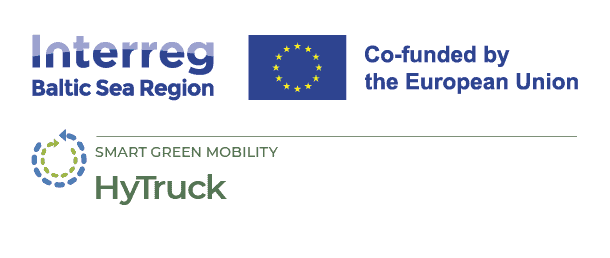 Developing a transnational network of hydrogen refuelling stations for trucks
HyTruck
Experts exchange on hydrogen refuelling stations in the BSR
14 September 2023
HyTruck breakfast briefings kicked off
On Tuesday, 13 September 2023, the first breakfast briefing was organised by CLIC Innovation within the HyTruck project.
More than 30 participants followed the introduction to the
Hydrogen Marketplace
, presented by Oliver Arnhold and Aleksandra Maliszewska from localizer GmbH Berlin and the
European Hydrogen Refuelling Station Availability System,
presented by Athanasios  Batsilas from the Clean Hydrogen Partnership.
The Hydrogen Marketplace enables companies along the whole hydrogen added value chain to find service providers like hydrogen producers, producers of technical equipment or project developers. In the HyTruck project, the market place, that currently works in Berlin-Brandenburg and Germany, is to be rolled-out for the Baltic Sea Region. Oliver informed, that currently, the market place does not yet provide information on the source of hydrogen, but a differentiation for green, blue or grey hydrogen could easily get implemented. He also explained, that localizer is not proving information provided, but members of the market place are securing the validity of information provided.
According to Athanasios  Batsilas, the European Hydrogen Refuelling Station Availability System (E-HRS-AS) provides information on the availability of hydrogen refuelling stations. This would be essential when running hydrogen powered vehicles as the current HRS network is not very dense and the unavailability of one station may thus be a serious problem. E-HRS-AS would collect availability data through physical or virtual interfaces and provide the information on an open source basis to anyone interested. Covering around 80-90% of European HRS, the system provides the data in real time: every 10 minutes availability status is provided by the HRS registered to the system.
The HyTruck breakfast briefings shall foster knowledge exchange around hydrogen refuelling stations between different experts. The briefings are planned to be held monthly, lasting around 1 to one 1,5 hours. By expert contributions from project partners and external experts, knowledge shall be made broadly available, that is relevant for planning and implementing an HRS network in the Baltic Sea Region.
The next HyTruck breakfast briefing has been scheduled for 4 October 2023.
You may register to the HyTruck breakfast briefing series of events
here
.
For further information, please contact
Oleg Todorov
, CLIC Innovation Oy.
Presentations for download:
Additional links