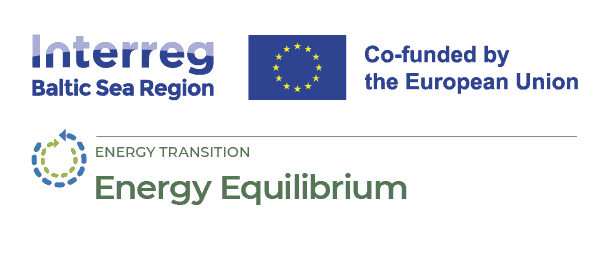 Carbon driven energy equilibrium at the municipal scale
Energy Equilibrium
Challenges and Opportunities in the municipal level energy data collection: Insights from two Latvian municipalities
07 November 2023
In this article, we are extending our ongoing series of articles that explore the complexities of data collection in municipalities and provide an overview of the current state of energy storage systems within these local areas. This edition of our series will specifically focus on two Latvian municipalities, Gulbene and Tukums, which are part of Energy Equilibrium project partnership.
Role of energy storage in future municipal energy systems
The
Energy Equilibrium
project addresses the challenge of integrating intermittent renewable energy sources into municipal energy systems, emphasizing the crucial role of energy storage.
While both partner municipalities, Tukums and Gulbene municipalities, recognize the importance of energy storage, they currently lack such technologies in their infrastructures. In Gulbene, a small battery system exists with private interest in solar PV stations, driven by advancing technology and affordability. However, pumped hydro systems are impractical due to landscape limitations. Gulbene is exploring smaller thermal energy storage units and utilizing excess solar energy for heating. Both municipalities have no hydrogen or biomethane infrastructure plans, citing infrastructure limitations, high costs, and limited exploration. Currently Tukums municipality lacks any energy storage technologies in its municipal infrastructure.
Challenges and Opportunities in Energy Data Collection
The Energy Equilibrium project's main goal is to create a tool for municipalities to predict the future role of energy storage technologies. Developing the
Municipality factsheet
(find out about it
here
) is crucial for establishing a consistent and organized data collection method. Data on energy consumption and production is vital for informed decisions on resource allocation, ensuring a reliable and sustainable energy supply. It also identifies trends, promotes efficient energy use, and supports climate change mitigation by advocating cleaner energy sources, making data collection and analysis the project's foundational step.
Filling the "Municipality factsheet" for Gulbene and Tukums municipalities disclosed challenges as opportunities and possibilities which were summarized below.
Positive Aspects:


Municipalities that have integrated centralized energy management systems have a well-established data collection process in place.


Municipalities understand the significance of data in the planning of energy sector development.


Municipalities have shown a strong interest in cooperation and data acquisition.


They possess energy data for which they hold responsibility.


Engaging in such projects as Energy Equilibrium signals municipalities' keen interest in matters related to energy efficiency and energy storage.


Strong connections with municipal utilities, including district heating, public transport, and water supply companies, are maintained.


Challenges:


Obtaining data on energy production is challenging due to limited access and difficulties in communicating with distribution networks and heat network operators.


Providing precise figures at the municipal level can be challenging as well as obtaining data on an hourly basis is a difficult, if not impossible, task.


A standardized system for data collection concerning energy production and usage, particularly for municipalities, is lacking.


Information concerning sectors like households and agriculture, which fall outside the scope of municipal infrastructure, is severely limited or entirely absent. As a result, assumptions must form the basis for any analysis in these areas.


Discontinuities in the data occur when systems change, improvements are made, or there is a turnover in responsible personnel. These disruptions can also impact subsequent data analysis.


Limited data accessibility can lead to decreased responsiveness due to a combination of resource limitations, administrative hurdles, privacy concerns, and the need for compliance with various legal and regulatory requirements.


To acquire additional information, track the project's progress and results on the official website at
https://interreg-baltic.eu/project/energy-equilibrium-interreg-baltic-sea/
.
This article was prepared and published by Laura Kristiāna Vičmane
© Photo by  Katrīne Skrebele:
https://www.pexels.com/photo/moody-swamp-walk-in-sunrise-11519295/
Additional links