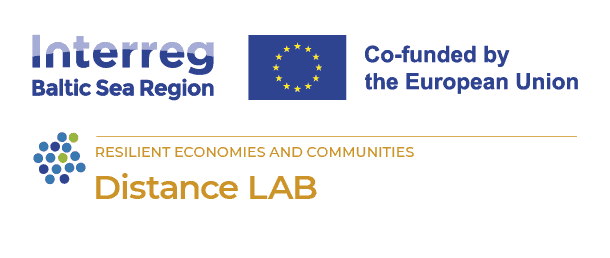 Distance LAB – remote service hub for SME's and public sector
Distance LAB
Networking services
09 June 2023
The general idea is to test several networking services available on the hub developed within WP1. The pilot will include following steps : Open call for participating in a set of networking events; Implementation of activities/events, Investigation of the results, A survey, Adjustment of the service concept and events' methodologies, Feedback
The general idea is to test several networking services available on the hub developed within WP1. The pilot will include following steps (maybe be adjusted according to partners preferences, results of WP1, etc.):


Open call for participating in a set of networking events;


Implementation of networking activities/events (it is foreseen to have two types of events: community building and business focused) – up to 6 events, 1 iteration, up to 15 participating companies which have a common connecting point, representing not less than 3 partnership countries;


Investigation of the relevance, engagement of the participants, results after networking events (performed by organisers);


Implementation of the survey. The survey will include 3 blocks of questions which will evaluate: preparatory stage of the event, the event itself, post-event communication/results;


Adjustment of the service concept and events' methodologies;


Feedback collection after a few months or weeks to check the impact and deliver of good practices reports.


The primary idea of the pilot is to test the relevance of the service, the engagement of participants, and the technical aspects of the virtual environment. Additional value of the pilot will be attracting potential long-term users of the platform, building the community, dissemination of the project, and other services available on the hub.
Depending on the type of the event, it is foreseen that SMEs, public institutions, BSOs, research institutions will participate in the pilots.
Participants will benefit from attending the pilot by gaining new contacts; depending on the type of the event they may gain solutions to their challenge, promote their business, ideas for networking activities of their own, new partnerships, involvement in the community.
We expect participants to be open to networking and willing to share and accept new opportunities, dedicate a certain time to networking activities; suit the defined profile of participants.
Additional links