Smart and Safe Work Wear Clothing
SWW
PROGRAMME 2014-2020
objective
1.3 Non-technological innovation
SWW
The Interreg project SWW showcased enterprises manufacturing work wear in the Baltic Sea region how to introduce mass customisation and integrate IT technology into clothing, and by this to increase their competitiveness against new producers and cheap imports from Asian markets.
The opportunity
Increasing imports from Asian markets
The clothing industry in the EU have been struggling with cheap imports from Asian markets. Already in 2013, the value of imported clothes was almost twice as high as for clothes produced in the EU. Companies in the Baltic Sea region experience a similar challenge: outsourcing and merchandising is increasing whereas domestic production is decreasing.
Finding a niche as a panacea
By finding a niche for ergonomically designed, functional smart clothing and safe products, companies manufacturing work wear can successfully develop their businesses across the Baltic Sea region. Companies in Latvia and Finland already have specific know-how in smart textiles and their application, whereas companies in Estonia, Latvia, Lithuania and Poland are the main producers in the Baltic Sea region. Closer cooperation between research and small and medium sized enterprises (SMEs) can help meet essential needs of the industry, and open way for new solutions, increasing the competitiveness of companies in the Baltic Sea region.
2.44

Million

Total

2.00

Million

Erdf

0.00

Million

Eni + Russia

0.00

Million

Norway
Achievements
Smarter work wear garments created
The project conducted interviews and 3D body scans of 547 work wear users in Estonia, Finland, Lithuania, Latvia and Poland to create new measure tables that any company manufacture garments can freely use now. The collected data, designed 2D patterns and virtual 3D fitting, enabled the project partners to develop five customised prototypes of work wear garments for construction works, chemical industry, military forces (marines and regular army), and firefighters. They incorporated smart fabrics, for example, to repel insects, and electronic devices that enable to track the location of a person wearing the work wear in emergency situations, communicate remotely or monitor the firefighters' physiological parameters.
First companies profiting from cooperation with researchers
Each prototype was developed jointly by a company and a research institute. The cooperation strengthened the position of 11 companies from Estonia, Finland, Latvia, Lithuania and Poland to compete more effectively against imports from Asian markets. By using 3D body scanning, digital pattern making, virtual fitting, and introducing smart functionality to work wear, the companies can save time and money when developing new products, and increase the quality and functionality of new work wear produced.
More competitive work wear market
Thanks to EUR 2 million of support from the European Union, the Interreg project SWW paved the way for enterprises manufacturing work wear around the Baltic sea to bring a competitive edge over Asian cheaper imports and new producers.
Outputs
The database of 3D body scanning measurements
This report presents an extended analysis of interviews and 3D body scanning data collected from 547 workers in the military services, chemical and construction industry in Estonia, Finland, Latvia and Poland. It is a useful source of information for small and medium sized enterprises on how to innovate their production lines and to manufacture more tailored and customised work wear. The complementary visualisation summarises the size and measurement tables for the garment manufacturers and supports in choosing the right garment.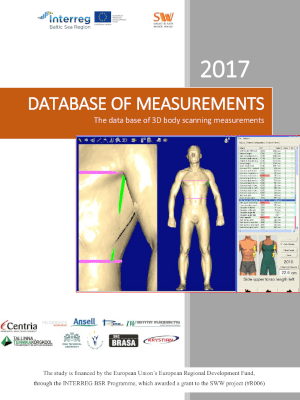 New prototypes of the smart work wear
This report presents testing results and an extensive analysis of smart fabrics, as well as integration and safety sensors and electronics into workwear. It includes solutions for a better protection of workwear users from e.g. hazardous environments or difficult climate conditions. It gathers the results of laboratory tests on materials chosen for prototype manufacturing; technological solutions for incorporation of various sensors into work wear; performance of various sensors and prototype clothing. The results were used while finalising the design of the prototype solutions and can be used by any work wear manufacturer seeking new materials or smart solutions.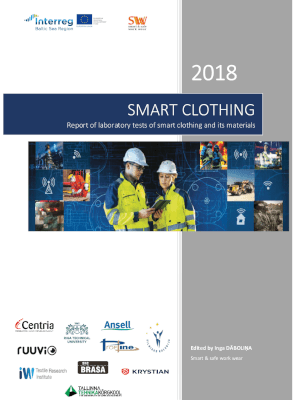 Partners
Centria University of Applied Sciences Ltd
TTK University of Applied Sciences
Riga Technical University
IW Textile Research Institute
Vilnius University of Applied Sciences
SRC BRASA Ltd.
PW Krystian Sp. Zo.o
AS Profline
Ansell Protective Solutions Lithuania Ltd
Ruuvi Innovations Ltd
Contacts

Project manager

Egidija Rainosalo

Centria University of Applied Sciences Ltd

Legal representative

Kari Ristimäki

Centria University of Applied Sciences Ltd

Financial manager

Katja Koutonen-Hautala

Centria University of Applied Sciences Ltd

Communication manager

Kristina Tyynelä

Centria University of Applied Sciences Ltd