Sustainable manure and nutrient management for reduction of nutrient loss in the Baltic Sea Region
SUMANU
PROGRAMME 2014-2020
priority
2 Natural resources
objective
2.1 Clear waters
SUMANU
The Interreg platform SuMaNu synthesised best practices and recommendations on nutrient management from four projects in order to guide authorities, policy makers, advisors and farmers on how to reduce the negative impact of farming on the Baltic Sea.
The challenge
Keeping nutrients in food production
Efficient manure and nutrient management in agriculture is beneficial for the environment and for farmers. This is the only way to secure sustainable food production in the future. Nutrient loss from fields to waterways leads to eutrophication. Livestock production is the main source of ammonia emissions, causing acidification, eutrophication and the formation of unhealthy particles. The loss of valuable nutrients is also an economic loss for farmers. SuMaNu analysed and synthesised the results and recommendations of selected cooperation projects which aimed towards agro-environmental sustainability and seeks to link them better to policies.
Four approaches - from manure to soil and air
The Interreg project platform SuMaNu analysed and synthesised existing results and recommendations of selected cooperation projects that aimed towards agro-environmental sustainability and its links to policies.
SuMaNu combined Interreg Baltic Sea Region projects Baltic Slurry Acidification and Manure Standards, Interreg Central Baltic project GreenAgri and BONUS Programme project BONUS PROMISE. Baltic Slurry Acidification helped reduce ammonia emissions from livestock production by promoting slurry acidification technologies. Manure Standards developed joint guidelines for more efficient collection and usage of manure data. GreenAgri worked on reducing nutrient losses in the Baltic States by introducing and testing environmentally-friendly management of organic fertilisers. BONUS PROMISE evaluated methods to close the agricultural phosphorus cycle with a special view on contamination risks when recycling organic waste materials. Also, the platform considered findings of previous projects, such as Baltic Manure, Baltic Compass and Baltic Compact.
Projects represented in the platform:
Budgets
SUMANU
in numbers
1.00

Million

Total

0.77

Million

Erdf

0.00

Million

Eni + Russia

0.00

Million

Norway
Achievements
Synthesis of knowledge
The SuMaNu project platform has compiled the thirteen-year experience of transnational cooperation in agriculture and sustainable manure and nutrient management in the Baltic Sea region.
The partners synthesised the results of Interreg Baltic Sea Region, Interreg Central Baltic and BONUS projects into a report on best practices along the entire manure handling chains as well as policy recommendations. These best practices and policy recommendations focused on phosphorus regulation, nutrient-balanced fertilisation and nutrient accounting, on-farm manure handling and utilisation, mitigation of regional nutrient surpluses, hygienic and safety issues, and knowledge transfer and advisory service. More than 200 national and regional authorities, farmers and their advisories supported the objectives and the focus of these recommendations. In Latvia, for example, more advanced manure spreading technologies were promoted to farmers to replace still widely used broadcast spreading. In Finland, the authorities discussed whether to include phosphorous fertilisation limits into legislation instead of voluntary measures.
Building Nutrient Recycling Strategy with HELCOM
The most tangible outcome of the SuMaNu platform was its contribution to the development of the new Baltic Sea Regional Nutrient Recycling Strategy by the Baltic Marine Environment Protection Commission, known as HELCOM. The vision of this new HELCOM Strategy is that "nutrients are managed sustainably in all HELCOM countries, securing the productivity of agriculture and minimising nutrient loss to the Baltic Sea environment through efficient use of nutrients and cost-effective nutrient recycling." It was adopted at the HELCOM Ministerial Meeting in October 2021. The Strategy contains a longer list of possible measures, which the HELCOM countries can implement. This is where the SuMaNu platform together with the EUSBSR coordinators of the policy areas Nutri and Bioeconomy brought in their invaluable experience and synthesis from transnational cooperation. The SuMaNu proposals that could help implement the Strategy and make the Baltic Sea region a model area for nutrient recycling included such measures as: "Define clear joint goals for plant nutrient balances", and "Create regional nutrient balance and nutrient recycling strategies for each country" and "Introduce incentives for use and production of recycled nutrients".
In addition, the SuMaNu recommendations related to fertiliser planning, nutrient balances and improving knowledge exchange were included in the HELCOM Baltic Sea Action Plan (BSAP) updated in 2021. This way the SuMaNu synthesis continues working till 2030 to guide the regional work on nutrient recycling and to reduce nutrient losses from agriculture.
Outputs
Policy recommendations
Each policy recommendation concentrates on a special topic of nutrient and manure management. Together they form a coherent set of recommendations for pan-Baltic organisations and national authorities, farmers and their associations as well as agricultural advisories. The following topics are addressed: 1. Development of coherent phosphorous fertilisation policies in the Baltic Sea region, 2. Fertilisation planning and nutrient balancing, 3. National standards for handling and spreading manure, 4. Regional nutrient reallocation, 5. Minimal use of harmful substances and careful manure processing ensure safe recycling of manure nutrients, 6. Knowledge transfer between farmers, advisors, researchers, authorities, and policymakers.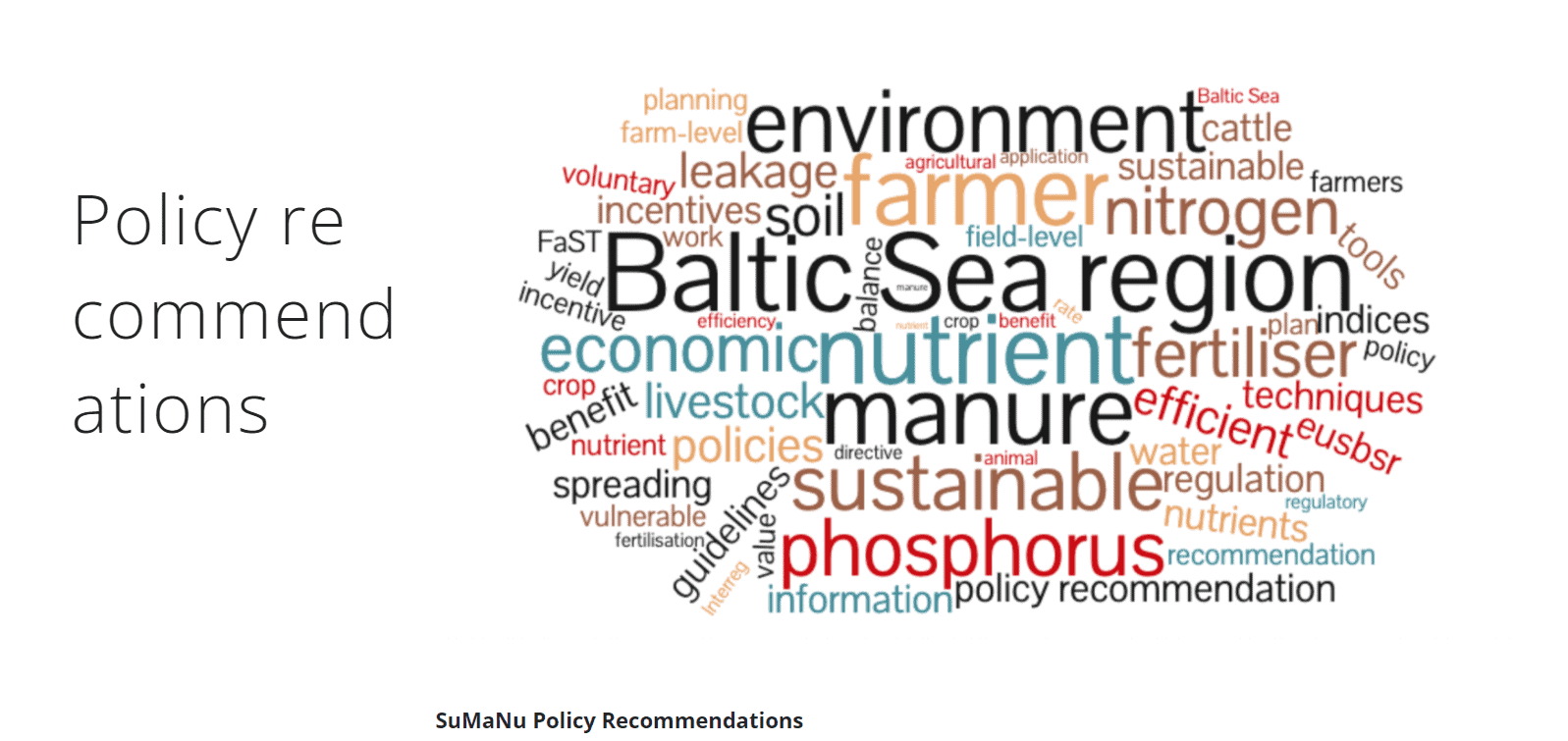 Technologies and management practices for sustainable manure use in the Baltic Sea region
The report details the technologies and management practices for sustainable manure use along the manure handling chain for pan-Baltic organisations and national authorities, farmers and their associations as well as agricultural advisories. These practices help decrease ammonia emissions, reduce greenhouse gas emissions, reduce runoff and leaching, and increase on-farm nutrient use and regional nutrient recycling.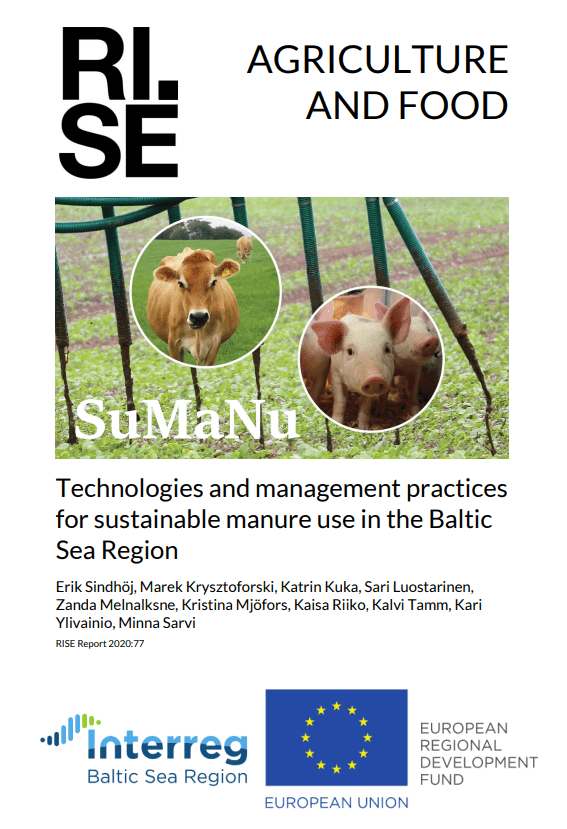 Partners
Natural Resources Institute Finland (Luke)
Baltic Marine Environment Protection Commission - Helsinki Commission (HELCOM)
The Foundation for a Living Baltic Sea (BSAG)
Estonian Crop Research Institute (ECRI)
Union Farmers Parliament (ZSA)
Agricultural Advisory Center in Brwinow (CDR)
Organe Institute Aps
Julius-Kühn-Institut (JKI), Federal Research Centre for Cultivated Plants
Research Institute of Sweden (RISE)
Contacts

Project manager

Minna Sarvi

Natural Resources Institute Finland (Luke)

Legal representative

Eeva-Liisa Ryhänen

Natural Resources Institute Finland (Luke)

Financial manager

Raili Keronen

Luonnonvarakeskus Natural Resources Institute Finland

Communication manager

Paula Biveson

The Foundation for a Living Baltic Sea (BSAG)