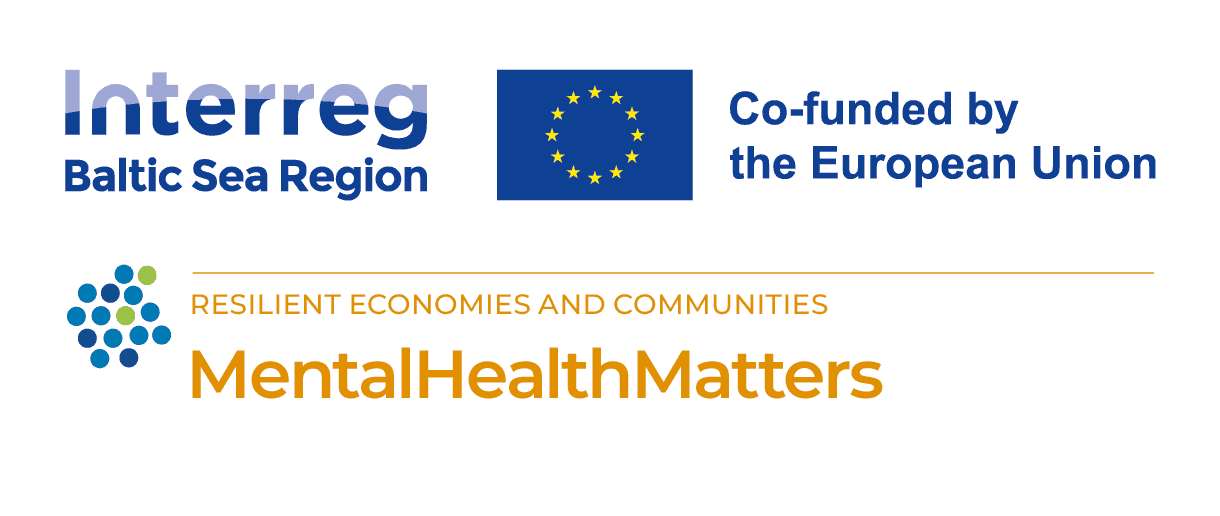 Mental Health Matters – Making Enterprises in the BSR more Resilient by Tackling Psychosocial Risks in the Workplace
MentalHealthMatters
stock.adobe.com
MentalHealthMatters
PROGRAMME 2021-2027
priority
1 Innovative societies
objective
1.1 Resilient economies and communities
Project type
Small Project
Implementation
August 2023 - July 2025
MentalHealthMatters
The project MentalHealthMatters connects public health experts and employers to prevent psychosocial risks at the workplace and thus improve the well-being of employees.
Mental health of employees is an emerging concern for societies and employers in the Baltic Sea Region. Even before the pandemic and the war in Ukraine, half of EU workers considered stress to be common in their workplace, and stress contributed to around half of all lost working days. Combined with an already prevailing lack of qualified work force, this puts the ability of enterprises (including public organisations) to withstand existing and future crises in jeopardy. In short: to be economically resilient, companies and societies need a mentally resilient work force. Protecting workers and preserving their work ability is the objective of Occupational Safety and Health (OSH). In the past, however, OSH legislation, standards and education have mainly focused on physical hazards and accident prevention and not paid enough attention to psychosocial risk assessment, health promotion and prevention measures. The Mental Health Matters project wants to change this and will bring together policy makers, employer and employee representatives, practitioners, researchers and educators in the field of OSH. They will assess the adequacy of policies and practices and propose measures to better prepare OSH systems and OSH professionals to deal with current and emerging psychosocial risks. Moreover, the project will develop a "first-aid kit" to support owners and managers of SMEs that do not have access to OSH professionals in assessing psychosocial risks and taking preventive action.
Copy direct link to this summary
Budgets
MentalHealthMatters
in numbers.
0.50

Million

Total

0.32

Million

Erdf

0.05

Million

Norway
Success indicators
MentalHealthMatters
in numbers.
59.31687118.0633255

60.167488124.9427473

56.949397724.1051846

59.394974124.66761888709302

51.768732319.4569911

63.430447510.3952118
Lead partnerSecretariat of the Northern Dimension Partnership in Public Health and Social Well-being (NDPHS)
Town

Stockholm

Region

Country

Sweden

Region

Stockholms län
Representative

Secretariat of the Northern Dimension Partnership in Public Health and Social Well-being (NDPHS)

Phone

E-Mail

Web
Total partner budget
179,764.00
Finnish Institute of Occupational Health
Town

Helsinki

Region

Country

Finland

Region

Helsinki-Uusimaa
Representative

Finnish Institute of Occupational Health

Phone

E-Mail

Web
Total partner budget
86,688.00
Town

Riga

Region

Country

Latvia

Region

Rīga
Representative

Riga Stradins University

Phone

E-Mail

Web
Total partner budget
46,233.60
Tallinn University of Technology
Town

Tallinn

Region

Country

Estonia

Region

Põhja-Eesti
Representative

Tallinn University of Technology

Phone

E-Mail

Web
Total partner budget
55,865.60
Nofer Institute of Occupational Medicine
Town

Łódź

Region

Country

Poland

Region

Miasto Łódź
Representative

Nofer Institute of Occupational Medicine

Phone

E-Mail

Web
Total partner budget
28,896.00
Norwegian Labour Inspection Authority
Town

Trondheim

Region

Country

Norway

Region

Trøndelag
Representative

Norwegian Labour Inspection Authority

Phone

E-Mail

Web
Total partner budget
101,136.00
Contacts
Project manager

Saara Rissanen

Secretariat of the Northern Dimension Partnership in Public Health and Social Well-being

Financial manager, Communication manager

Ülla-Karin Nurm

Secretariat of the Northern Dimension Partnership in Public Health and Social Well-being