Mitigating the effects of emergencies in Baltic Sea Region ports
HAZARD
PROGRAMME 2014-2020
objective
3.1 Interoperability
HAZARD
The Interreg project HAZARD made firefighters, coastguards, policemen and others involved in rescue operations in ports around the Baltic Sea more fit to save people and goods when accidents happen: Large scale exercises helped sea port authorities and rescue services to improve their structures and procedures to be better prepared for the next accident to come.
The challenge
Accidents at seaports that endanger people are becoming more likely
Seaports, terminals and facilities to store shipped goods, including those for dangerous goods, are often located close to residential areas. Therefore, a large number of people is put at risk when accidents happen in ports. Vessel traffic in the Baltic Sea region is high and can be expected to increase in the future. Thus, the risk for more accidents also increases, unless the safety and security procedures are improved. Therefore, the EU's vision is that the Baltic Sea should become a leading region in maritime safety and security. In this context, HAZARD is a flagship of the EU Strategy for the Baltic Sea Region.
Rescue services that exchange beyond borders are better prepared
In case of emergency, different rescue services usually take action, e.g. fire fighters, coast guards and police, but also civil organisations such as the red cross or environmental NGOs might be involved. The set-up and the procedures at sea ports in the countries around the Baltic Sea differ. It is obvious that damages and losses of life can be minimised if the rescue services are well prepared and have set up optimal procedures for cooperating with each other and for communicating with citizens. Joint exercises, evaluations and cooperation across countries can help rescue services from all countries to mitigate the effects of accidents better.
Budgets
HAZARD
in numbers
4.18

Million

Total

3.25

Million

Erdf

0.00

Million

Eni + Russia

0.00

Million

Norway
Achievements
Accidents practiced in near-real life circumstances
In the HAZARD project, sea port authorities together with their rescue services in charge organised ten large scale international exercises in the ports of Klaipeda (Lithuania), Hamburg (Germany) and the Finnish ports of Turku, Naantali and Kuopio. Up to 350 local rescue staff practiced in each port a different emergency situation such as fire on a passenger ship in the port, the leaking of a hazardous substance from a tanker, and an explosion of a chemical tank.
Knowledge compiled for better risk assessment and better communication & regulation
The exercises, which often lasted several days, were observed by international researchers and rescue service peers from partner regions to evaluate the cooperation structures, rescue procedures, and communication abilities and in order to facilitate learning from each other. Taking into account the knowledge gained in joint exercises, rescue services, seaports and academia, among other things, jointly developed a toolbox to assess risks in sea ports, a report on communication and regulatory challenges in safety and security of sea ports and a foresight study about the development of transport and logistics by 2030.
Instant improvements in ports & rescue services
Through this cooperation and sharing of experience several ports instantly introduced new measures. The Port Authority of Naantali (Finland) updated its crisis management procedures. The Fire and Rescue Department of Lithuania developed a standard evaluation procedure for exercises. And Hamburger Hafen und Logistik AG (Germany) improved their IT solution for the emergency response plan. The results of HAZARD are spread further within the project platform RESQU2. By strengthening their collaboration, the Interreg project HAZARD helped rescue authorities to be more effective in the event of an accident in a Baltic Sea port - for the sake of EU citizens' and companies' safety and with EUR 3.25 million support from the European Union.
Outputs
Hazard Seaport Risk Assessment Toolbox
The Seaport Risk Assessment Toolbox is a publication that compiled available standards and methods to identify, analyse and evaluate risks in and of seaports. Seaports are confronted with risks that may affect the operational, economic and technical dimensions. The types of safety, operational and environmental risks include, for example, leakages of hazardous materials, fires on passenger ships at port, oil spills in port areas as well as explosions of gases or chemicals. The toolbox developed under the leadership of Hamburg University of Technology enables port operators and rescue services to standardise risk management at seaports across the Baltic Sea.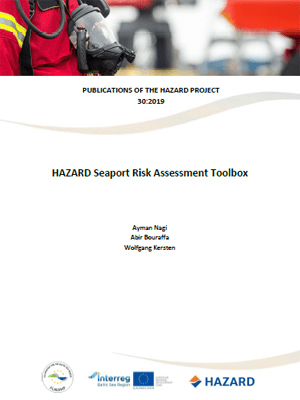 Report: Communication and regulatory challenges in the Baltic Sea Region"
The report creates an overall picture of the communicational and regulatory challenges related to safety and security issues for major seaports in the Baltic Sea Region. This includes, e.g. challenges related to the different national/regional legal frameworks and to communication between different rescue authorities and between seaports . It suggests improvements to be made in the near future (five years' time span) to mitigate emergencies and accidents in seaports. For example, the report revealed that one of the challenges in safety and security regulation is that interpretation of regulations is not uniform and, interpretation of regulations varies among the countries in the Baltic Sea region. EU directives and lower-level regulations could be more precise, and there could be more detailed interpretation directions included. The report was published by Turku School of Economics of the University of Turku.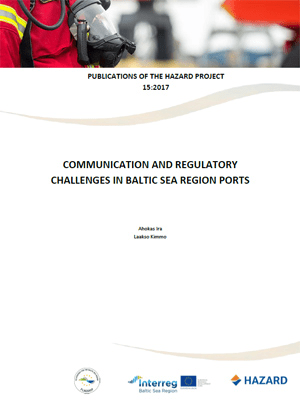 Transport and logistics in the Baltic Sea region by 2030: A Foresight Study
The study maps the outlook for transport and logistics in the Baltic Sea region by the year 2030. Several factors anticipated to affect the region's competitiveness by 2030 were identified, of which the most important ones are the growing importance of environmental aspects in conducting business, significant technological advances, increasing taxation and regulation, increasing prevalence of cyber threats, and a shortage of skilled blue-collar labour. The study is based on data surveying a multinational expert panel of 96 participants from the Baltic Sea region. It was published by Turku School of Economics of the University of Turku.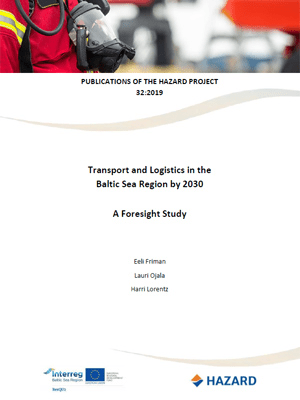 Partners
University of Turku
Hamburg University of Technology
Viimsi Municipality Government
Port of Turku Ltd
Vilnius Gediminas Technical University
SE Klaipeda State Seaport Authority
Southwest Finland Emergency Services
Hamburger Hafen und Logistik AG
University of Borås
Port of Naantali Ltd.
Neste Corporation, Logistics
Hamburg Ministry of the Interior and Sports
"SUCCEEDED by PP16 (01.01.2019)" Fire and Rescue Board of Klaipeda County
Polish Safety and Reliability Association - PSRA
Fire and Rescue Department of Lithuania
Contacts

Project manager

Jarmo Malmsten

University of Turku

Legal representative

Juuso Töyli

University of Turku

Financial manager

Sari Tähtinen

University of Turku

Communication manager

Mariikka Whiteman

University of Turku