Green Transformation! A Policy tool for Regional Smart Specialisation in the Baltic Sea Area
GRETA
PROGRAMME 2014-2020
objective
1.2 Smart specialisation
GRETA
GRETA developed policy tools for sustainable Smart Specialisation innovation strategies in the Baltic Sea region to support the transformation of society and economy in line with the European Green Deal.
Project summary

The challenge
The global value chains and increased sophistication of production constitute a large challenge for regional development efforts. There is a need to learn and upgrade the level of policy intervention. The regional innovation systems are different but may learn from each other through a process of transnational learning. The challenge is to identify and close gaps in regional and transnational systems of innovation.
Need for an upgrade
GRETA built on experiences with methods to support growth developed in the LARS project with environmental targets in two areas: energy (reduction of CO2 emissions, green energy production) and circular economy.
0.40

Million

Total

0.31

Million

Erdf

0.00

Million

Eni + Russia

0.00

Million

Norway
Achievements
GRETA built on experiences from the LARS project on how to help public authorities drive smart specialisation processes in their regions and tackle the fragmentation of regional ecosystems, thus supporting growth in the Baltic Sea region. In LARS, methods to identify, analyse and overcome challenges limiting growth were developed. The challenge for GRETA was to add an environmental aspect to the methods developed in the LARS project in order to accelerate the green transformation of the Baltic Sea region as part of the Smart Specialisation Strategy processes.
The GRETA partners come from four countries (Finland, Latvia, Lithuania, and Sweden), covering six regions. They represent six sectors where new methods to support growth including environmental targets could be applied: circular bio economy and biogas production from agricultural waste in Lithuania; food and beverage industry in Klaipdėda region (Lithuania); industry and mechanical engineering regarding smart materials, smart technologies, and engineering systems in Latgale region (Latvia); circular economy in the beverage and food industry concerning the green transformation in Päijät-Häme region (Finland); circular economy and green energy technologies in Ostrobothnia region (Finland); sustainable energy with a focus on hydrogen in Västerbotten (Sweden).
The GRETA team developed and tested methods on how to integrate environmental targets into Smart Specialisation Strategies, thus moving towards Sustainable Smart Specialisation Strategies and supporting the transformation of the BSR aligned with the European Green Deal. The methods are based on the analysis of which stakeholders (given their power, legitimacy, or political influence) and at what level (external context, regional configuration, bottom-up processes) drive commitment to green transformation.
The project partners, based on the project findings, also prepared policy recommendations on how to accelerate the green transformation in the Baltic Sea region, outlining the relevant actors and specific objectives to be imp
Outputs
Green Transformation! A Policy Tool for regional smart specialisation. Policy recommendations.
The policy recommendations present policy tools developed and tested during the GRETA project and their evaluation. Based on the results of the DPSIR model and roundtable discussions, each project partner prepared recommendations for policymakers highlighting principles and next steps in policy scenarios for green transformation. DPSIR model consists of several sections: drivers (the reason for change), pressures (the challenges which derive from this change), state (environmental situation), impact (what are the possible ill effects), and response (how to address the issues in pressure, state and impact). The model has been developed by the European Environmental Agency (EEA) and is specifically designed to show the relation between societal changes and their impact on the environment, as well as actions to help improve the situation, which makes it a relevant tool for addressing regional environmental challenges.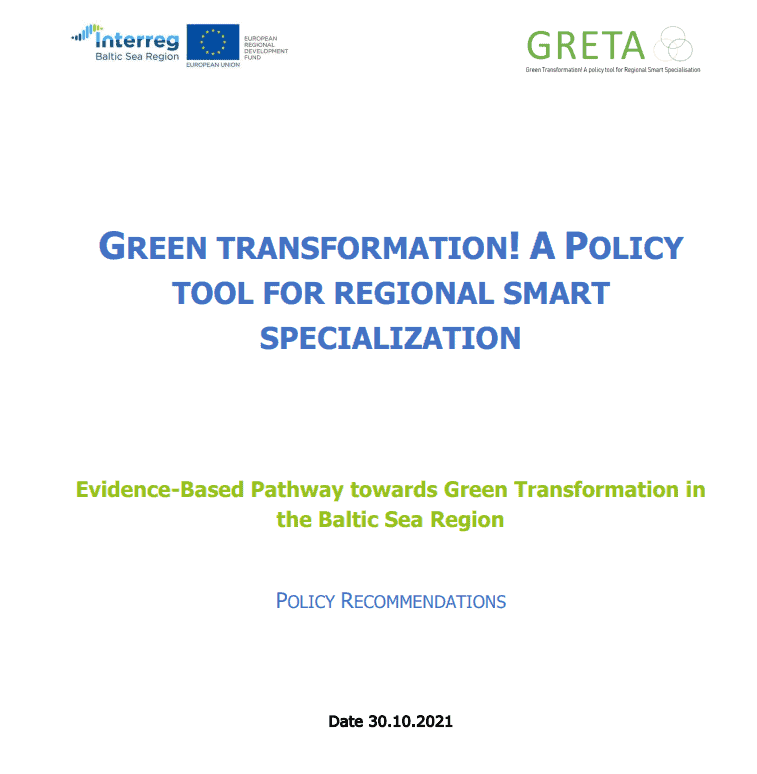 Smart multi-level coordination towards green transformation
The green transformation can be seen as a complex, multi-level, cross-sectoral, and long-term process of transformation, guided by scenarios produced by different stakeholders. Therefore, new and innovative approaches need to be proposed. Smart Specialisation Strategies can significantly support the green transition of the Baltic Sea region. Smart Specialisations team up entrepreneurs, specialists, and other actors, who can take the lead. The publication contains a stakeholder analysis method based on their roles in the transformation processes (weak, moderate, and strong) as well as approaches to multi-level processes to mobilise green transformation based on external and/or internal contexts.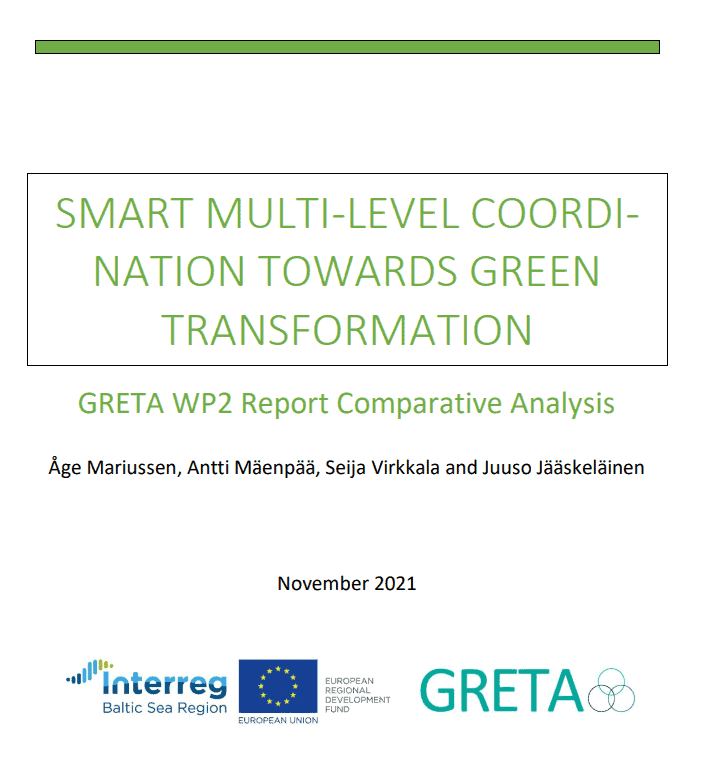 Partners
Regional Council of Ostrobothnia
University of Vaasa
Ministry of Environmental Protection and Regional Development
Regional Council of Päijät-Häme
Lithuanian Centre for Social Sciences, Institute of Economics and Rural developmenti
Town

Vilnius

Region

Vilniaus apskritis

Country

Lithuania
Representative

Zivile Gedminate-Raudone

Phone

E-Mail

Web
Approximate total partner budget in EUR
64,476.00
Lithuanian Innovation Centre
Town

Vilnius

Region

Vilniaus apskritis

Country

Lithuania
Representative

Tautvydas Pipiras

Phone

E-Mail

Web
Approximate total partner budget in EUR
45,000.00
Region Västerbotten
Town

Umeå

Region

Västerbottens län

Country

Sweden
Representative

Jonas Lundström

Phone

E-Mail

Web
Approximate total partner budget in EUR
49,000.00
Contacts

Project manager

Jerker Johnson

Regional Council of Ostrobothia

Legal representative

Kaj Suomela

Regional Council of Ostrobothnia

Financial manager

Margot From

Regional Council of Ostrobothnia

Communication manager

Jerker Johnson

Regional Council of Ostrobothia