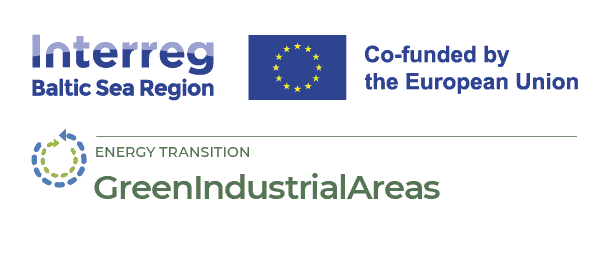 Co-elaboration of a transnational certification standard and of a tool-box to promote energy transition in green industrial areas
GreenIndustrialAreas
Ministry of Economics, Infrastructure, Tourism and Labor of Mecklenburg-Vorpommern
GreenIndustrialAreas
PROGRAMME 2021-2027
priority
3 Climate-neutral societies
objective
3.2 Energy transition
Project type
Core Project
Implementation
January 2023 - December 2025
GreenIndustrialAreas
The project GreenIndustrialAreas empowers public authorities to increase the share of smart and climate-neutral industrial areas and co-develop a transnational certification standard.
Project summary
To reduce both the Baltic Sea Region's (BSR) emissions of CO2 and its dependency from oil and gas imports, industrial activities need to be decarbonised. To encourage and mobilise industry's investments in decentralised renewable energy production, smart energy management and full energetic exploitation of energy sources in industrial processes, public authorities need innovative solutions that reliably lead to an increase of energy efficiency and hence a reduction of greenhouse gas emissions in industrial production processes. Industrial areas where different companies work in proximity to each other allow on one hand synergies accelerating return of investment. On the other hand, public authorities may actively encourage change through regulation, e.g. the planning of a green industrial area. As knowledge about available technological solutions especially involving smart tools is unevenly spread in the BSR, no transnational standard for the certification of such areas exists until today. Project partners therefore aim to compile their expertise and knowledge in a tool-box for industrial areas to become smart and climate-neutral and a transnational standard for the certification of green industrial areas aiming for climate-neutrality. These outputs represent approaches that any BSR public authority can apply to trigger investments and to frame their own instruments to accelerate the decarbonisation of industrial activities while honouring frontrunners with a quality label.
Copy direct link to this summary
Budgets
GreenIndustrialAreas
in numbers.
2.85

Million

Total

2.28

Million

Erdf

0.00

Million

Norway
Success indicators
GreenIndustrialAreas
in numbers.
53.626953711.4147395

53.6342363511.4177757702193

55.67784311.116929

55.68074511.129623

53.13563123.1711055

54.687045825.2829111

62.239779925.7557225

62.23940059999999625.745624750506018

56.65167723.7243646

55.61042612.9947653

56.949397724.1051846
Contacts
Project manager, Financial manager, Communication manager

Dr. Gabriele Hoffmann

Ministry of Economy, Infrastructure, Tourism and Labour Mecklenburg-Vorpommern

Project manager, Financial manager, Communication manager

Claudia Meier

Ministry of Economy, Infrastructure, Tourism and Labour Mecklenburg-Vorpommern
Follow us
Social media

Newsletter

Additional links

Team photo Malmö
Downloads
Project newsletter #1

Project newsletter #2