Power Electronics for Green Energy Efficiency
Green PE
PROGRAMME 2014-2020
priority
2 Natural resources
objective
2.3 Energy efficiency
Green PE
The Interreg project Green PE demonstrated that advanced power electronics are technically feasible, reliable and cost efficient in test applications of electric car engines, wind energy production, as well as smart buildings and compiled a roadmap to accelerate their market uptake.
The opportunity
Advanced power electronics can save energy
The novel technologies behind advanced power electronics allow for more than 50% of energy savings. They help to reduce energy losses at all stages of the energy supply chain. The market for advanced power electronics is expected to grow and is driven by the demand for more energy efficiency and for more renewable energy production as part of the European Union's transition towards a green, low carbon society.
An untapped potential
More than 15.000 companies in the Baltic Sea region deal with power electronics. However, the market uptake of advanced power electronics is challenged by technical and economic barriers, e.g. related to the purchase of adequate equipment in companies and proper timing of investment. As a result, companies tend to choose conservative technology management and R&I strategies with regard to advanced power electronics. If provided with better information and consultancy about advanced power electronics, companies could benefit from faster innovation.
What are advanced power electronics?
Power electronics master the flow of energy in electronical devices from car engines to turbines and battery systems. Power electronics that is based on next generation materials beyond Silicon , such as wide bandgap semiconductors, is called 'advanced power electronics'. The novel technologies behind advanced power electronics allow to increase the power output of devices while making them ever smaller. Advanced power electronics also prepares devices for smart digitalisation and is an essential part of efficient production, distribution and consumption of electricity in a renewable energy society.
Budgets
Green PE
in numbers
3.10

Million

Total

2.42

Million

Erdf

0.00

Million

Eni + Russia

0.00

Million

Norway
Achievements
A roadmap and pilots on smart housing, wind power generation and e-mobility
The project consortium elaborated a transnational technology and product roadmap for advanced power electronics to help the industry, R&D institutions and policy makers understand the chances of and the barriers related to the novel technologies. To prove the practical relevance of the roadmaps´ findings, five electronic pilot applications were developed and tested, covering the areas of smart housing, electricity generation from wind power and e-mobility.
Active exchange with companies
To make sure that the projects´ activities have an impact on the ground, the partnership directly addressed businesses. The project conducted 80 company visits and more than a dozen in depth consultations which helped the companies to rethink their approaches in product development and to consider advanced power electronics to tackle their challenges. Some companies included advanced power electronics in their R&D strategies and investments. All in all, some 240 companies were actively engaged in the project activities, and partners in technology transfer reached out to around 7.000 companies.
Research and innovation alliances across borders
On the transnational level, the partnership set up a collaboration platform for research institutions and innovative start-ups and SMEs around the Baltic Sea. It is meant to transfer knowledge and to build up more research and innovation alliances across borders such as the recently established Centre for Industrial Electronics, which was set up at the Danish-German border as a joint endeavour of industry, academia, regions and municipalities.
Outputs
Transnational technology and product roadmap on advanced power electronics
This transnational technology and product road map assembles the most relevant information about the technological state-of-the-art and future capabilities of advanced power electronics and wide bandgap materials. The roadmap is meant to help the power electronics industry (companies, consulting and financing, system providers, business development and support) and research institutions as well as policy makers and regulatory bodies to better understand the chances and barriers related to the market uptake of advanced power electronics as a means to facilitate revolutionary changes in power electronics. The roadmap was compiled by the RISE Research Institutes of Sweden together with project partners from the research, business and industrial sector from Denmark, Estonia, Germany, Latvia, Lithuania, Poland and Sweden in the transnational Interreg cooperation project Green PE.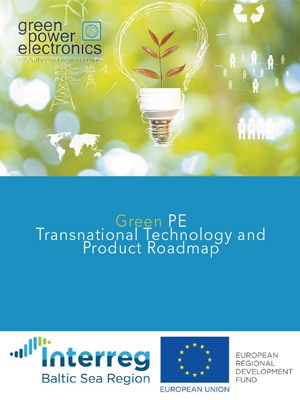 Advanced power electronics pilot in e-mobility: inverter for racing cars
The Universities of Southern Denmark and of Latvia together with the company Converdan A/S carried out a pilot study dealing with inverters in car engines, exemplified by a racing cars. In racing cars, power electronics operate at their limits, which makes them good test objects for power electronics. The pilot of the project Green PE showed that wide bandgap semiconductors in electric drives improve the overall system efficiency. The results of the pilot will be used by industrial companies, especially SMEs, research institutions and technology transfer organisations. Reaching the ambitious goals related to e-mobility requires radically new vehicle electronics with components based on wide bandgap semi-conductors. These components help to optimise several parameters and product characteristics such as energy efficiency, design and power density. This leads in consequence to an increased applicability and usability that help to boost e-mobility.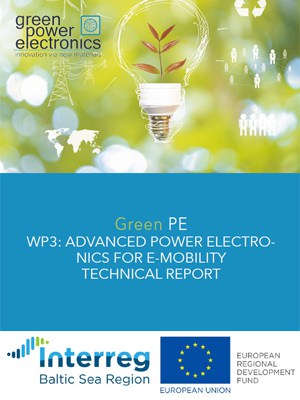 Brochure: Green power electronics
This brochure summarises on 16 pages the key findings of the transnational Interreg project "Power Electronics for Green Energy Efficiency" (Green PE), including pilot projects within electromobility, smart houses and renewable energies. Project partners make statements on power electronics and on the collaboration within the project.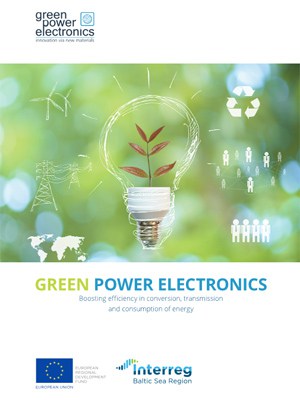 Project Stories
08.08.2019

Next-generation large windmills, solar power plants and electric cars can become more reliable and efficient thanks to advanced power electronics. These new technologies are in fact among the key drivers for reducing energy consumption and CO2 emissions. The Interreg Baltic Sea Region project Green PE explored the new terrain for using green advanced power electronics together with academia, technology transfer organisations and industry around the Baltic Sea.

Read full story
Partners
University of Southern Denmark
Renewable Energy Hamburg
Christian Albrechts Universitaet Kiel
RISE Research Institutes of Sweden AB
University of Latvia
Latvian Technological Center
University of Tartu
Kaunas University of Technology
Applied Research Institute for Prospective Technologies
Warsaw University of Technology
NATEK Power Systems AB
Kaunas Science and Technology Park
CLEAN
Polish Chamber of Commerce for Electronics and Telecommunications
Sustainable Smart Houses in Småland
Ubik Solutions OÜ
CONVERDAN A/S
Contacts

Project manager

Horst-Günter Rubahn

University of Southern Denmark

Legal representative

Jørgen Schou

Syddansk Universitet

Financial manager

Jens V. Kierkegaard

Syddansk Universitet

Communication manager