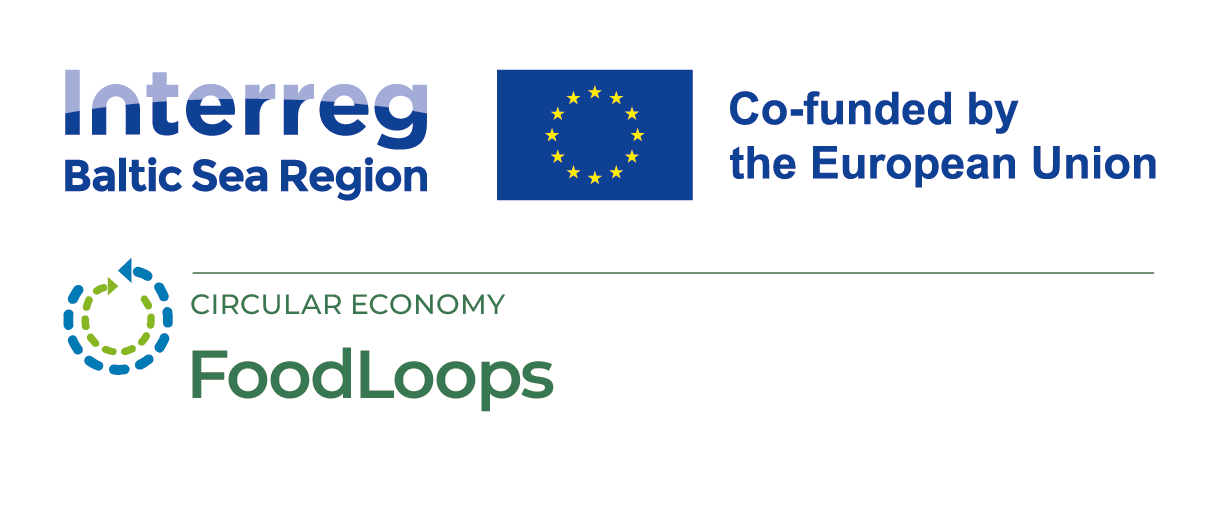 Local cooperation for circular biowaste in schools and beyond
FoodLoops
Olga Mishyna – stock.adobe.com
FoodLoops
PROGRAMME 2021-2027
priority
3 Climate-neutral societies
objective
3.1 Circular economy
Project type
Small Project
Implementation
August 2023 - July 2025
FoodLoops
The project FoodLoops establishes cooperation among schools, caterers (SMEs), farmers, and professionals in a circular economy to improve biowaste separation at source, prevent excessive food waste and reuse it as organic compost.
Project summary
Currently, a large amount of food is thrown away each year in the BSR. Closing the biowaste loop remains a challenge but also holds untapped economic potential for local actors in the region. FoodLoops tackles this challenge in two ways. First, the project empowers municipalities, educators and caterers to improve better biowaste separation at source (e.g. in school kitchens and canteens and in households). Second, it guides these actors in cooperating to develop solutions that turn unavoidable (food) waste into products of value, such as organic compost, as well as engage potential markets for these products, such as local organic farmers. Turning what is commonly perceived as waste in this way into something of value that can be reused helps to close the resource loop by reducing the amount of waste as well as reducing the amount of new material that would otherwise need to be introduced into the production cycle. With project activities focused mainly in Poland, Lithuania and Finland, FoodLoops focuses on building trust between local stakeholders as a basis for cooperation. In a series of workshops, local and regional farmers associations, municipalities, caterers, and school administrators and educators work with each other to co-create solutions for biowaste valorisation. FoodLoops draws on good practices in the BSR and Europe and aims to foster replication of cooperation models developed in the project through transnational training workshops.
Copy direct link to this summary
Budgets
FoodLoops
in numbers.
0.50

Million

Total

0.40

Million

Erdf

0.00

Million

Norway
Success indicators
FoodLoops
in numbers.
62.888562627.627853

51.26616987.14994

54.351441918.641021

54.6980648525.282473396780087
Lead partnerSavonia University of Applied Sciences
Town

Kuopio

Region

Country

Finland

Region

Pohjois-Savo
Representative

Savonia University of Applied Sciences

Phone

E-Mail

Web
Total partner budget
136,301.20
Collaborating Centre on Sustainable Consumption and Production gGmbH
Town

Wuppertal

Region

Country

Germany

Region

Wuppertal, Kreisfreie Stadt
Representative

Collaborating Centre on Sustainable Consumption and Production gGmbH

Phone

E-Mail

Web
Total partner budget
139,209.47
Town

Gdańsk

Region

Country

Poland

Region

Trójmiejski
Representative

Municipality of Gdansk

Phone

E-Mail

Web
Total partner budget
120,400.00
Lithuanian Consumer Institute
Town

Vilnius

Region

Country

Lithuania

Region

Vilniaus apskritis
Representative

Lithuanian Consumer Institute

Phone

E-Mail

Web
Total partner budget
101,024.00
Contacts
Financial manager

Olga Korjagowa

Collaborating Centre on Sustainable Consumption and Production

Project manager, Communication manager

Dimitra Ioannidou

Collaborating Centre on Sustainable Consumption and Production
Follow us
Social media

Newsletter

Additional links