Empowering Participatory Budgeting in the Baltic Sea Region
EmPaci
PROGRAMME 2014-2020
objective
1.3 Non-technological innovation
EmPaci
EmPaci allowed citizens to take part in the public budget planning and bring the most needed projects to reality.
Project summary

Challenges to citizen participation in the Baltic Sea region.
The Baltic Sea region is characterised by fragmented living areas. This leads to challenges for public authorities and councils when it comes to involving all citizens in joint projects and discussing relevant issues with all citizen groups. Instruments are needed that enable and encourage the entire citizenry to take part in decisions of their municipality such as decisions regarding expenditures and revenues in the local budget.
Participatory budgeting can be a solution. Participatory budgeting is a process of democratic decision-making in which ordinary people take part in preparing and adopting a municipal or public budget. In the Baltic Sea region, only a few municipalities have applied participatory budgeting to date. A typical type of citizen in such a process is male, politically active, well-educated and 35-65 years old.
EmPaci motivates and engages.
EmPaci seeked for close involvement of both municipalities and citizens. It analysed the needs of citizens and developed specific communication on participatory budgeting for different citizen groups (e.g. youth, the elderly, families). Then, an initial participatory budget was set up to test and evaluate taking into consideration the perspectives of citizens and municipalities. After optimization, an advanced participatory budget was implemented to show enhancements and foster municipalities' capabilities to set up the participatory budget. The project was complemented by software to facilitate technology transfer and a training program for municipal trainers who disseminated the participatory budgeting idea among Baltic Sea region municipalities.
Budgets
EmPaci
in numbers
2.42

Million

Total

1.50

Million

Erdf

0.46

Million

Eni + Russia

0.00

Million

Norway
Achievements
The objective of EmPaci was to get more municipalities involved and mobilise different types of citizens by building municipal capacities, transnational clusters and municipality-citizen cooperation.
The project piloted participatory budgeting in nine municipalities in six different countries of the Baltic Sea region. In seven of these pilot municipalities, even a second round of piloting took place. Overall, more than 5.7 million EUR have been put to a public vote by the pilot municipalities. Citizens of all ages took part in the voting, expressing their choice for the project which was in their opinion the most relevant for their municipality. The involvement in the participatory budgeting processes was particularly high for women.
314 projects were finally selected and implemented via the participatory budgeting practice. The projects addressed various topics, with the focus on tackling specific local challenges and reflecting the prioritisation expressed by the citizens. Some municipalities implemented, for instance, cultural projects while others focused on projects on leisure and sports.
Each of the municipalities involved in the piloting will continue to implement participatory budgeting. Besides, participatory budget statues, developed by EmPaci, started being used as models in other municipalities in Germany, Latvia and Lithuania.
Outputs
Manual on participatory budgeting
The online manual guides on planning and implementing participatory budgeting practices. It is a tool, which can support municipalities and associations of municipalities, already working with the concept of participatory budgeting, as well as those considering doing so. The manual is structured around themes: 1. Participatory budget explained; 2. Citizens needs assessment; 3. Communication and dissemination; 4. Technical Tools for Participatory budgeting design; 5. Pilots; 6. Training manual. The Manual is relevant also for educational institutions, that deliver training and consultations within participatory budgeting processes, as well as NGOs, that advocate for local communities to be more often and more efficiently involved in decision-making in municipalities.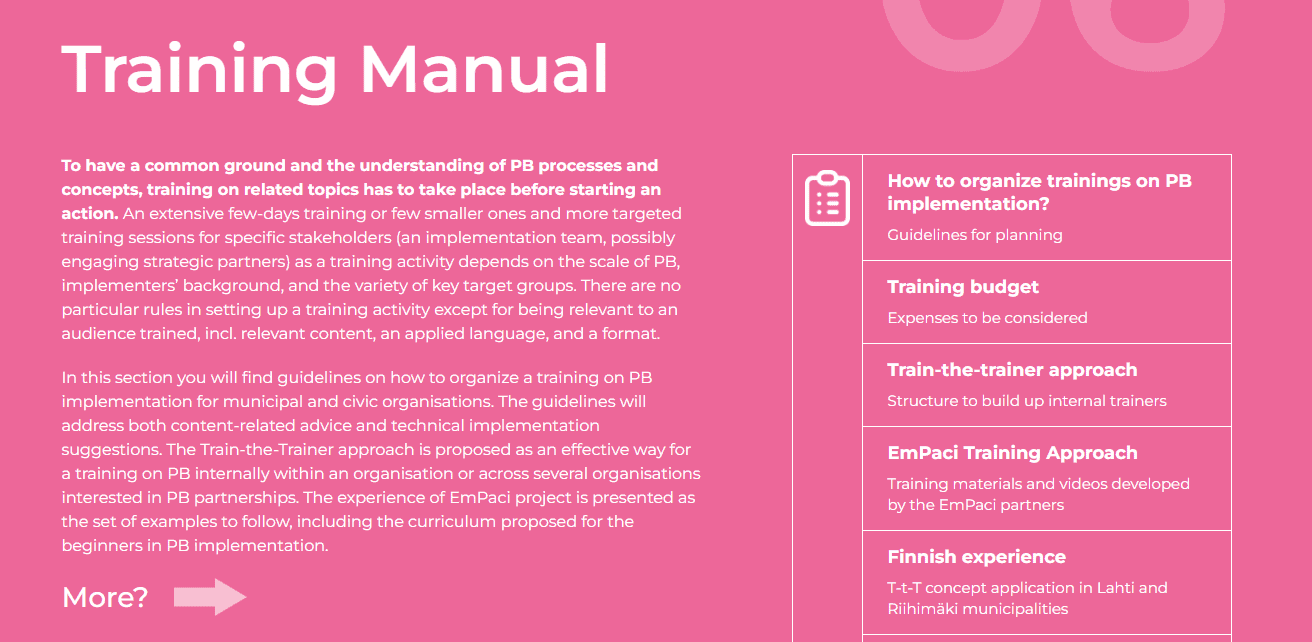 Participatory Budgeting base (PBbase)
PBbase is a network that brings together experts, municipalities and other interested stakeholders. It also contains a database. PBbase offers easy access to information regarding planning, implementing and evaluating participatory budgeting. Through PBbase, it is possible to share information and experiences regarding the implementation of participatory budgeting in different settings and learn from each other. The PBbase-network is based on the EmPaci project´ website and it applies YouTube and LinkedIn in sharing, supporting and training participatory budgeting processes. PBbase lectures and recordings are easily accessible on YouTube, https://www.youtube.com/channel/UCt2ZkHe2stxHppX0DI0ViwQ Check also the LinkedIn group https://www.linkedin.com/groups/12564409/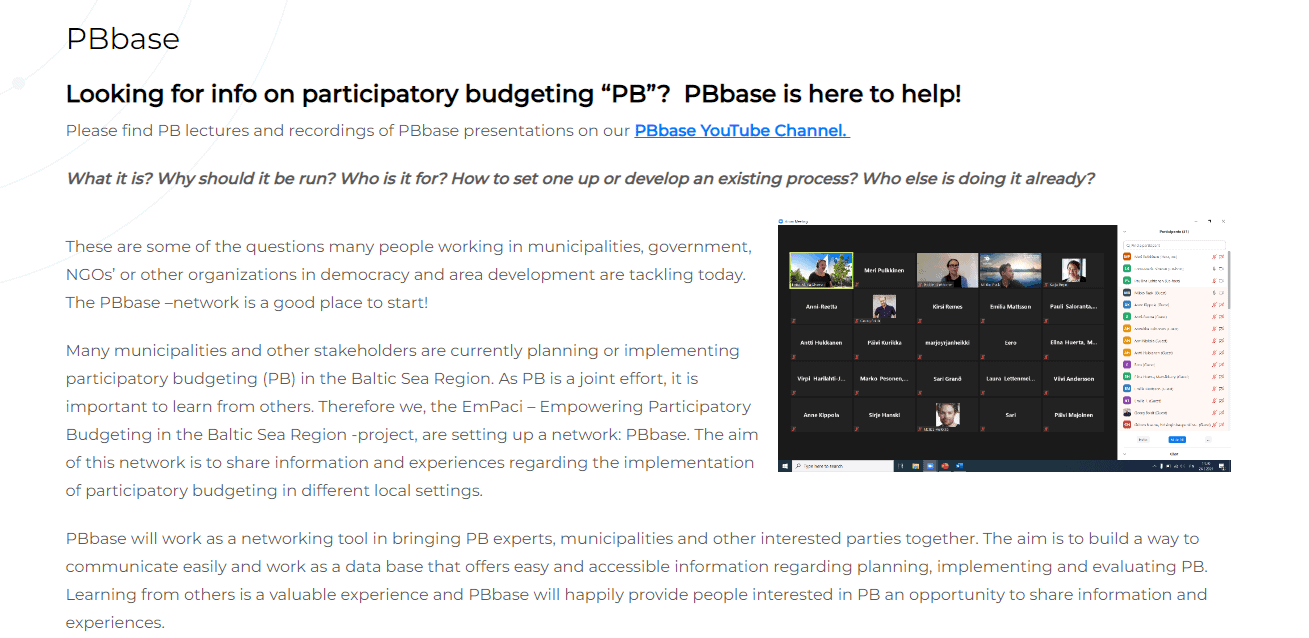 Training package: curriculum, manual, materials.
The training curriculum serves to plan trainings aiming to build capacity of municipal employees, their respective institutions and representatives of civic society in the domain of participatory budgeting. The training curriculum provides users with the knowledge and skills to design effective citizens´ participation processes at the local level. The training curriculum consists of 3 modules: 1) theoretical module and practical exercise; 2) case studies; and 3) group exercises and individual assignments, which allow participants to apply gained knowledge in practice. A training manual and videos complement the training curriculum and present a complete package for planning and delivering trainings. Learn more https://www.youtube.com/channel/UCt2ZkHe2stxHppX0DI0ViwQ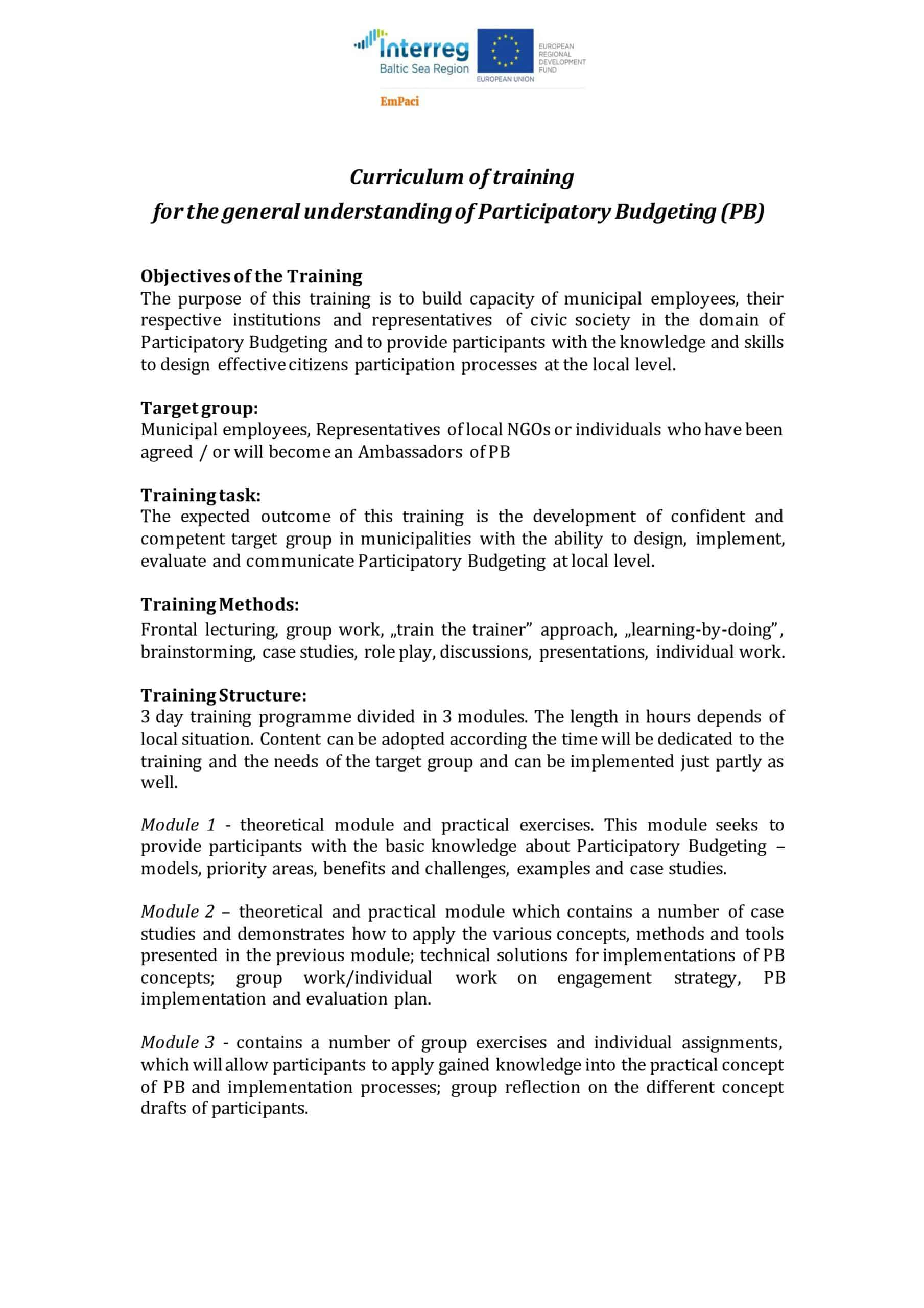 Partners
University of Rostock
City of Bützow
Pferdemarktquartier, registered non-profit association
Public Institution Klaipėda University
Rietavas Municipality Administration
Public Institution Rietavas Tourism and Business Information Centre
Vidzemes planning region
Social innovation centre
Regional Development Agency in Bielsko-Biała
Baltic Institute for Regional and European Concern BISER
Telšiai District Municipality Administration
University of Tampere - legally succeeded by PP18
Lahti University of Applied Sciences - legally succeeded by PP19
Saint Petersburg National Research University of Information Technologies, Mechanics and Optics (ITMO University)
Council of Municipalities of St. Petersburg
«E-Development Partnership in the North-West» Non-Profit Partnership («PRIOR North-West» NPP)
Tampere University Foundation sr.
LAB UAS, LAB University of Applied Sciences
Contacts

Project manager

Ellen Haustein

University of Rostock

Legal representative

Jan Tamm

University of Rostock

Financial manager

Heike Gesk

University of Rostock

Communication manager

Ellen Haustein

University of Rostock