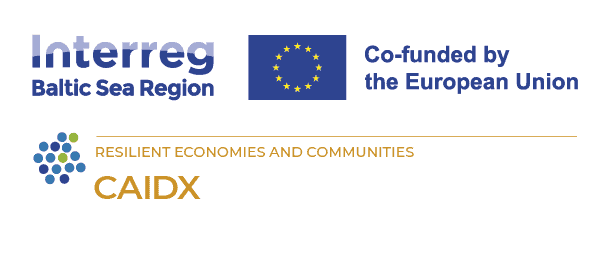 Clinical Artificial Intelligence-based Diagnostics
CAIDX
CAIDX
PROGRAMME 2021-2027
priority
1 Innovative societies
objective
1.1 Resilient economies and communities
Project type
Core Project
Implementation
January 2023 - December 2025
CAIDX
The project CAIDX establishes cooperation between artificial intelligence (AI) providers and healthcare institutions to help healthcare professionals integrate AI, and thus improve diagnostics and treatment.
Digitalisation is increasing rapidly across all sectors including healthcare. This can result in positive effects by increasing the healthcare sector's reactivity and resilience (increasing speed and accuracy of diagnostics, optimising resources). AI and data driven diagnostics tools are being intensively developed for applications in the healthcare sector, but the uptake is difficult for several reasons: - Hospitals/clinicians see AI as a black box and do not understand the logic behind the algorithms used; - The industry does not necessarily grasp clinical needs, so they provide tools that are not meeting requirements of users; - Hospitals do not have the expertise to acquire and contract those tools based on validated scientific data; - Hospitals need support in developing tools together with solution providers and secure implementation into existing IT platforms, linking with patients' data and fitting them in the workflow; - Staff is not prepared for adopting the solutions or trained to use and make the best use of them. CAIDX aims to create the conditions to facilitate the uptake of AI and data driven diagnostics tools for healthcare (and hospitals in particular) by focusing on co-development, contracting, acquisition and capacity building. By developing standard procedures for development, testing and implementation of such AI applications, our solutions will improve and accompany the cultural change necessary to unfold the potential of AI in the healthcare sector.
Copy direct link to this summary
Budgets
CAIDX
in numbers.
2.91

Million

Total

2.33

Million

Erdf

0.00

Million

Norway
Success indicators
CAIDX
in numbers.
57.04626269.9215263

51.107655216.9702305

54.095648713.3821839

58.37418326.71034937842466

60.448074922.2995602

51.094831117.016370362096772

56.029377814.1566859

55.711278513.217932400039

54.086030212.1014704

55.6988312.556294

54.087691612.133397873369521

60.451753122.2670522
Contacts
Project manager

Monica Recabarren

Ideklinikken, Aalborg University Hospital, The North Denmark Region

Financial manager

Gitte Wimmer

Ideklinikken, Aalborg University Hospital, The North Denmark Region

Communication manager

Merja Tieaho

Turku Science Park Ltd
Follow us
Social media

Newsletter

Additional links