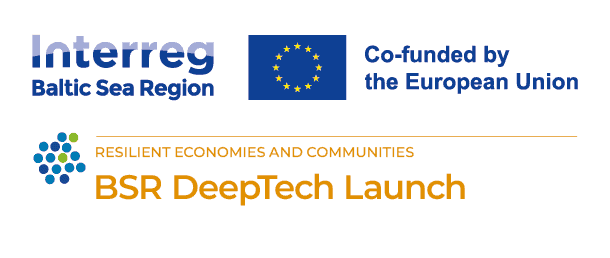 Deep Tech Entrepreneurship Launchpad - developing efficient model for fostering STEM entrepreneurship among students and young researchers, to increase deep tech innovation in economy
BSR DeepTech Launch
Adobe stock/Gorodenkoff
BSR DeepTech Launch
PROGRAMME 2021-2027
priority
1 Innovative societies
objective
1.1 Resilient economies and communities
Project type
Small Project
Implementation
August 2023 - July 2025
BSR DeepTech Launch
In the project BSR DeepTech Launch, business, research and education institutions empower talented students and young researchers to start up their deep tech businesses and speed up green and digital transition.
Project summary
The project is addressing the technology talent gap in BSR with a dedicated Toolbox for fostering DeepTech entrepreneurship - a set of readily available tools for inspiring students and young researchers (S/R) to explore starting a business. DeepTech innovations are expected to deliver transformative solutions for global challenges. Strong supply of DeepTech startups boosts innovation. Increased innovation in the economy provides better solutions for future crises. Inspiring potential startup founders and introducing skills development at the preincubation stage the Toolbox increases their chance for market success. The tools will be used in multiple configurations by actors supporting technology entrepreneurship such as business support organisations, sectoral agencies, higher education and research institutions. The toolbox is made available for other regions and technology areas. The activities include stakeholder needs analysis, joint preparation of workshops piloting the end solution, developing a final form of a toolbox based on the findings and providing wide dissemination of project results. Toolbox development will involve stakeholders feedback at all stages ensuring high efficiency and applicability of tools. Real testimonials, interactions and role playing will be used to empower students to gain valuable insights and personal experience. Toolbox implementation will prepare S/R to initiate business in any region and to cooperate transnationally.
Copy direct link to this summary
Budgets
BSR DeepTech Launch
in numbers.
0.50

Million

Total

0.40

Million

Erdf

0.00

Million

Norway
Adobe stock/Gorodenkoff
BSR DeepTech Launch
in numbers.
52.2504392521.006522931233917

52.210118120.8194002

52.517036513.3888599

54.687045825.2829111

54.687045825.2829111
Lead partnerMazovia Development Agency Plc.
Town

Warsaw

Region

Country

Poland

Region

Miasto Warszawa
Representative

Mazovia Development Agency Plc.

Phone

E-Mail

Web
Total partner budget
102,776.00
Polish Technological Platform on Photonics
Town

Ożarów Mazowiecki

Region

Country

Poland

Region

Warszawski zachodni
Representative

Polish Technological Platform on Photonics

Phone

E-Mail

Web
Total partner budget
78,808.00
Total partner budget
164,505.60
Association of Research and Technology Organisations (RTO Lithuania)
Town

Vilnius

Region

Country

Lithuania

Region

Vilniaus apskritis
Representative

Association of Research and Technology Organisations (RTO Lithuania)

Phone

E-Mail

Web
Total partner budget
76,507.20
Lithuanian Innovation Centre
Town

Vilnius

Region

Country

Lithuania

Region

Vilniaus apskritis
Representative

Lithuanian Innovation Centre

Phone

E-Mail

Web
Total partner budget
76,753.60
Contacts
Project manager, Communication manager

Karolina Ivaldi

Mazovia Development Agency Plc

Financial manager

Katarzyna Cesarczyk

Mazovia Development Agency Plc
Follow us
Social media

Newsletter

Additional links