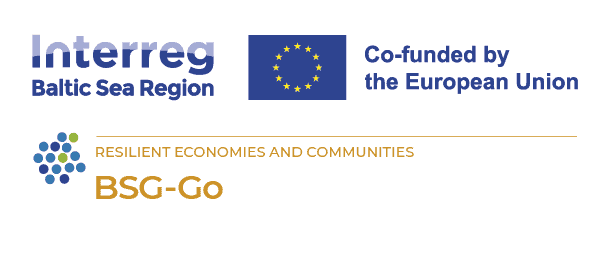 BSG-Go! Scaling-up Baltic Sea Game support for a resilient game industry
BSG-Go
BSG-Go
PROGRAMME 2021-2027
priority
1 Innovative societies
objective
1.1 Resilient economies and communities
Project type
Core Project
Implementation
January 2023 - December 2025
BSG-Go
The project BSG-Go creates a community for young game developers and entrepreneurs to build on communication competences and ensure stable game industry growth.
Project summary

The renewed discussion on resilience refers to the complexity and inherent weaknesses of socioeconomic structures, the adverse effects of which were amplified during the recent pandemic. Not surprisingly, resilience is now about transformation rather than about "returning to normal after a crisis". It is a long-term ambition and opportunity for pro-active learning, the ability to self-correct and innovate". Building resilience means both to understand and learn from problems faced in the past but also to reinforce those parts that have proved resilient. The game industry is a perfect model for which one can provide resilience both ways: it has proven to be resilient in the face of a crisis where mobility was limited, with increased revenues, but its "weakness" has to be strengthened, with the need of young creative talents which are fragile when communication and mobility are obstructed. Solutions for the game industry as piloted in BSG-Go! will work as well for other industries, in particular CCI. Communication is key: how can communication practices be improved to ensure a positive impact in business activities and relations? Anticipatory learning is key: how can young talents understand the strength and opportunities of their creative and technological competences to e.g. take on responsibilities for SDG or engage with other industries to create new business? BSG-Go!, led by BGZ, will provide solutions to be transferred and achieve the necessary resilient transformation.
Copy direct link to this summary
Budgets
BSG-Go
in numbers.
3.33

Million

Total

2.67

Million

Erdf

0.00

Million

Norway
Success indicators
BSG-Go
in numbers.
52.500843313.3630138

52.49281904999999413.524717013151513

52.530064413.3980221

56.41026510.886149

64.752018520.959339

59.325117218.0710935

58.356150526.6798506

54.751583925.264914472276228

52.393413816.9213974

55.600931212.999426

58.409813515.6245252

55.6815612.603546
Contacts
Project manager

Christine Sauter

BGZ Berliner Gesellschaft für internationale Zusammenarbeit mbH

Communication manager

Ines Klemm

BGZ Berliner Gesellschaft für internationale Zusammenarbeit mbH

Financial manager

John Haaske

BGZ Berliner Gesellschaft für internationale Zusammenarbeit mbH
Follow us
Social media

Newsletter

Additional links