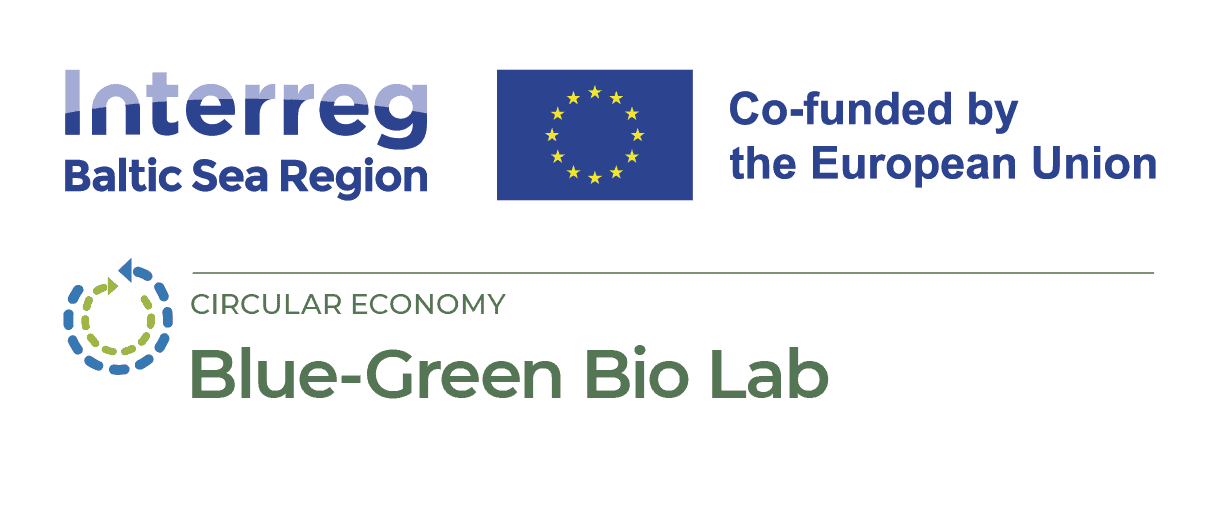 Blue-Green Bio Lab across the BSR
Blue-Green Bio Lab
Blue-Green Bio Lab
PROGRAMME 2021-2027
priority
3 Climate-neutral societies
objective
3.1 Circular economy
Project type
Small Project
Implementation
October 2022 - March 2024
Blue-Green Bio Lab
The project Blue-Green Bio Lab helps local authorities intiate bio-industrial symbioses among aquaculture, agriculture and industry to reduce emissions while producing more consumer goods.
Project summary

This project targets the urgent challenge to reduce nutrients to BSR waters, limit GHG emissions, and quickly enhance European self-supply with food, feed and energy. Together, aquaculture, agriculture, and the industry can provide solutions to the challenge by connecting in industrial symbioses based on full exploitation of local blue/green biomasses that are initially grown and/or harvested with the particular objective to produce positive ecosystem services. Thus, the very production of e.g. grass, mussels or seaweed to enter the industrial symbioses improves carbon storage, reduces nitrogen deposits to the atmosphere and the water. In "bio-industrial symbioses", each company produces bio-products and transfers residuals as resources to the next companies in the chain. Thus, one biomass leads to more consumer goods and to an improved local environment. Experiences have shown that local authorities play crucial roles in initiating industrial symbioses. While a number of industrial symbiosis toolkits are already available, practitioners in municipalities need a toolkit that addresses the enhanced complexity when the symbiosis is also including the landscape and primary production (agriculture, aquaculture). The Blue-Green Toolkit to be developed in this project targets those practitioners, and enable them to become identifiers of local resource streams, facilitators of company matchmaking and value-chain workshops, and mediators of conducive policy environments.
Copy direct link to this summary
Budgets
Blue-Green Bio Lab
in numbers.
0.50

Million

Total

0.40

Million

Erdf

0.00

Million

Norway
Success indicators
Blue-Green Bio Lab
in numbers.
56.5660559.030795

58.396572611.4196339

56.6455118.977909

56.651631223.724323912202415

56.98891924.0827495

58.396572611.4196339
Lead partnerSkive Municipality
Town

Skive

Region

Country

Denmark

Region

Østjylland
Representative

Skive Municipality

Phone

E-Mail

Web
Total partner budget
90,785.80
Town

Lysekil

Region

Country

Sweden

Region

Västra Götalands län
Representative

Lysekil Municipality

Phone

E-Mail

Web
Total partner budget
102,092.20
Town

Spøttrup

Region

Country

Denmark

Region

Østjylland
Representative

Climate Foundation Skive

Phone

E-Mail

Web
Total partner budget
151,309.20
Town

Jelgava

Region

Country

Latvia

Region

Zemgale
Representative

Zemgale Planning Region

Phone

E-Mail

Web
Total partner budget
46,366.60
Latvian Institute of Aquatic Ecology, Agency of Daugavpils University
Town

Riga

Region

Country

Latvia

Region

Rīga
Representative

Latvian Institute of Aquatic Ecology, Agency of Daugavpils University

Phone

E-Mail

Web
Total partner budget
40,213.60
Town

Lysekil

Region

Country

Sweden

Region

Västra Götalands län
Representative

LEVA in Lysekil

Phone

E-Mail

Web
Total partner budget
68,632.20
Contacts
Project manager, Financial manager, Communication manager

Cathy Brown Stumman

Skive Municipality
Follow us
Social media

Newsletter

Additional links