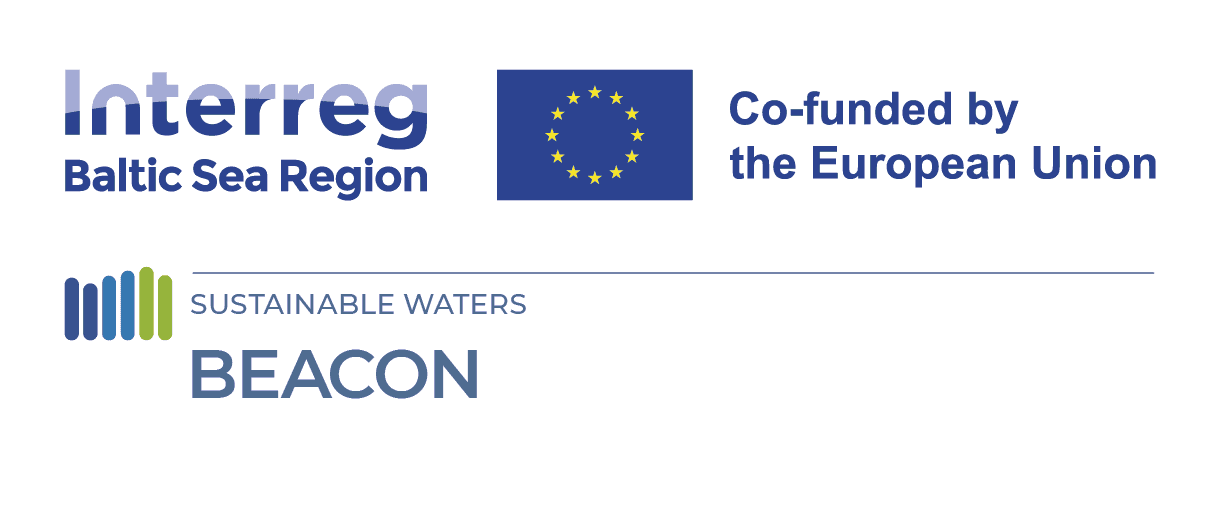 Application of biological effects methods in monitoring and assessment of contaminants in the Baltic Sea
BEACON
BEACON
PROGRAMME 2021-2027
priority
2 Water-smart societies
objective
2.1 Sustainable waters
Project type
Small Project
Implementation
October 2022 - September 2024
BEACON
In the project BEACON, public authorities and governmental organisations develop harmonised methods to assess contamination in the Baltic Sea waters, sediment and biota.
The BEACON project will address the biological effects of contaminants, a key topic that provides an understanding of the broad impact of multiple mixed effects of contaminants on Baltic Sea biota. The project partnership includes national organisations responsible for monitoring, brings together Ministry and Agency level associate partners, and includes the HELCOM Regional Sea Commission (RSC) Secretariat. National institutions for which the work is expected to be relevant (e.g. industry, waste water treatment, fire/emergency response organisations, port authorities) will be targeted. The project will take direct contact with stakeholders, practitioners and managers to evaluate their needs and barriers in addressing mixed effects of contaminants, will summarise available methodologies and carry out a pilot evaluation of an integrated biological effects of contaminants, and finally return all findings and recommendations to the stakeholders. By providing the information to those stakeholders identified in the project and relevant RSC groups (e.g. HELCOM State and Conservation, EG Hazardous substances, and EG Economic and Social Analyses) it will set the scene for recommendations on harmonised procedures to be implemented at the municipal, national or regional level, increasing the capacity of these organisations, and establishing the foundations of a long-term practical approach for addressing the multiple mixed effects of contaminants on Baltic Sea biota.
Copy direct link to this summary
Budgets
BEACON
in numbers.
0.49

Million

Total

0.39

Million

Erdf

0.00

Million

Norway
Success indicators
BEACON
in numbers.
60.229698625.0197849

59.394974124.66761888709302

56.949397724.1051846

59.367103818.0536296

57.707232611.9670171

60.166835724.9610081
Lead partnerFinnish Environment Institute
Town

Helsinki

Region

Country

Finland

Region

Helsinki-Uusimaa
Representative

Finnish Environment Institute

Phone

E-Mail

Web
Total partner budget
120,023.20
Tallinn University of Technology (TalTech)
Town

Tallinn

Region

Country

Estonia

Region

Põhja-Eesti
Representative

Tallinn University of Technology (TalTech)

Phone

E-Mail

Web
Total partner budget
79,982.00
Latvian Institute of Aquatic Ecology, Agency of Daugavpils University (LIAE)
Town

Riga

Region

Country

Latvia

Region

Rīga
Representative

Latvian Institute of Aquatic Ecology, Agency of Daugavpils University (LIAE)

Phone

E-Mail

Web
Total partner budget
70,022.40
Town

Stockholm

Region

Country

Sweden

Region

Stockholms län
Representative

University of Stockholm

Phone

E-Mail

Web
Total partner budget
99,999.20
Town

Göteborg

Region

Country

Sweden

Region

Västra Götalands län
Representative

University of Gothenburg

Phone

E-Mail

Web
Total partner budget
99,998.82
The Baltic Marine Environment Protection Commission - Helsinki Commission
Town

Helsinki

Region

Country

Finland

Region

Helsinki-Uusimaa
Representative

The Baltic Marine Environment Protection Commission - Helsinki Commission

Phone

E-Mail

Web
Total partner budget
22,327.20
Contacts
Project manager

Kari Lehtonen

Finnish Environment Institute

Financial manager

Maria Koski

Finnish Environment Institute

Communication manager

Eija Järvinen

Finnish Environment Institute
Follow us
Social media

Newsletter

Additional links