Baltic Energy Areas – A Planning Perspective
BEA-APP
PROGRAMME 2014-2020
priority
2 Natural resources
objective
2.2 Renewable energy
BEA-APP
The Interreg project BEA-APP compiled experience from eight countries around the Baltic Sea that helps regional planning authorities to accelerate the setup of windfarms, solar parks, biogas plants and the like.
The challenge
Planning processes for renewable energy projects are too slow
More renewable energy installations need to be erected faster to meet the ambitious climate mitigation and renewable energy targets in the EU and the Baltic Sea region's countries. Spatial planners play a crucial role in erecting renewable energy installations, as they are the ones to find and designate suitable locations, based on criteria defined in their respective laws and regulations and taking into account the needs and interests of other users, of local people and of the environment.
However, spatial planners often lack the appropriate planning instruments to define and designate the best suitable areas. They are faced with local resistance and a "not in my backyard" attitude towards renewable energy projects. And they do not always have enough knowledge on local resources and circumstances to find smart place based solutions. Thus, spatial planners face numerous challenges which prolong planning processes for renewable energy projects and slow down Europe's transition to a low carbon economy.
Budgets
BEA-APP
in numbers
2.69

Million

Total

2.11

Million

Erdf

0.00

Million

Eni + Russia

0.00

Million

Norway
Achievements
Merging two perspectives and testing on the ground
Within the BEA-APP project, spatial planners and regional energy planners collaborated and exchanged their different perspectives on renewable energy development. Together they elaborated a set of spatial planning criteria which reflect the challenges related to renewable energy production better than the existing criteria applied in planning and approval of windfarms, biogas plants, solar parks as well as energy storage systems. In order to increase the social acceptance of renewable energy projects, innovative stakeholder involvement methods and financing instruments were developed and tested by the project partners. The test cases included geoenergy in Äänekoski city (Finland), biogas in Odsherred (Denmark), and solar energy in Lund (Sweden).
Regions become better at renewable energy planning
The newly defined spatial planning criteria served to evaluate and improve the existing renewable energy strategies of nine regions, including Blekinge and Skåne (Sweden), Mecklenburg-Vorpommern (Germany), Tartu (Estonia), Western Pomerania (Poland), and Zemgale (Latvia).
Outputs
Transnational recommendations to improve spatial planning processes for renewable energy projects
These recommendations have been elaborated to help national, regional and local authorities responsible for energy and spatial planning to strengthen the commitment towards renewable energy projects in the Baltic Sea region. The recommendations are meant to improve the framework conditions for spatial planning of renewable energy projects. The recommendations cover both technical and political aspects. A set of new and redeveloped criteria to be applied in spatial planning processes related to renewable energies is included. These criteria help the responsible bodies to better take into consideration the specific conditions and challenges related to spatial planning in renewable energies. This concerns not only the particular needs of stakeholder involvement but also legal, geographical, infrastructural and technical issues. The recommendations were compiled by the Ministry of Energy, Infrastructure and Digitalization Mecklenburg-Vorpommern based on experience in the transnational Interreg cooperation project BEA-APP.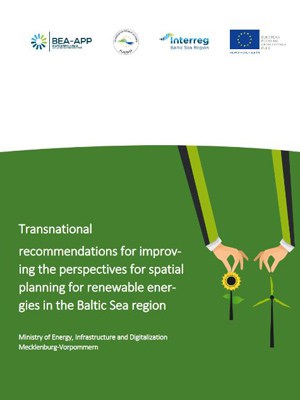 Planning sustainable energy projects: Handbook on innovative stakeholder involvement and communication models
This handbook was developed within the BEA-APP project to support public and private bodies responsible for the planning and implementation of renewable energy projects in the Baltic Sea region to involve stakeholders in the planning of such projects in a sufficient way. Such early involvement of relevant stakeholders is crucial to avoid conflicts which delay or impair the project's success, but often neglected in current planning processes. The handbook provides a background of stakeholder attitudes towards renewable energy projects and to give an overview of factors triggering stakeholders´ acceptance or non-acceptance of renewable energy projects. It covers a practical step-by-step guidance for elaborating stakeholder involvement plans. It also includes hints for stakeholder mapping, direct and indirect interaction with stakeholders as well as for evaluation of stakeholder involvement. This makes the handbook a useful and reliable compilation.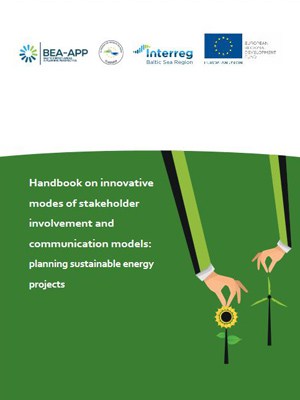 Project Stories
20.12.2016

On 8 May Germany hit a record high number of 87,6 % of national electricity generated from renewable resources. Even though Germany and other countries around the Baltic Sea are doing well in renewable energy production, there is still a lot left to do in terms of installing renewable energy facilities In order to meet the EU energy goals by 2030.

Read full story
Partners
Ministry of Energy, Infrastructure and Digitalization Mecklenburg-Vorpommern
Skåne Association of Local Authorities
Region Blekinge
Energy Agency for Southeast Sweden
Regional Council of Central Finland
Tartu Regional Energy Agency
Zemgale Planning region
Baltic Environmental Forum – Latvia
Lithuanian Energy Institute
Regional Office for Spatial Planning of Westpomeranian Voivodeship
Roskilde University
Contacts

Project manager

Gabriele Hoffmann

Ministry of Energy, Infrastructure and Digitalization Mecklenburg-Vorpommern

Legal representative

Lothar Säwert

Ministry of Energy, Infrastructure and Digitalization Mecklenburg-Vorpommern

Financial manager

Jennifer Grünes

Ministry of Energy, Infrastructure and Digitalization Mecklenburg-Vorpommern

Communication manager

Matthias Mossbauer

Ministry of Energy, Infrastructure and Digitalization Mecklenburg-Vorpommern