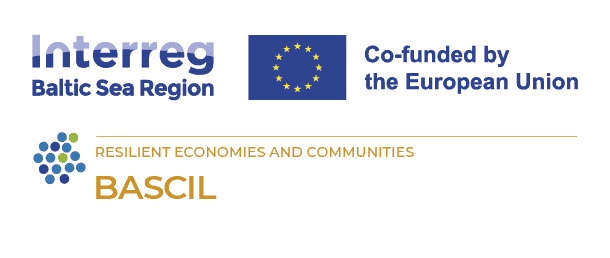 Innovative Solutions for the Rural Food Production Sector to Diversify into Sustainable Culinary Tourism Services
BASCIL
BASCIL
PROGRAMME 2021-2027
priority
1 Innovative societies
objective
1.1 Resilient economies and communities
Project type
Core Project
Implementation
January 2023 - December 2025
BASCIL
The project BASCIL helps local food producers in rural areas diversify their business into sustainable culinary tourism services, and thus reach new customers.
Project summary

Small food producers in rural areas have experienced serious external disturbances because of the pandemic,rising energy prices and production costs etc. It has a strong impact on the resilience of the local food sector in rural areas. One of the solutions for small local food producers is the diversification of their business activity into the sustainable culinary tourism sector. Through integration of conventional small-scale food production with culinary tourism services it is possible to reach the end-customers directly and to get the highest value from selling the products using the shortest value chain. Local food producers need an innovative practical solution for culinary tourism service design meeting the specific needs and expectations of visitors in the post-pandemic era. The mixture of services can include farm tours, cooking workshops, degustations, pop-up cafes, seasonal farm restaurants, food boxes etc. The capacity of small producers to get enough visibility and attention in tourism market is usually very limited. Thus, they also need a solution for efficient marketing of joint tourism products in the format of regional gastro tours, culinary routes, regional food packages stimulating cross-selling etc Across Europe the rural areas in BSR region are currently not very well known as a culinary tourism destination. Active involvement of food producers in culinary tourism is an excellent opportunity for making the region more visible and attractive for visitors.
Copy direct link to this summary
Budgets
BASCIL
in numbers.
3.39

Million

Total

2.42

Million

Erdf

0.18

Million

Norway
Success indicators
BASCIL
in numbers.
56.0446831873493714.147772633837025

59.402419924.7308556

54.09398912.110218

55.70935721.1338993

54.3499302518.64652392733751

54.6797347525.27155970681704

54.898213923.9044817

51.6754959515.158110605405138

59.91018910.766439

56.954601224.0990862

59.428791424.7799864

54.40343518.571475

61.066306228.092052700593065

60.169764924.9382959
Contacts
Financial manager

Fridha Borg

Krinova Incubator and Science Park

Communication manager

Lena Jasslin

Krinova Food and Science Park

Project manager

Diana Danilda

Krinova Incubator and Science Park
Follow us
Social media

Newsletter

Additional links