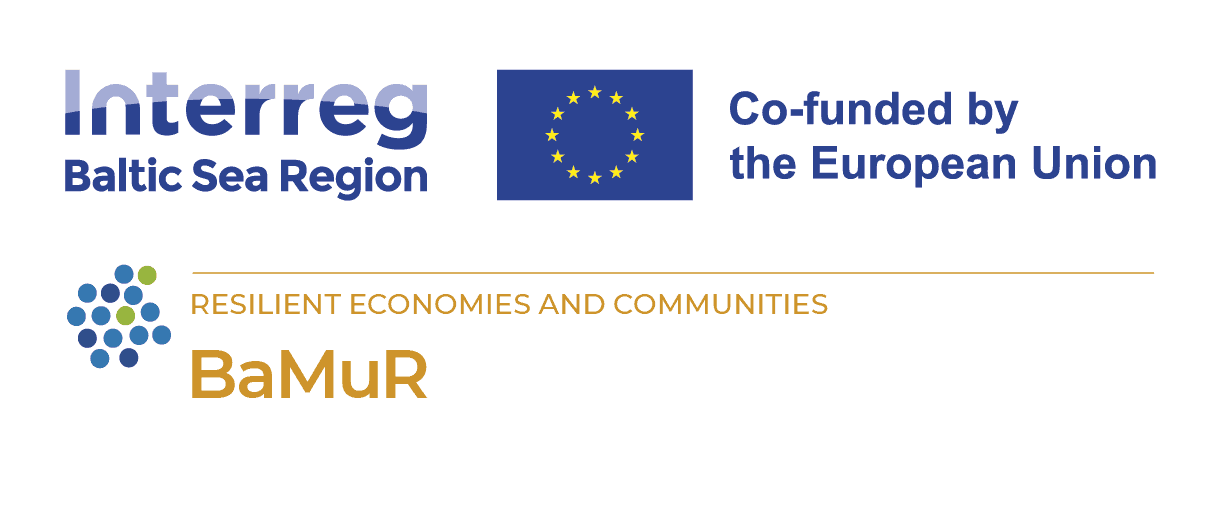 Baltic Museum Resilience: Resilient museums and memory institutions for resilient societies in the Baltic Sea Region
BaMuR
BaMuR
PROGRAMME 2021-2027
priority
1 Innovative societies
objective
1.1 Resilient economies and communities
Project type
Small Project
Implementation
October 2022 - September 2024
BaMuR
The project BaMuR equips public authorities, NGOs and SMEs with a toolbox to help cultural and heritage institutions maintain their consolation role to people in times of crisis.
The resilience of societies and institutions in the BSR was significantly tested during the COVID pandemic and will face even a greater challenge at the time and after the war in Ukraine. During the last two years it became apparent that in every country the museums, memory and cultural institutions have a much bigger role to play in ensuring resilience in the society during the crises than initially expected. In the "Baltic Museum Resilience" project we shall analyse how the cultural and memory institutions managed and overcame the latest crisis to ensure resilience from three perspectives: governance, business model and digital sustainability and economic sustainability. Based on the best practices already implemented, relevant research and peer reviews we shall develop a toolbox with solutions for the institutions: what and how to do. The toolbox will help to sustain the institutions but also provides additional resilience opportunities for the whole society during a crisis - but the principles could also be applied at any time for improving the organisation's performance and helping to achieve its goals. The toolbox will be piloted and adopted during the project and made available to all respective institutions in the BSR. Our main target groups are authorities (responsible for culture and heritage), NGOs active in the field and SMEs providing innovative services in the area, who will increase their capacities to lead the change to resilient heritage institutions.
Copy direct link to this summary
Budgets
BaMuR
in numbers.
0.48

Million

Total

0.39

Million

Erdf

0.00

Million

Norway
Success indicators
BaMuR
in numbers.
59.501409624.8344882

57.765464116.6428651

60.436936622.2344103

54.687045825.2829111

53.430181814.5509623
Lead partnerEstonian War Museum - General Laidoner Museum
Town

Viimsi

Region

Country

Estonia

Region

Põhja-Eesti
Representative

Estonian War Museum - General Laidoner Museum

Phone

E-Mail

Web
Total partner budget
115,000.00
Town

Västervik

Region

Country

Sweden

Region

Kalmar län
Representative

Museum of Västervik

Phone

E-Mail

Web
Total partner budget
91,000.00
Town

Turku

Region

Country

Finland

Region

Varsinais-Suomi
Representative

Forum Marinum Foundation

Phone

E-Mail

Web
Total partner budget
91,000.00
Public Institution National Regions Development Agency
Town

Vilnius

Region

Country

Lithuania

Region

Šiaulių apskritis
Representative

Public Institution National Regions Development Agency

Phone

E-Mail

Web
Total partner budget
91,000.00
Town

Szczecin

Region

Country

Poland

Region

Miasto Szczecin
Representative

Balteus Foundation

Phone

E-Mail

Web
Total partner budget
94,500.00
Contacts
Project manager, Financial manager, Communication manager

Tanel Mätlik

Estonian War Museum- General Laidoner Museum
Follow us
Social media

Newsletter

Additional links