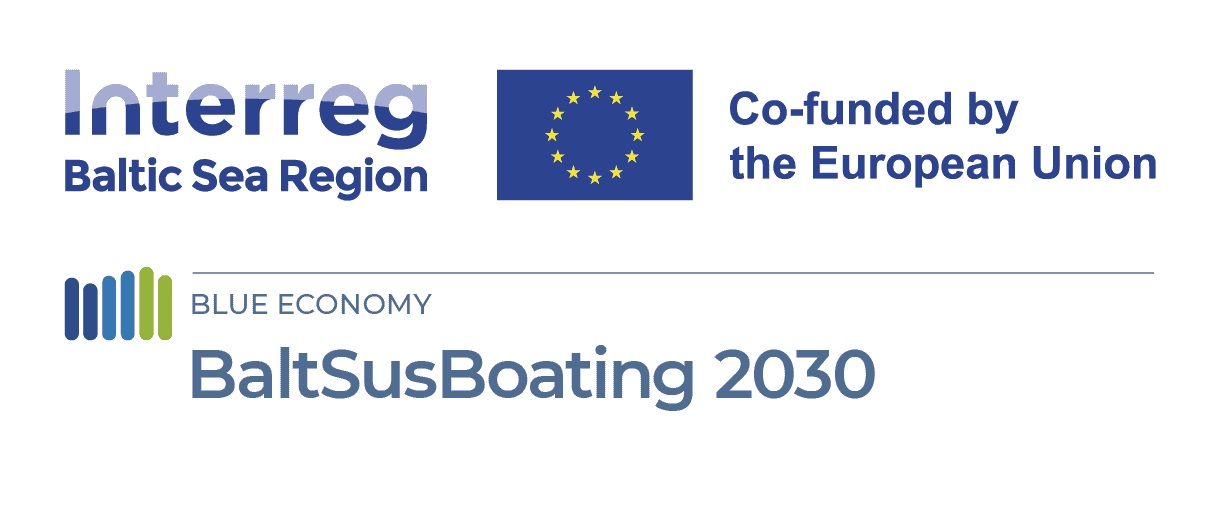 Baltic Sustainable Boating 2030 - Making leisure boating in the Baltic Sea fit for the post-pandemic boating tourism market
BaltSusBoating 2030
BaltSusBoating 2030
PROGRAMME 2021-2027
priority
2 Water-smart societies
objective
2.2 Blue economy
Project type
Small Project
Implementation
October 2022 - September 2024
BaltSusBoating 2030
The project BaltSusBoating 2030 creates a pan-Baltic cooperation platform to turn the Baltic Sea region into a sustainable and competitive leisure boating destination.
Project summary

More than 1.000 leisure boat harbours and a unique set of varied sub-destinations (e.g. Swedish archipelago, South Coast Baltic, East Baltic Coast) make the Baltic Sea an attractive boating region for sailors and motor boaters from both littoral and far away countries. Despite high class infrastructure and an attractive destination profile of diverse nature & culture experiences, however, it still lags behind international competitors (in particular: Mediterranean Sea) in terms of visibility and tapping economic potentials of leisure boating. BaltSusBoating 2030 initiates a strategic cooperation at BSR level for developing the Baltic Sea into a single & sustainable boating destination, and to jointly promoting it at international markets. Supported by CBSS, the main boating tourism networks & associations team up to define goals & steps for a collaborative destination development and joint marketing until 2030. This includes: (1) to establish a pan-Baltic cooperation platform, (2) the elaboration of a Sustainability Roadmap, (3) knowledge exchange & peer learning activities, (4) dialogue with policy makers, (5) the iterative development of a joint marketing approach for the Baltic Sea as a single & sustainable boating destination. Thus, the project lays foundations for making leisure boating in the Baltic Sea more sustainable and more competitive at international markets until 2030, by utilising new opportunities in the post-pandemic boating tourism.
Copy direct link to this summary
Budgets
BaltSusBoating 2030
in numbers.
0.49

Million

Total

0.40

Million

Erdf

0.00

Million

Norway
Success indicators
BaltSusBoating 2030
in numbers.
54.370685818.61298210330077

59.333617318.027697348913556

58.41666712.233333

56.949397724.1051846

60.10242319.94126

58.3808896526.719647526956543
Lead partnerThe Association of Sea Cities and Municipalities
Town

Gdańsk

Region

Country

Poland

Region

Trójmiejski
Representative

The Association of Sea Cities and Municipalities

Phone

E-Mail

Web
Total partner budget
111,080.00
Council of the Baltic Sea States
Town

Stockholm

Region

Country

Sweden

Region

Stockholms län
Representative

Council of the Baltic Sea States

Phone

E-Mail

Web
Total partner budget
94,360.00
The Union of Swedish Guest Harbours
Town

Vänersborg

Region

Country

Sweden

Region

Västra Götalands län
Representative

The Union of Swedish Guest Harbours

Phone

E-Mail

Web
Total partner budget
70,840.00
Town

Riga

Region

Country

Latvia

Region

Rīga
Representative

Riga Planning Region

Phone

E-Mail

Web
Total partner budget
75,320.00
Town

Mariehamn

Region

Country

Finland

Region

Åland
Representative

Enterprising Archipelago

Phone

E-Mail

Web
Total partner budget
52,080.00
Town

Tartu

Region

Country

Estonia

Region

Lõuna-Eesti
Representative

University of Tartu

Phone

E-Mail

Web
Total partner budget
90,720.00
Contacts
Project manager, Financial manager, Communication manager

Marta Czarnecka-Gallas

The Association of Sea Cities and Municipalities
Follow us
Social media

Newsletter

Additional links