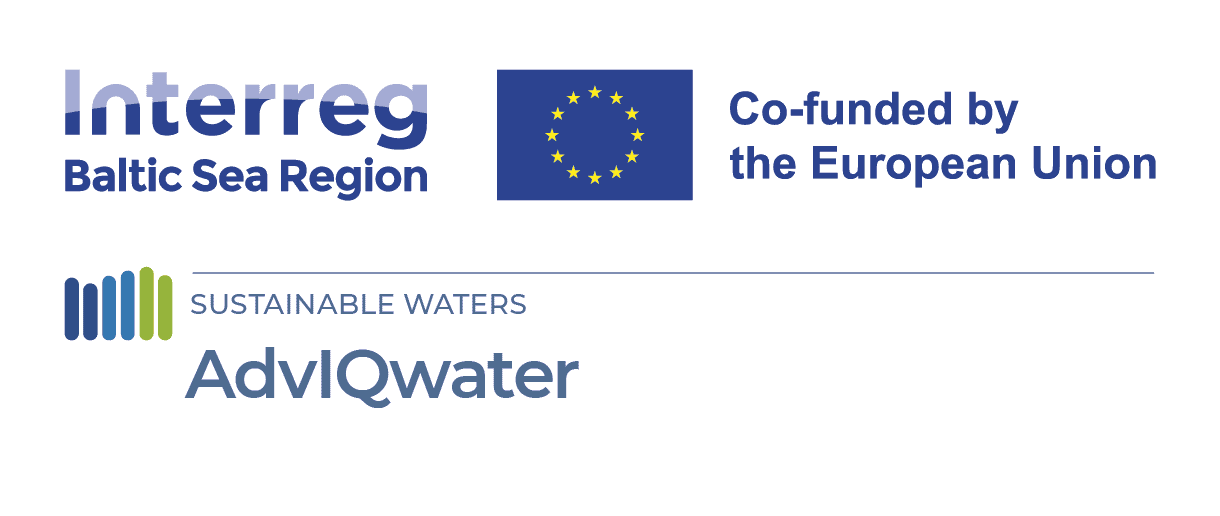 Improving quality of BSR waters by advanced treatment processes
AdvIQwater
AdvIQwater
PROGRAMME 2021-2027
priority
2 Water-smart societies
objective
2.1 Sustainable waters
Project type
Small Project
Implementation
October 2022 - September 2024
AdvIQwater
The project AdvIQwater tests photocatalysis, fungal treatment and biofilms methods to efficiently clean wastewaters from pharmaceuticals.
Project summary

Worldwide, the number of people living along the coast is rapidly increasing, resulting in increased wastewater discharges, which is a major source of pharmaceuticals entering aquatic environments. Environmental pollution by active pharmaceutical ingredients has become a serious problem in the Baltic Sea Region. Pharmaceutical residues pertain mostly to marine waters and originate from discharges from municipal wastewater treatment plants and vessels. Despite the increasing presence of pharmaceuticals in marine environments and their potential negative impacts, little research has been reported on the occurrence and removal of these contaminants in the marine ecosystem. Moreover, widely distributed and bioaccumulative contaminants could adversely affect aquatic organisms. In this regard, complex mixtures of pharmaceuticals need to be considered regarding the impact on the environment and water treatment technology, focusing on the analysis of pollutant properties and potential. In the project, combination methods of the solar-driven photocatalysis, fungal treatment, and biofilms will be developed to pilot in order to introduce practical and durable outputs and solutions for sustainable waters.
Copy direct link to this summary
Budgets
AdvIQwater
in numbers.
0.50

Million

Total

0.40

Million

Erdf

0.00

Million

Norway
Success indicators
AdvIQwater
in numbers.
54.371681518.6181992

58.380120726.72245

55.643347812.0819247

54.371681518.6181992
Lead partnerGdańsk University of Technology
Town

Gdańsk

Region

Country

Poland

Region

Trójmiejski
Representative

Gdańsk University of Technology

Phone

E-Mail

Web
Total partner budget
203,000.00
Town

Tartu

Region

Country

Estonia

Region

Lõuna-Eesti
Representative

University of Tartu

Phone

E-Mail

Web
Total partner budget
124,999.00
Town

Roskilde

Region

Country

Denmark

Region

Østsjælland
Representative

Aarhus University

Phone

E-Mail

Web
Total partner budget
161,000.00
Polish Ecological Club Pomeranian Branch
Town

Gdańsk

Region

Country

Poland

Region

Trójmiejski
Representative

Polish Ecological Club Pomeranian Branch

Phone

E-Mail

Web
Total partner budget
10,990.00
Contacts
Project manager

Anna Zielińska-Jurek

Gdańsk University of Technology

Communication manager

Agnieszka Fiszka Borzyszkowska

Gdańsk University of Technology

Financial manager

Żaneta Bargańska

Gdańsk University of Technology
Follow us
Social media

Newsletter

Additional links
Events
AdvIQwater kick-off meeting
Project: AdvIQwater
Virtual Meeting
08. February 2023
09:00 - 11:15 (CET)
08 Feb 2023
AdvIQwater kick-off meeting
AdvIQwater kick-off meeting will be a great opportunity to present a general overview of the project
2023-02-08
2023-02-08
09:00:00
11:15:59
||
|project|
Downloads
AdvIQwater project introduction - presentation from kick-off meeting