Circular economy and ecodesign are all about smart, innovative and sustainable design solutions with minimal or no waste when a product is consumed. An exhibition set up jointly by design centres from around the Baltic Sea and the German Environment Agency showcases successful examples for ecodesign in order to inspire other designers and consumers. With this exhibition, the Interreg project EcoDesign Circle fosters European integration for a more competitive Europe.
Boxes full of good ideas
Five wooden boxes, six Baltic Sea countries, thirty great examples … Those are the figures that describe the touring exhibition "Reconsider Design" put together by the partners of the Interreg project EcoDesign Circle. The exhibition raises awareness of the role designers play in determining a product or service's environmental impact and the responsibility that comes with it.
Some boxes open up into a Z-shaped folding screen in order to display the ecodesign objects within. Another one turns into tables and chairs. And these five wooden boxes are more than just certified wood painted in environmentally sound colours. Each of them represents a theme and contains a topical collection of excellent ecodesign examples. These "cases" originate from the countries in the Baltic Sea region and are thought to inspire and motivate, meant to serve as a model for the opportunities of sustainably designed products, services and concepts. Even better: these cases are practice-proven business models.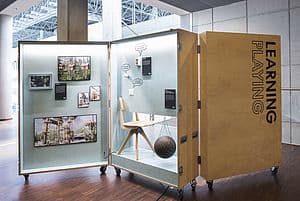 Gdynia Design Days 2017 | Bogna Kociumbas, Michał Szymończyk
In the 'Learning Playing' box children experience the ideas behind circular consumption in a playful way by swapping, borrowing or upcycling their toys – a Swedish initiative called "Retoy". This counteracts a typical consumption pattern of "consume and discard" at an early age.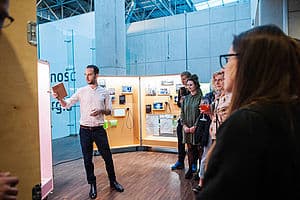 Gdynia Design Days 2017 | Bogna Kociumbas, Michał Szymończyk
The box 'Enabling Moving' presents the "SOLARKIOSK", a mobile construction that provides solar power to off-grid locations such as refugee camps, health stations or rural settlements in developing countries. A new concept developed for Deutsche Post is the electrically powered 'StreetScooter'.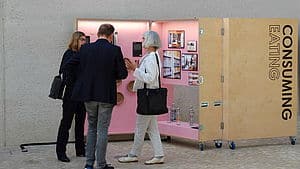 IDZ | International Design Centre Berlin
Consuming Eating' displays, amongst others, bowls, cups and plates made of bark, wheat bran or even coffee grounds. They showcase sustainable tableware from Lithuania, Poland and Germany – be it for an exceptional disposable single use or a durable every day ware.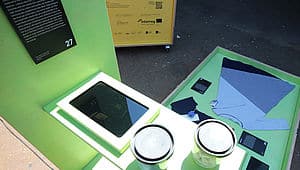 IDZ | International Design Centre Berlin
Designed like a wardrobe, the box 'Dressing Wearing' offers to visitors for example "Pure Waste Textiles" from Finland made of 100% recycled cotton. And for enterprises interested in making use of excess materials from textiles production, the "Upmade software" developed in Estonia is be of great interest.
German Environment Agency | Conrad Dorer
Bringing up the rear, the last box transforms into a table surrounded by wooden seating cubes. At the table, which shows the Baltic Sea region in yellow and black, visitors can pick up an informative exhibition catalogue and sit down on the cubes for a rest, to take it all in, discuss and exchange … (©German Environment Agency | Conrad Dorer)
Making more together
The International Design Center (IDZ) in Berlin prepared the exhibition over the past year. Jutta Brinkschulte, Head of operations at IDZ, is very pleased about the joint work with the Estonian Design Center, the Lithuanian Designers' Society, the Design Forum Finland, the Swedish Industrial Design Foundation, the Gdynia Design Centre and the German Environment Agency: "Every single partner of our project has contributed to this exhibition." The partners collected best practice examples and business cases from six countries. Then they discussed how to cut the cake into categories in order to reach the audience best. They ended up with a very simple approach: reduce complex formulations to topics from daily lives. "Working together on one product, discussing concepts or even wordings with people from different countries helped us to shape this ecodesign exhibition", she concludes. This exhibition on wheels is now being sent to roll from one Baltic Sea country to the other – with the goal of promoting ecodesign "Made in the Baltic Sea Region".
Polish design festival picks up on it
The wheels first came to a halt in Poland during the 10th Gdynia Design Days in July 2017, where 'Reconsider Design' attracted 1200 visitors. An accompanying initiative during this festival was the Eco Day carried out as a series of lectures that introduced entrepreneurs, lecturers, students as well as the broader audience to the potentials of ecodesign and the circular economy. Some of the topics raised were 'Upcycling as an innovative trend in art, design and responsible business' and 'Packaging: How to design to recycle?'. The enthusiastic reception of both the exhibition and lectures has inspired the organisers of Gdynia Design Days to continue with a similar formula in 2018. "The visitors, mainly young people, particularly liked the exhibition because it showed items from daily lives of people", says Jutta Brinkschulte.
German children brainstorm ecodesign
On their second stop, the "rolling boxes" spent almost two months fascinating visitors under the roof of the German Environment Agency in Dessau, Germany. At a juniors' workshop with nine to ten years old kids, questions were discussed, such as: Do designers have the opportunity to make more than "just attractive products"? Does a curvy cucumber have the same taste as a straight one? How much influence do we have as consumers? And as a highlight, a short 'Retoy swap' was tried out.
And where next for stops three, four, five and six? Reconsider Design is heading north, stopping for example in Rovaniemi, Finland, during the Arctic Design Week 2018. Keep your eyes open: the colourful, inspiring wooden boxes may well come to a Baltic city near you. Rolling. Enabling. Moving.
by Conrad Dorer (German Environment Agency), Joanna Clarkson (Sustainable Projects), Patrick Liwitzki (International Design Center Berlin) and Stefanie Maack (Interreg Baltic Sea Region Managing Authority/Joint Secretariat)
Related links