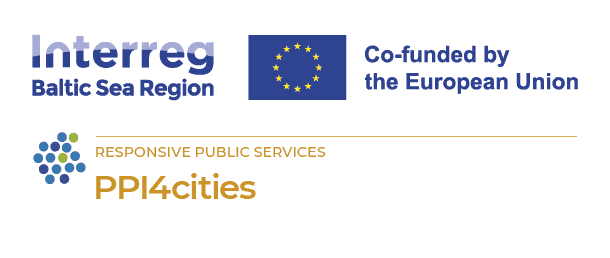 Supporting BSR cities to implement public procurement of innovation while providing practical tools created using AI technologies and gamification methods
PPI4cities
What stops Lithuanian municipalities from buying innovation?
07 June 2023
As competition for the best talent grows, cities across the Baltic Sea Region are increasingly feeling the need to showcase their strengths. This phenomenon is also experienced in Lithuania, where the process of urbanization is happening at a faster pace than ever before. Therefore, smart cities must discover innovative solutions to attract investment, business, and talent.
Public procurement of innovation is one possible solution. Unfortunately, strict requirements, intricate technical specifications, and overall complexity often make policymakers lose enthusiasm to initiate innovation purchasing. Furthermore, the multitude of problems is complemented by a lack of knowledge and tools available to assist public authorities in this process.
To identify the main challenges and needs related to the initiation and implementation of innovation procurement, the Lithuanian Innovation Centre, in collaboration with the Panevėžys Development Agency, conducted a survey of Lithuanian municipalities' representatives. The survey involved 33 respondents from 26 Lithuanian municipalities. Here are the key findings and some further recommendations.
Trapped in a vicious circle
In fact, one of the biggest challenges faced by municipalities is the lack of collaboration among them, including the exchange of best practices. When it comes to finding inspiration for purchasing innovation, most respondents weren't looking abroad, but rather to their fellow institutions within the country. Unfortunately, Lithuanian municipalities find themselves trapped in a vicious circle – many are hesitant to take the lead in public procurement, yet they yearn to learn from others. On the other hand, those who have valuable experience in this area are reluctant to share it and set a positive example for their peers.
Fear of taking the first steps
Many representatives from Lithuanian municipalities are intimidated by the initial steps of the process. Needs assessment and preparation of technical specifications are often cited as major roadblocks that deter respondents from implementing public innovation procurement. Given that each innovation procurement is a unique and specific process, there is no one-size-fits-all solution to enhance the expertise of municipal representatives in their areas of weakness. However, it is possible to identify a few principles that can at least partially facilitate the implementation of innovation procurement.
Stakeholder involvement. Nurturing a culture of constant collaboration between different departments within an organization, its end-users, and suppliers is essential. By doing so, institutions can uncover specific challenges and opportunities that demand innovative solutions.
Problem analysis. It's important to analyze the problems and challenges faced by public sector organizations. This can be done through a needs assessment (e.g. customer survey) or a gap analysis to identify areas where current solutions are inadequate.
Monitoring future trends. Keeping an eye on emerging trends, evolving technologies, shifting customer preferences, and ever-changing legal regulations can help identify opportunities for innovation.
Monitoring good practices. Chances are, the specific public institution grappling with a particular challenge is not alone, as others have likely faced similar hurdles before. Researching best practices from other organizations can help discover innovative solutions that have been successful in addressing similar challenges.
Setting targets. For the supplier to offer an innovative solution, it is recommended to clearly specify the result that is expected to be achieved by the product or service to be purchased.
Functional description. Given the objectives to be achieved, it is advised to focus on describing the problem at hand rather than a specific solution, e.g. X streets are to be illuminated for Y hours per day using Z lighting technology, while ensuring the lighting elements have a minimum lifetime of Q days.
External factors. When exploring potential solutions, it's crucial to consider a wide range of factors, such as interoperability, user experience, environmental, data protection, and other requirements that the sought-after object should fulfill.
There is no denying that innovation procurement is a complex process, demanding both time and expertise, which is why policymakers, as proven by the conducted survey, often lack the drive and initiative to tackle pressing issues through innovative procurement. For the next 3 years the international initiative PPI4Cities will face these problems through developing pragmatic tools, as well as fostering peer exchange, networking, and training between different project partners.
Additional links