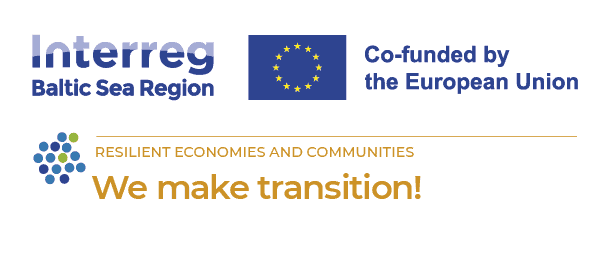 Towards sustainable and resilient societies through empowered civil society and collaborative innovation
We make transition!
We make transition! partners met and trained transition arena process in Tallinn
17 October 2023
We make transition! -project partners met in Tallinn on 10-11 October - in inspiring Telliskivi Creative Centre. The main purpose of the meeting was to learn and simulate the transition arena method in practice. Also was fun to meet and exchange experiences! 😊
The transition arena is a method that includes a series of co-creative workshops that start with analysing and framing the selected sustainability challenge and creating a joint sustainability vision with participants of the arena. After that, possible pathways and concrete steps to the vision and finally a transition agenda with actions and responsibilities are made during the process. The key focus of the We make transition! -project is to involve also various local civil society actors in such a process. Solutions to sustainability challenges need different perspectives and ideas from all levels of society.
The partners will organize local transition arena workshops in cooperation with altogether 12 cities and municipalities in six BSR countries. The processes are based on focus group discussions organised earlier in the project. The topics will be the following:
FINLAND
1. Tampere: sustainable lifestyle, mobility and biodiversity
2. Hämeenkyrö: sustainable agriculture
3. Helsinki-Uusimaa: circular economy, sustainable food
4. Uusikaupunki: sustainable local economy and biodiversity
5. Kimitoön: youth participation  
ESTONIA
6. Tartu County: circular economy
7. Lääne-Harju: renewable energy communities
LATVIA
8. Cēsis: Organic farming and bioregion development
POLAND
9. Gdynia: green spaces of participation and sustainable consumption
NORWAY
10. Namdalen: eco-social sustainability
11. Trondheim: food and textiles
GERMANY
12.  Bremen: sustainable food production
Additional links